EWeek Workshop:Shut the F*#!$ up and Other Tips for Getting the Edge on Your Customers

Monday, 17 November 2014 from 4:30 PM to 5:30 PM (EST)
Event Details
All EWeek events are FREE and open to the public.
Please reserve your ticket here.
We have door prizes!
Shut the F*#!$ up and Other Tips
for Getting the Edge on Your Customers
Jennifer Barron
Maaike de Visser
Hello all you wonderful (wannabe) entrepreneurs out there! Thinking about how to best pitch your ideas or impress your customers? Okay then, now is the perfect time to shut the f*#!$ up and listen.
The strategy for most entrepreneurs and salespeople often goes like this: They open their mouths and ramble on and on about their perfect idea, because selling is telling, right? No. In truth, this is a really poor strategy because they haven't got a clue what their customer wants, feels or already knows. The most powerful sales tools are the ability to listen and ask powerful questions.
As certified business coaches, we know how to leverage these two competencies. Since we walk the talk, we promise not to ramble on. Our interactive workshop will provide the opportunity to learn some coaching basics to help you better pitch, sell and connect with your customers. Not only will you find out how to improve your listening abilities and some tricks for asking powerful questions; you'll see, hear and feel the immense power of connection that active listening can create.
About Jennifer Barron and Maaike de Visser
Jennifer Barron 
Communications Consultant and Certified Coach
Jennifer's career and life journey have led her across Canada and back again—from her roots in Ontario—to British Columbia—and then to La Belle Province in 2013, where she currently resides in Montréal.
Having worked in several senior-level marketing-communications roles, Jennifer brings 16 years of experience helping organizations build and protect their brands and meaningfully engage with stakeholders. Some of the high-profile companies she has worked with include Microsoft, LG, TELUS, Intel, ATI Technologies, Yellow Pages Group, Nature's Path Organics, Whole Foods Markets and Lesley Stowe's Raincoast Crisps.
Today, she is an independent marketing-communications consultant for clients such as Pratt & Whitney Canada, Sierra Wireless and Valeant Pharmaceuticals, as well as a certified coach having completed Concordia's Professional and Personal Coaching Certification Program in the spring of 2014. As a coach, she focuses on supporting her clients to successfully transition through their professional and personal challenges to achieve their goals, live authentically and make their dreams reality. She is also realizing her own dream of becoming bilingual.
Maaike de Visser
Professional and Personal Certified Coach, Freelance Journalist
In the Netherlands, Maaike de Visser spent several years working in communications as well as project and interim management and consultancy. After moving to Canada in 2010, her new world – Montréal – brought her more than just geographical transition. Today, her passion for people, communication and personal growth all converge in her new profession as a certified executive and life coach.  Along with coaching, freelance journalism feeds her extreme curiosity in people, the world and life.
As a coach she works with people from all walks of life, from entrepreneurs and teachers to filmmakers, senior executives and more. Her coaching techniques are a match for anyone who feels a need to become a bigger, bolder version of themselves; anyone who believes in lifelong learning and is motivated to make a small or big change happen in their lives.
www.maaikedevisser.com
When & Where

Dawson College, Conrod's Lounge
4001 Boulevard de Maisonneuve Ouest
Montreal, QC H3Z 3G4
Canada

Monday, 17 November 2014 from 4:30 PM to 5:30 PM (EST)
Add to my calendar
Organizer
Eweek @ Dawson College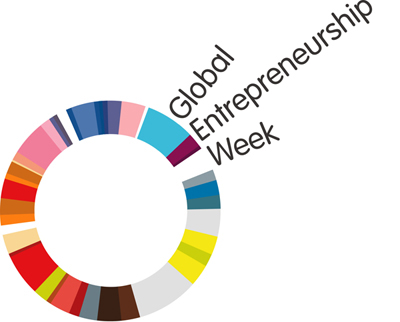 The place to be 
November 12 to 15, 2018!!
Dawson College's Centre for Innovation and Entrepreneurship Education will host Entrepreneurship Week (Eweek) coinciding with Global Entrepreneurship Week, November 12 to 15, 2018. 
Global Entrepreneurship Week (GEW) is an international movement to inspire millions of young people to embrace innovation, imagination and creativity through entrepreneurship. It is estimated over 15 million youngsters participated worldwide in tens of thousands of events and competition for Global Entrepreneurship Week. In Montreal, Dawson College's EWeek will provide a diverse and strong line-up of speakers, networking events, contests and activities for Montrealers and Dawson College students alike.
Many young students will have their first glimpse of a possible alternative career path and connect with seasoned entrepreneurs. All Montrealers are invited and all events are free. Hear inspiring stories of successful entertainers, photographers, illustrators, designers, dancers, programmers and farmers who launched their own businesses.
Dawson College is ideally placed to be a gathering place of high-profile community events. Situated in the heart of Montréal's downtown core, at the Atwater metro station, Dawson is Québec's largest CEGEP with roughly 8,250 full-time day students, 2,400 continuing education students, 600 faculty and  a 200+ team of support staff. The college currently offers over 30 programs in 50+ fields of study, including a variety of programs in the creative sector.
We hope to inspire the next generation of entrepreneurs.  Do you have a big idea??? Would you like to sponsor and event?  Do you want to connect with like-minded people or maybe just observe what the buzz is all about?  Join us for Eweek in November!!
Check out the calendar of events on our site and like us on
Thank you to our sponsors for their invaluable support of Dawson College's Eweek.
______________________________

______________________________