| | |
| --- | --- |
| Excellence Multicultural Gala Multiculturel d'Excellence - 07/12/2019 | |
Event Details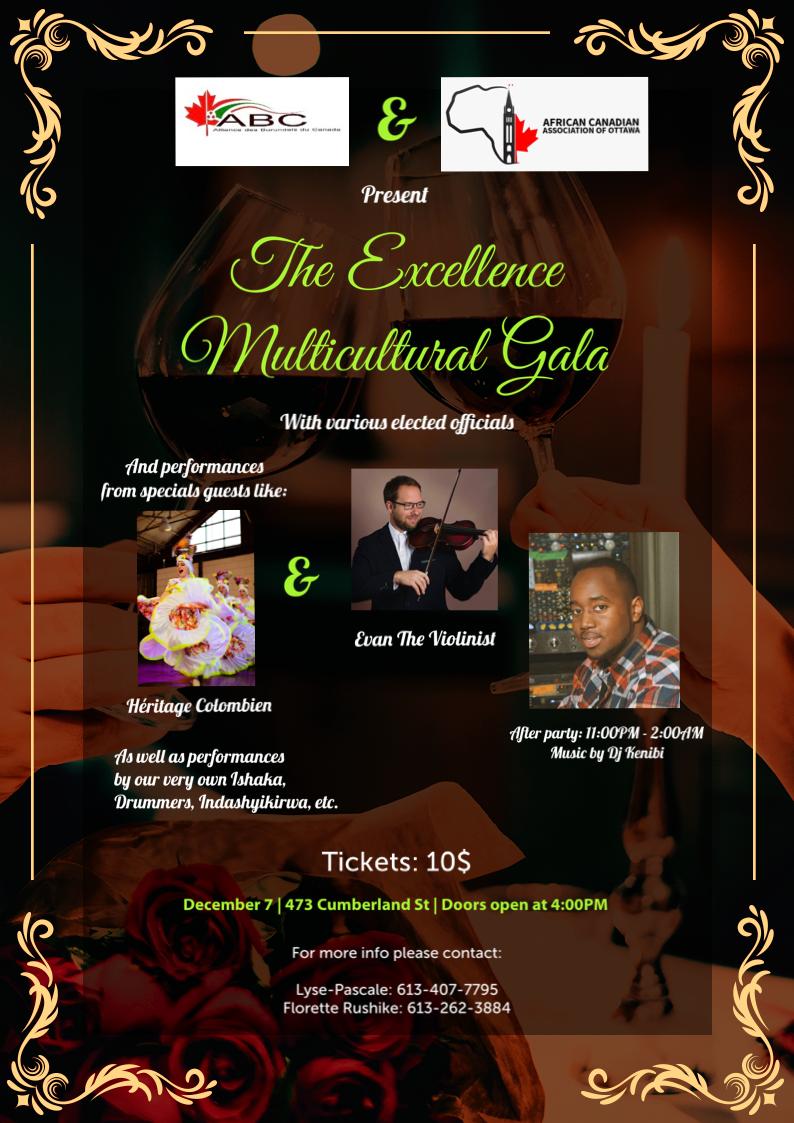 GALA IS SOLD OUT - AFTER GALA TICKETS ONLY AVAILABLE AT THE DOOR! / LES BILLETS DU GALA SONT TOUS VENDUS MAIS CONTINUEZ D'ACHETER CEUX DE LA SOIREE DANSANTE QUI SERONT VENDUS A LA PORTE!
FAQs 
Are there ID or minimum age requirements to enter the event? | Faut-il présenter une pièce d'identité ou avoir un âge minimum pour entrer?
There will be no ID verification. Minimum age is 9 years 
old for the Gala (4-10pm) then 14 years old for the after party (11pm-2am). We count on you! Be responsible! Please be aware that we will check your ID if we think you don't meet the age requirements.  | Il n'y aura pas de vérification de cartes d'identité, mais l'âge minimum pour le Gala (16h-22h) est 9 ans et 14 ans pour la soirée dansante (23h-2h). Nous vous faisons confiance! Soyez responsable! Veuillez noter que nous allons vérifier votre identité si vous semblez ne pas remplir les conditions de l'âge minimum mentionné ci-haut.
What are my transportation/parking options for getting to and from the event? | Quelles sont mes options de transport/stationnement?
Sandy Hill is very accessible as it is close to downtown. You can take any bus from Rideau Shopping Mall and stop at Cumberland and Rideau in front of Shoppers Drugmart and the National Bank, then walk 5 min or Uber to the venue. - For parking, you can park 1-2hours for free in the street or go park besides the venue. The price is cheap and not expensive at all!!! | Sandy Hill est très accessible car étant proche du centre-ville. Vous pouvez prendre n'importe quel bus à partir du centre commercial Rideau et vous arrêter sur Cumberland et Rideau devant le Shoppers Drugmart et la Banque Nationale, puis marchez 5 min ou prenez Uber. - Le stationnement gratuit est disponible sur la rue pour 1-2h, mais il y a aussi un stationnement payant à côté, qui n'est pas cher du tout et à bon prix!!! PARKING IS ON BESSERER AND CUMBERLAND AT $8 ALL DAY / LE PARKING EST SUR CUMBERLAND ET BESSERER A 8$ TOUTE LA JOURNEE.
What can I bring into the event? | Que puis-je apporter à l'évènement?
Cash And your positive vibes. | De l'argent comptant et votre bonne humeur.
Cash bar: Do we buy tickets at the door and get drinks at the bar? | Bar payant: Achetons-nous les billets à la porte et sommes servis nos boissons au bar?
You will buy tickets for your drinks at the door and will be served at your table same as in a restaurant. Then you'll be able to order more directly from your table. | Vous acheterez vos billets à la porte et serez servis à votre table comme au restaurant, puis après vous pourrez en commander d'autres directement de votre table.  
When & Where

St Paul's Eastern United Church
473 Cumberland Street
Ottawa, ON K1N 7K1
Canada