Description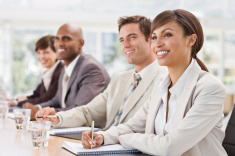 Today's business world is very competitive. Professionals who wish to build their brand, develop client relationships or leverage their go-to-market strategy, must develop skills that will help them stand out. In order to do so, they must develop a unique set of skills that will cultivate respect, enhance credibility and strengthen relationships. We believe it all begins with executive presence.
As a professional, small-business owner or entrepreneur, executive presence is a quality worth cultivating. It will give you the added edge to help you grow your business and your relationships with your clients, employees and associates. In this unique one day course, you will develop practical tips, tools and strategies that will ignite your potential, enhance your sphere of influence and accelerate your personal and professional success.
Over 300 seminar participants have rated this course an average of 4.8 out of 5 and 100% said it is a course that must be attended "live". So isn't it time that you did too and achieved your leadership edge?
Here's what some participants have to say:
"To this day, I still find your material the most relevant sales and leadership training provided to us by Oracle. ~Nicole Duterte – Business Development Consultant
"This is one of the best courses the Institute has offered. I hope they continue to offer it in the future.' ~CPAO course participant
"Instructor was the best I've ever seen. Made me feel absolutely comfortable during the entire day doing things/exercises I am not normally comfortable doing." ~ Seminar Participant
Seating is limited to 20 participants, so register early for this fun and unique, learning experience.
To learn more and get a PDF of the course outline, click here:

If you have any questions or if you wish to pay by cheque, please feel free to contact me directly at: krichardson@imagemakersintl.com or by phone at: 905-727-8768.
Continental breakfast and an elegant buffet lunch is included.
FREE parking and easy access from all areas of Toronto, off the 407, 400, 404 and 401.