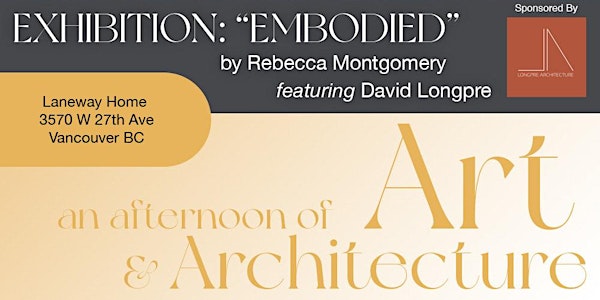 Exhibition: Embodied by Rebecca Montgomery ft. David Longpre
"Embodied" is a pop-up art show of Rebecca Montgomery's latest work, in a newly built laneway house showcasing the very best of Vancouver.
When and where
Location
3570 W 27th Ave 3570 West 27th Avenue Vancouver, BC V6S 1P8 Canada
About this event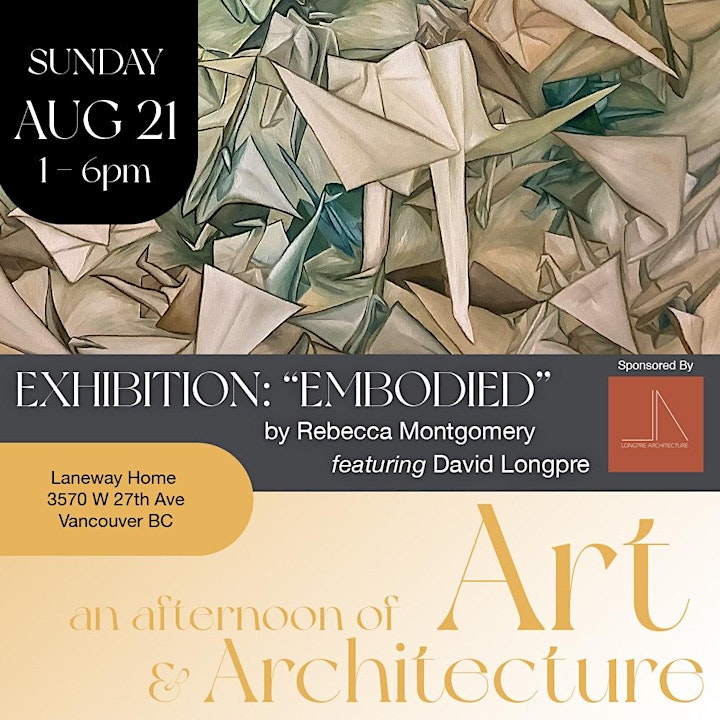 About the Artist
"Embodied" is an exhibition of work by interdisciplinary artist Rebecca Montgomery that showcases large colorful paintings, small ceramic sculptures, and screen-prints. This pop-up exhibition is an early look into Rebecca's work for her solo exhibition in September, 2022. Her practice is largely informed by art as a modality for healing. "Embodied" means to give a body to (a spirit). This series of works uses light as a metaphor to explore complex emotions, transforming them into physical objects as a way to move through and understand them.
Featured Artist
David Longpre, a local architect and principal of Longpre Architecture. David's work will also be on display as a featured artist. David Longpre established himself as a printmaker, sculptor and photographer at UBC, his passion for architecture called him to complete his Master of Architecture at the University of Calgary. David focused his research on sustainable architecture and natural materials. Working and living in Japan challenged David's thinking and respect for material objects, which the Japanese believe contain a soul or "kami." Here, David developed his idea of architecture being "vessels for the soul."
Where?
Laneway House, 3570 W 27TH AVE, Vancouver, BC
When?
August 21st from 1PM- 6 PM
Cost
Entry is by donation
Will there be food?
There will be some light nibbles and some drinks provided while supplies last.
Want to buy some art?
All art will be for sale either by silent auction or fixed price. Please include your shipping address in the event order form so that any bought pieces can be delivered and an accurate delivery quote can be given after winning.
Why a laneway house?
Too often, beautiful homes are built around the city and never seen by the public. New white walls beg for contemporary art on them. This allows us to showcase the latest architectural design in Vancouver and enable the public to engage with local artists.
Sponsors
We humbly thank Daniel Jun for allowing us to use the space and showcase his house.
We also thank Longpre Architecture for sponsoring the event www.longprearchitecture.ca