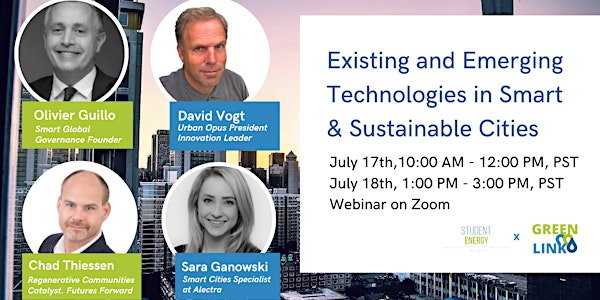 Existing and Emerging Technologies in Smart & Sustainable Cities
Network and learn from smart city professionals about exciting technologies that are making the world more sustainable!
About this event
This is the second session of GreenLink Smart Cities Conferences series. The series covers various topics ranging from technologies to case studies of cities that have incorporated different technologies and practices in their own city planning.
On these two days, the speakers are invited to introduce specific technologies that are used in various fields connected to shaping smart cities, emerging opportunities in new smart cities technologies for post-pandemic world.
More specifically, speakers will also present perspectives stemming from the impacts of COVID-19 pandemic in reshaping society as well as introducing what opportunities smart cities provide for youths and other professionals.
Learn more about us at https://www.greenlinkconferences.com/