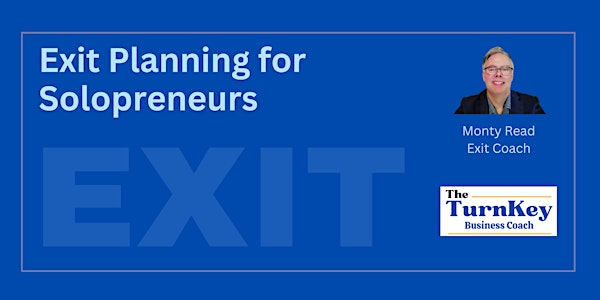 Exit Planning - For Solopreneurs
You're close to exiting your business. You want to make sure that you are prepared when you transition away from your business.
About this event
What does "Life After Business" look like for you.
In this group coaching session, we will develop the Ideal picture of what you would want your life after owning your own business.
We'll talk about where you are now in your life
We'll talk about the transformation from where you are now to your ideal life after business.
This is the starting point for understanding what Exit Planning will look like for you. Everybody's story is unique, so we'll have many contrasting stories to learn from.
OBJECTIVE: The takeaways from this session for you will be:
Understand the importance of Exit Planning - Starting Now
Understand your starting point
Understand what would you love to have and live like after you exit your business.
Learn from others in the group that are going through the same things as you.
Develop community with business people just like yourself.
The Small Business Owner Tribe: - Who are We?
We're small business owners age 50+ and we need to start planning for life after business.
We're dedicated to having the best exit for ourselves and our loved ones.
We are committed to doing the work necessary, to have a great exit.