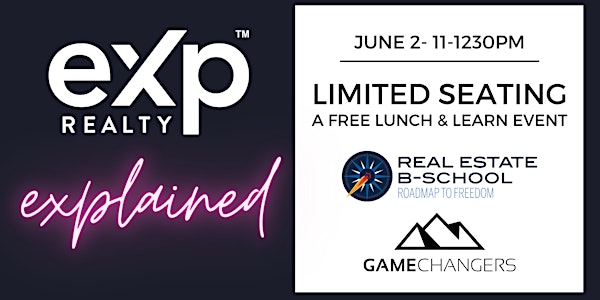 Location
The Inn on Officers Garden
150 Dieppe Drive Southwest
Calgary, AB T3E 7L5
Canada
A briefing on eXp Realty: Why has it Become the Fastest Growing Brokerage in the World with Open Question and Answer Period to Top Agents
About this event
This free lunch & learn event is only for Realtors (and those in the process of getting their licence) who are interested in taking a no-nonsense, deep dive into eXp Realty and fully understanding their brokerage options. Bring your questions and enjoy an opportunity to network with some of Calgary's Top Realtors and Teams. Held in a Boutique Historic Calgary Hotel with limited space, we will cover:
*eXp Realty Brokerage Model
*Why is the market shifting away from the conventional brokerage model
*The Future of the way to "do Real Estate" in Calgary, Canada and Globally
*Open Forum Q & A - nothing is off side, transparency is key. Bring your questions to ask.
*How to grow and scale your business with free access to tools and coaching from Real Estate B-School and a network of other industry leaders.
*What's actually in it for you?
*Networking Lunch - You might be surprised to see who is in the room, some of Alberta's biggest names in real estate have registered for this event.
This is a 60 Minute interactive presentation with a networking lunch to follow. This event will book up, and we have limited seating available.
Q&A with Jonathan Popowich, Trung Bien, Ken Rigel, Joel Anderson, Crystal & Tyler Tost & More!
Guest Speaker - Lars Hedenborg - Founder & Team Leader for Real Estate B-School
Whether you are a solo agent, a team member, or a team leader that is looking to crack $100,000, $500,000, or $1,000,000+ this presentation will walk you through how to achieve maximum leverage in your business while not giving away your life in the process.
It's not just about the brokerage, it about WHO you are partnering with!
TEXT Questions to 403-923-4700 OR whoever invited you to this event!