Expandable Baton Instructor Course for Law Enforcement and Security Instructors
About this event
Too many 'tactical' baton programs rely on the tool, and not enough on the tool wielder. The expandable baton should be used to enhance a foundation in defensive tactics and capability. This should include:
Psychological control through use of force to de-escalate a situation
Baton presentation under duress
Effective striking capability through attribute enhancement drills to increase speed, power, timing / distance-management and accuracy. The goal should be generation of pain compliance or incapacitation.
Our Expandable Baton end-user and instructor programs have been taught to Police, Military and Security units throughout Canada, the United States, Germany, England, Korea, Singapore, Brazil and the Philippines. We have developed policy, procedure and training programs for Law Enforcement and Security Agencies.
This certification course will be two full days which will include two short breaks and a lunch break. All participants are responsible for their own snacks and meals.
Pre-Requisite: All participants must have a valid and credible use of force force certification.
​Registration: The course is restricted to sworn law enforcement officers, military, security professionals and vetted civilians. Participants may register via Eventbrite or electronic funds transfer. Please note, Eventbrite charges a handling fee. By registering online, you will also be subscribing to the SITREP, a monthly newsletter where you can receive special offers and promotions. You may unsubscribe at any time.
e-Transfer email: info@pekititactics.ca
Parking: Free
Please bring the following to the course:
Comfortable t-shirt
Comfortable long pants (5.11, BDU or similar cargos)
Duty belt with expandable baton and baton holder
Clean wrestling/boxing/mats shoes (optional); no boots / outdoor shoes
Snacks, hydration drinks
Instructor Bio: Chris Mandigma is recognized as an authority and specialist in the area of Close-Quarter Comabtives (CQC) and Use of Force tactics for law enforcement in Canada. He is a retired law enforcement officer and was a former instructor for the Federal Government of Canada.
Chris specializes in empty-hand combat, edged and impact weapons and the integration of firearms for law enforcement and protective services. He has instructed Use of Force training and CQC across North America. With a background in striking, grappling and weapons-based martial arts, Chris is ranked as a TRICOM Master Instructor under the direct tutelage of Tuhon Jared Wihongi.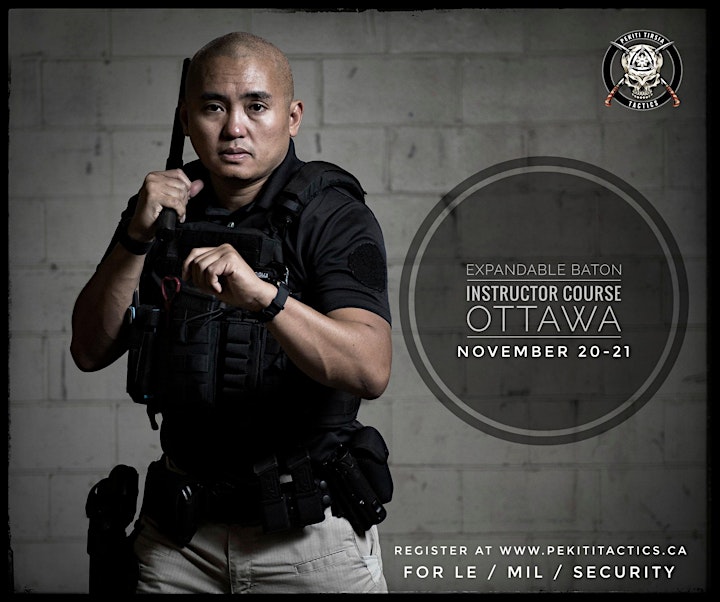 Organizer of Expandable Baton Instructor Course
Pekiti Tirsia Tactics is a sanctioned affiliate with the Pekiti Tirsia Tactical Association (PTTA) which works alongside Survival Edge Tactical Systems to deliver the TRICOM system. Pekiti Tirsia Tactics specializes in training law enforcement, military and specialized enforcement units in close-quarter combatives from empty-hand up to lethal force options.
All courses and workshops instructed are aligned with the National Use of Force Framework and court-defensible.