Experience Your Life Expo 2019 - Largest Youth Employment and Entrepreneurs...
Description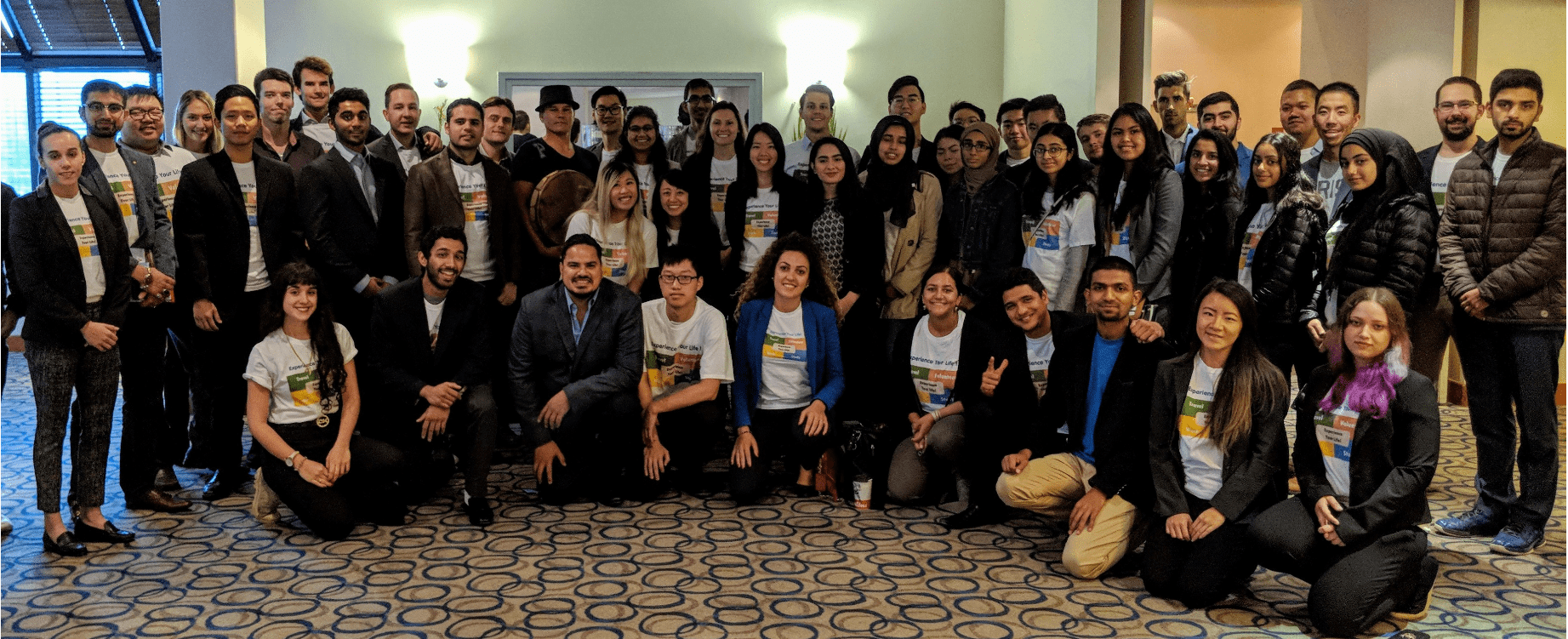 We are SOLD OUT each year. REGISTER TODAY!
Are you ready for a life changing experience? Come to one of the LARGEST Youth (university/college students & young professionals) Employment, Empowerment and Entrepreneurship events in Canada. We only invite tier-1 organisations to our Expo and are proud to have one of the highest representation of federal, provincial and municipal employers and programs in Canada. In addition to employment opportuntiies, meet CEO's and senior executives in-person from major organisations for a life-changing roundtable conversation in our breakout room that are sold out each year. We lead with our heart and the impact of our annual event on Canadian youths has been recognized and supported by the Prime Minister of Canada, Minister of Innovation Science and Economic Development, MP Ruby Sahota, Commanding Officer of RCMP 'O' Division Jennifer Strachan, and through the physical presence of various dignitaries and leaders. 2018 exhibitors and leaders include:
Innovation for Defence Excellence and Security (IDEaS), Defence Research and Development Canada / National Defence
Royal Canadian Navy
RCMP
Canadian Armed Forces
Canadian Security and Intelligence Service
Office of Commissionner of Official Languages
Immigration, Refugees and Citizenship Canada
Ministry of Corrections and Community Safety
York Regional Police
International Experience Canada
Young Canada Works (Quebec)
Ministry of Education
Federal Economic Development Agency of Canada
St John Ambulance
Elevate Aviation
Engineers Without Borders
Project Management Institute
PickWaste
Not Just Tourists
ZeroToHired
LinkMental Health
TeachAway
Wilfred Laurier University
Durham Regional Police Force
Public Services and Procurement Canada
Mississauga Business and Enterprise Centre
Change Her World
Health Canada
Toronto Police Service
Stanley Black & Decker
Fire Eye
Speaker Slam
SmartCane
FEM for STEM
Treasured Inc
Two Sisters on a Mission
Special Constable Association
Ministry of Transportation
Mississauga Fire and Emergency Services
Toronto Fire Services
Red Reach
Institute for Management and Innovation, University of Toronto
Helping Hands
National Strategic Fundraising Competition
Open People Network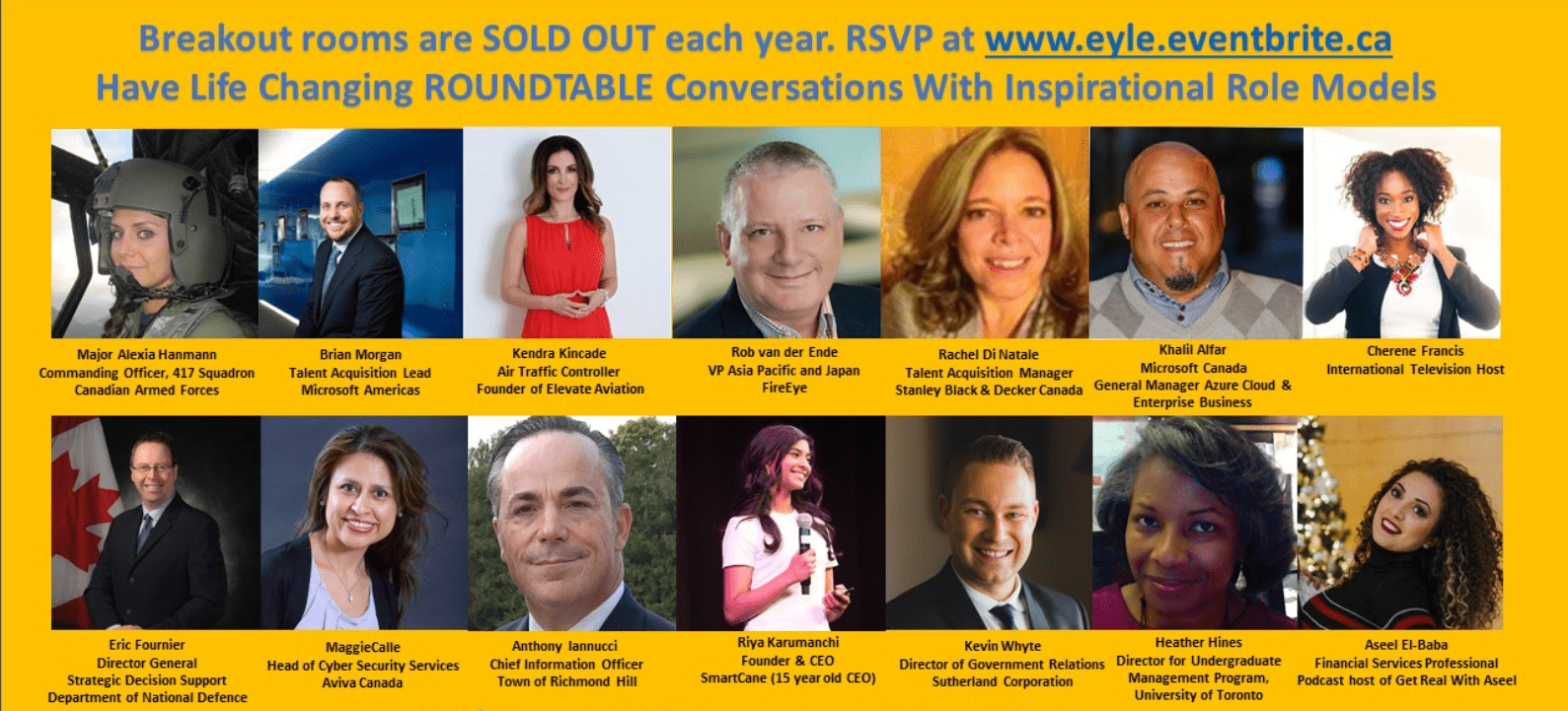 Where else can you get to have roundtable career conversations with business and public sector leaders who are running teams of thousdands of people? Read the bio of 2018 leaders at business and public sector leaders featured here who flew in from Singapore, Panama, Ecuador and across Canada. 2019 list will take things to a whole different level again.Each leader is hand-picked not just because of their title but who they are as a person and their very real message of empowerment. 2018 leaders included:
Eric Fournier, Director General (Science & Technology) for Strategic Decision Support, Department of National Defence
Major Alexia Hanmann: Commanding Officer, 417 Squadron, Canadian Armed Forces
Magali (Maggie) Calle, Senior Officer and Head of Cyber Security Services at Aviva Canada
Anthony Iannucci, CIO, Town of Richmond Hill
Mohamed Manji, VP, Finance, Personal Banking, TD Bank Group
Brian Morgan, Talent Acquisition Lead Microsoft Americas
Rachel Di Natale, Talent Acquisition Manager for Stanley Black & Decker Canada
Khalil Alfar, Microsoft Canada General Manager for Azure Cloud and Enterprise Business Division
Rob van der Ende, Vice President for Asia Pacific and Japan (APJ) at Mandiant, a FireEye company. Joining us from Singapore.
Jason Fobister, First Nations Artist from Grassy Narrows First Nations (flying in from 2000 km. away from Toronto)
Kendra Kincade: Air Traffic Controller. Founder and Board Chairman of Elevate Aviation – a venture dedicated to empowerment of women in aviation
Kevin Whyte, Director of Government Relations with Sutherland Corporation
Cherene Francis, International Television Host, Producer and Personal Branding Consultant
Aseel El-Baba, Financial Services Professional, Podcast host of Get Real With Aseel
David Gold, Founder and Director of Casco Antiguo Spanish School in Panama City, Panama
Luc Lagrandeur , Professor, Faculty of Management at Laurentian University (Sudbury, Ontario)
Amanda Fobister, Status Member of Grassy Narrow First Nation and Program Coordinator for the Kenora Chiefs Advisory
Riya Karumanchi, Founder & CEO, SmartCane (15 year old CEO)
Heather Hines, Director for Undergraduate Management Program, University of Toronto
Codi Shewan, Keynote Speaker, Trainer and Management Consultant
Visit the following link to see pictures and videos from the sold out 2017 event. 2018 pictures and video will be released soon.
The driving vision behind Experience Your Life is to empower people to change the lives of others. For young people seeking professional employment opportunities, travel with purpose, or professions that match their educational training, this platform aims to connect them with the right advice, organizations, employers, opportunities, and mentors. We keep the bar really high on exhibitor quality which attracts a very focused demographic of people to our event. If you are a driven and positive student, young professional who wants to pursue their professional career while making the world a better place - we are the place for you.
We have been doing our event for four years now and it has been recognized at the highest levels for the very real impact it has on youths and people who are going through a career transformation. The video captures the 2016 event attended by 1800 people.
Please visit our website for the latest list of exhibitors - the picture below contains the 2018 exhibitors. A couple of key points:
1) We are proud to have one of the LARGEST representation of federal and provincial employers in Ontario. Below is the list from 2018 exhibitors. We are invitation-only for exhibitors to keep the bar high.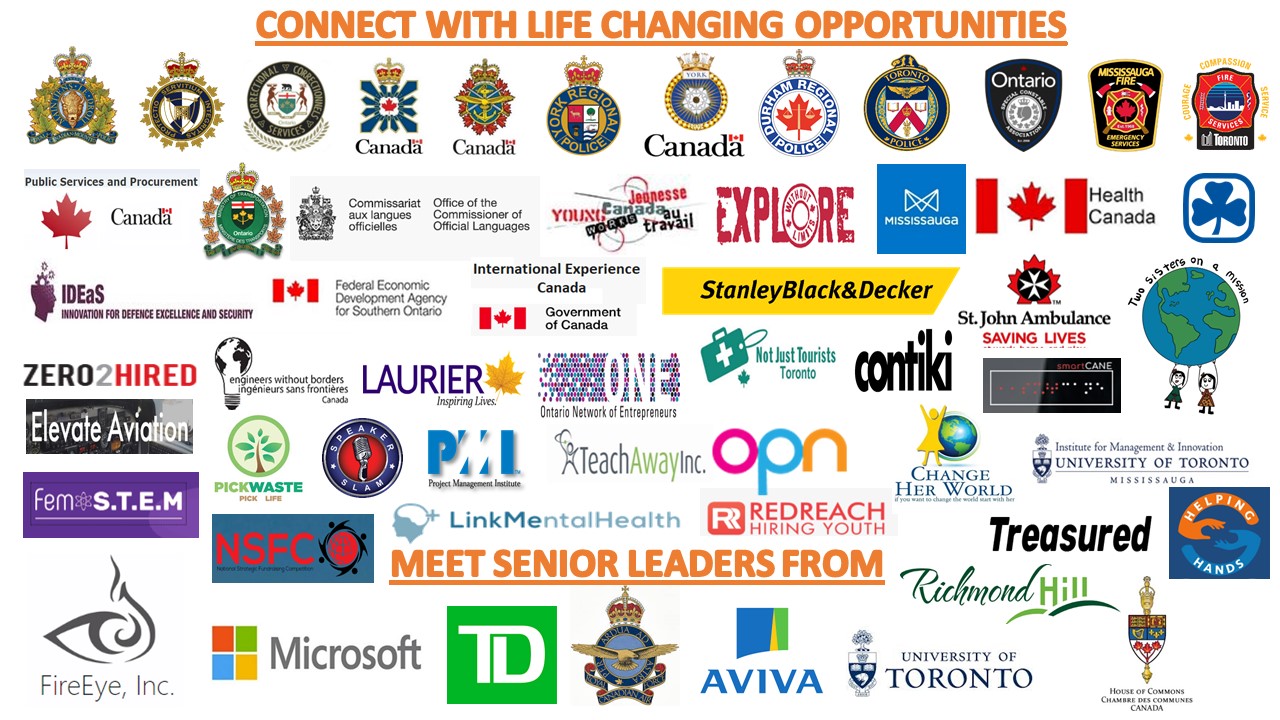 2) As captured above, our breakout rooms has senior executives from organizations like TD, Microsoft, RCMP, Royal Canadian Air Force, FireEye, Stanley Black & Decker and many others. Visit the following post on our website.
3) Changing the world should not be boring! Thousands of travel with purpose opportunities. Get PAID and see the world!
4) Our exhibitors are organizations that are changing lives and making the world better. We keep the bar really hard to bring you professional and high quality opportunities
5) We are a family of change makers that gets together from around the world for this weekend. There is a very special VIP ticket available for those that share our values and focus to join us for dinner the night before. The ticket includes a dinner with 150 other leaders, exhibitor representatives, breakout session leaders and the experience your life team. It also includes the expo+breakout room ticket for 28th. This ticket type is invitation only. Please send us an email at info@experienceyourlife.ca with who you are and the change you are/want to drive in the world. We will circle back with you.
6) We also have a "Entrepreneur Accelerator Zone" contains organizations that provide thousands of dollars in funding, grants and program as well as access to advice and mentors. 2018 zone included: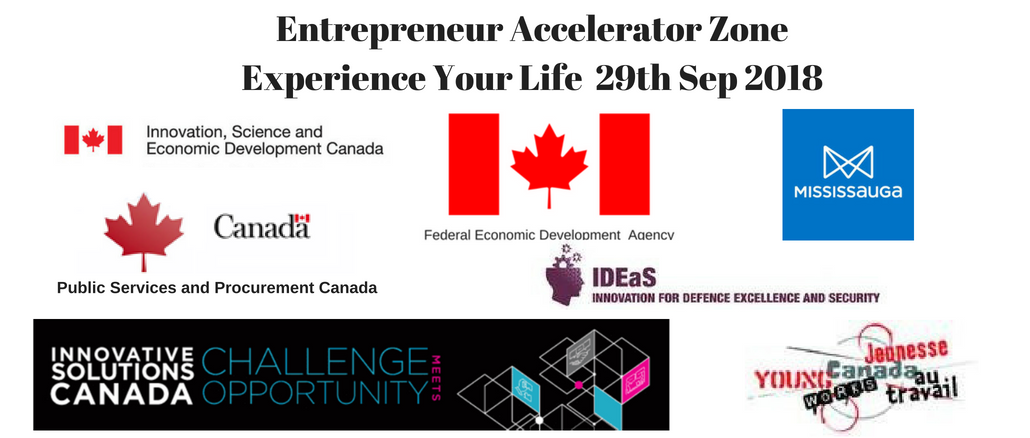 Our target demographic is special!
We welcome positive and driven attendees who are looking for a break to truly accelerate their career. We want to really emphasize that we are not the typical employment and entrepreneurship expo and a simple google search on Experience Your Life Expo will reveal the life changing opporutnities and impact we have had in the last five years. This Expo is razor focused on a life changing experience for a certain type of attendees - those that are (1) Positive (2) Looking for a career and not a tactical job (3) Want to do something incredible with their life and exploring options (4) are willing to work hard towards achieving their dream. Our attendees come well researched on our leaders and exhibitors and connect at a level that changes their life. If that is you, we would love to see you in 2019 and to join the family of change makers!

Really important part:
1) Please note we are a event focused on youth empowerment and attended by senior executives from all over Canada and the world who share our vision. Admission tickets are only for individuals seeking services of our exhibitors and absolutely no business solicitation or suitcasing is permitted by non-exhibiting business representatives. This policy is strictly enforced.
2) All ticket sales are non-refundable.
3) For guaranteed entrance to the event, please purchase your ticket by paying for it as it is a very nominal price that confirms to us that you will be attending and take this opportunity seriously. Complimentary tickets purchased using a code can be cancelled at any time leading up to the event if we hit our capacity. If you get a complimentary ticket using a promotional code, please note that the attendance will be on a first come basis on 28th September until we reach the capacity. Given the high number of no-shows associated with free tickets, having a complimentary ticket does not guarantee you entrance to the expo as it will depend on the day. We encourage you to come at 11:00 to maximize your chance.
3) Due to the nature of the business, exhibitors or leaders may change at any point.
4) The breakout room seating is on first come and first serve basis. Registration starts at Expo opening. The breakout rooms are extremely popular and are sold out months in advance every year. Please arrive at 11:00 to secure your spot as we cannot guarentee it once the event starts.
5) By taking part in this event you grant the event organisers full rights to use the images resulting from the photography/video filming, and any reproductions or adaptations of the images for fundraising, publicity or other purposes to help achieve the group's aims without any financial compensation. This might include (but is not limited to), the right to use them in their printed and online publicity, social media, press releases and funding applications.
Call to action:
Bring your positive energy and be ready to embrace life changing opportunities on 29th Sep. We work hard to attract a demographic that is positive, professional and ready to make a difference in their own lives and in the lives of others.

We are making at difference at a global scale through our other project http://www.libraryinaweek.com to build 100 libraries around the world. The Expo directly supports us to build more libraries around the world. We have build 23 in 7 countries so far. Check it out and join the movement of youth empowerment.
The energy around the event is like no other and we are looking forward to share it with you.