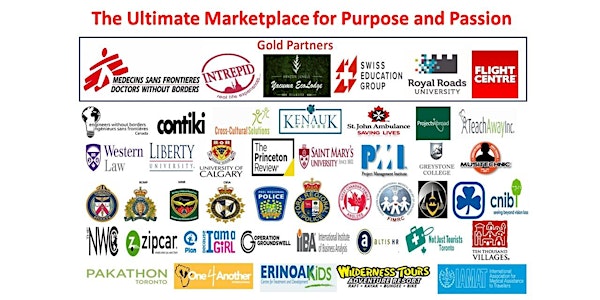 Experience Your Life Expo 25th Sep 2016 -The ULTIMATE Marketplace for Purpose and Passion
When and where
Location
Delta Toronto (Opposite CN Tower) 75 Lower Simcoe St Toronto, ON M5J 3A6 Canada
Description
Ultimate Marketplace for Purpose and Passion!
Make a Difference in the World while having the time of your LIFE! A FREE Event You Can't Afford to MISS!
THOUSANDS of JOBS, travel, global volunteers and study opportunities under one roof at the prestigious Delta hotel (opposite CN tower). Life is meant to be experienced – not survived!!
Featured exhibitors below. This list will be updated on a frequent basis.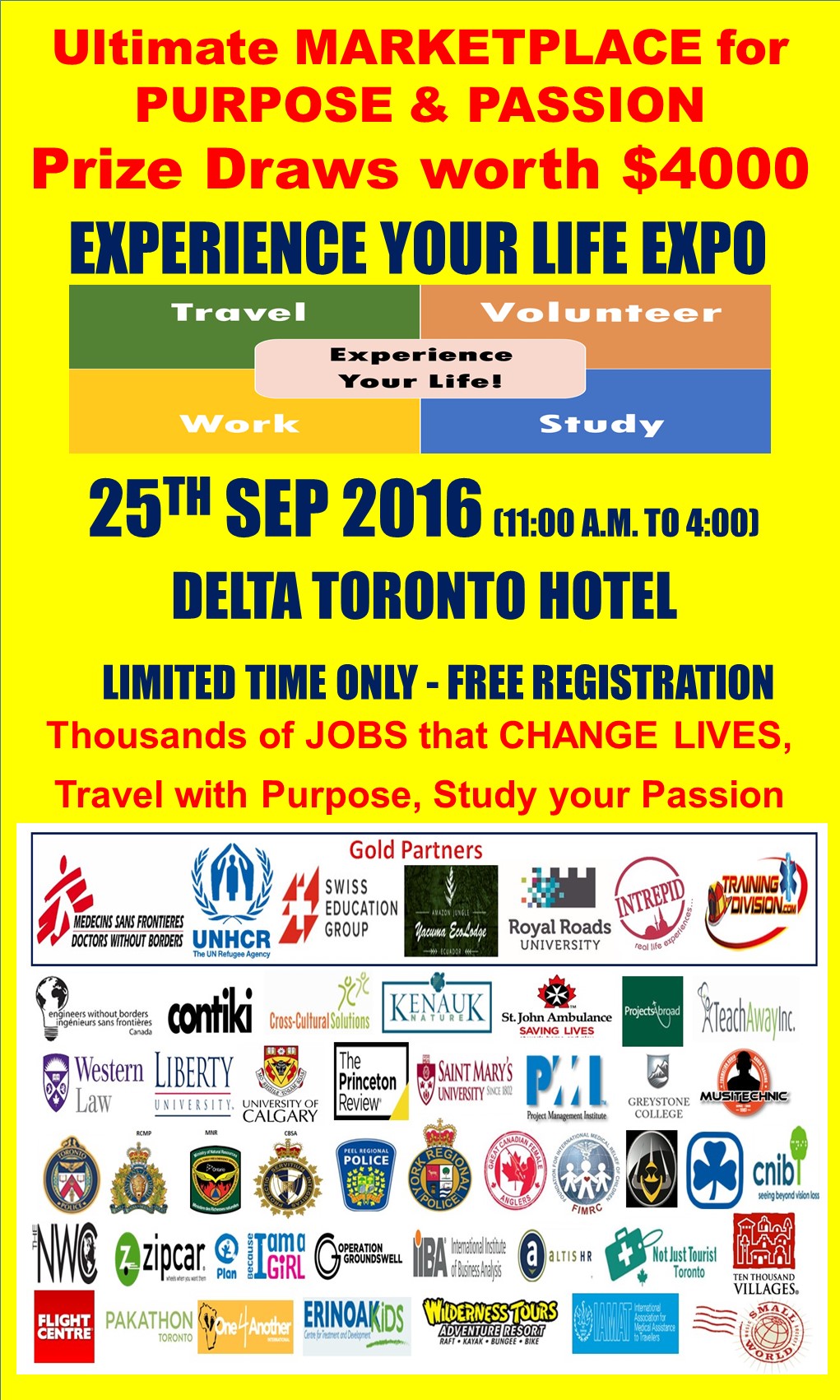 Why You Must Attend?
FREE ADMISSION WITH EARLY BIRD REGISTRATION (REGISTER NOW)
Embrace Opportunity

THOUSANDS of JOBS, travel, global volunteers and study opportunities will be under one roof. Life is meant to be experienced – not survived!!

2015 Expo was INCREDIBLE. See the VIDEO

World Class Exhibitors We have organizations like Doctors Without Borders and Engineers Without Borders that are hiring for positions around the world. We have a remote lodge from deep in the Amazon flying in for the Expo as well as key wilderness retreats like Kenauk Nature. Come understand your study options in Switzerland with Swiss Education Group. Intrepid travel provides tours in over 100 countries. The list goes on! Each one of our exhibitors is selected based on the service they provide and their positive impact on humanity! The energy in the room is like no other.These are truly iconic organization and leaders in their category. Check out the full list at www.experienceyourlife.ca

GRAND Prize Draws (

Over 4000 dollars in prize draws

)

There are many trips being offered as prizes for registered attendees including a 2 night all inclusive adventure trip with Wilderness tours. Trips to be announced closer to date.

AMAZING DOOR PRIZES

We gave away 20 dollar headphone last time to the first 100 people. Arrive before opening time. Prize and quantity to be announced.

Changing Lives Perspective

The Expo has been designed to change lives with invitation-only exhibitors that provide amazing opportunities. We have turned down more organizations then we accept to ensure the energy of our partners matches the energy of Experience Your Life to make the world better!

Proven Experience

Our founder has travelled to 62+ countries and is bringing the best exhibitors to the Expo

Check out www.experienceyourlife.ca
Admission tickets are only for individuals seeking services of our exhibitors and absolutely no business solicitation or suitcasing is permitted by non-registered business representatives. If you would like to exhibit with us, please email us at info@experienceyourlife.ca