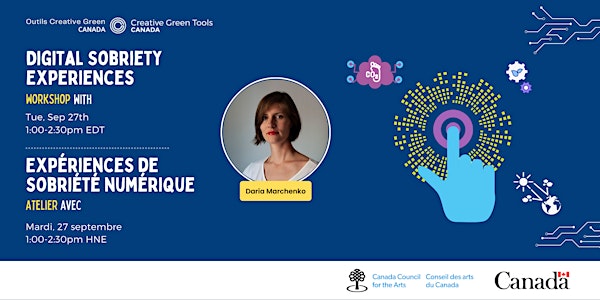 Expériences de sobriété numérique / Digital Sobriety Experiences Workshop
Join us and Daria Marchenko from Ecoist Club to talk about a responsible digital transition.
About this event
-Français-
Ecoist Club Inc. est un projet d'impact social qui accompagne les entreprises dans la transition écologique numérique. En réunissant des experts en TICs vertes, en numérique durable, en psychoéducation, en psychoergonomie et en bien-être physique, Ecoist Club offre à ses clients des outils pour apprendre (formations, services-conseils), mesurer (état des lieux, calculateur GES de consommation numérique, audits) et agir (planification stratégique, communication).
Notre atelier modulaire regroupe des expertises multidisciplinaires issues de domaines directement liés à la transition numérique responsable et s'adresse aux individus et collectivités éco-sensibles.
Thèmes clés de l'atelier :
sensibilisation à l'écologie numérique
estimation des impacts numériques (GES, empreintes eau et terre)
éco-conception et UX éthique des sites web
sédentarité et fatigue numérique (exercice pratique de 10 minutes - collaboration spéciale avec Studio Spinal Mouvement et Audrey Lehouillier)
communication durable et éthique
Q&A
Présentée par : Daria Marchenko
Photojournaliste, artiste numérique, M Sc en communication médiatique
Fondatrice de ECOIST CLUB, www.ecoistclub.com
-English-
Ecoist Club Inc. is a social impact project that supports companies in the digital ecological transition. By bringing together experts in green ICTs, sustainable digital, psychoeducation, psychoergonomics and physical well-being, Ecoist Club offers its customers tools to learn (training, consulting services), measure (inventory, GHG calculator digital consumption, audits) and take action (strategic planning, communication).
Our modular workshop brings together multidisciplinary expertise from fields directly related to the responsible digital transition and is aimed at eco-sensitive individuals and communities.
Key themes of the workshop:
awareness of digital ecology
estimation of digital impacts (environmental footprint, including GHG emissions, water consumption, and land use)
eco-design and ethical UX of website
sedentary lifestyle and digital fatigue (10-minute practical exercise - a special collaboration with Studio Spinal Mouvement and Audrey Lehouillier)
sustainable and ethical communication
Q&A
Presented by: Daria Marchenko
Photojournalist, Digital Artist, M Sc in Media Communication
Founder of ECOIST CLUB, www.ecoistclub.com
-Français-
La traduction simultanée du français vers l'anglais sera disponible tout au long de l'événement. Il nous fera plaisir de vous offrir un soutien supplémentaire sur demande pour assurer l'accessibilité de l'événement. N'hésitez pas à nous contacter à cet effet. Un lien de connexion Zoom vous sera transmis par courriel à l'approche de l'événement.
-English-
There will be live French to English translation throughout and additional accessibility support will be provided upon request. A zoom link will be sent to registrants closer to the event.
-Français-
Il nous fera plaisir de vous offrir un soutien supplémentaire sur demande pour assurer l'accessibilité de l'événement. N'hésitez pas à contacter gift@sustainablepractice.org à cet effet avant le 20 septembre 2022.
-English-
Require any accessibility accommodations? Email gift@sustainablepractice.org before Sep 20th, 2022 and we will be happy to accommodate you!
-Français-
Cet événement est rendu possible grâce à l'appui de Patrimoine Canada et du Conseil des arts du Canada.
-English-
This event is made possible by the support of the Department of Canadian Heritage and the Canada Council for the Arts.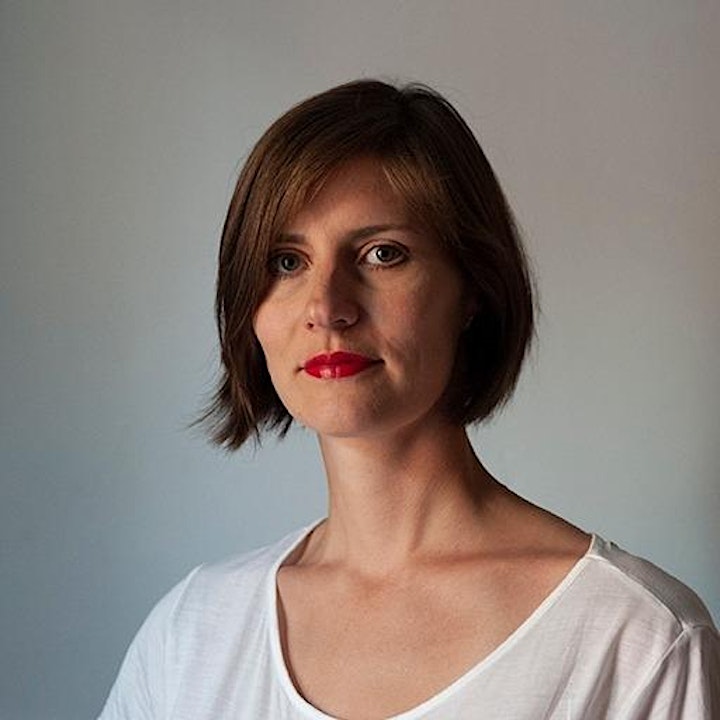 -Français-
Née à Moscou en 1985, j'ai immigré au Québec en 2007. J'ai aussi vécu et travaillé en France et à Hong Kong. Photojournaliste, artiste visuelle et artiste numérique, récipiendaire de la bourse CALQ, avec plus de 15 ans d'expérience en gestion et réalisation de projets médiatiques comme directrice photo/éditrice photo, je détiens un Baccalauréat en photojournalisme (2007 – Moscou), une Maîtrise en communication médiatique (2011 – Montréal), un Baccalauréat en production cinématographique (2015 – Montréal).
Mes œuvres artistiques comme « Occupy Central » (2015), une application mobile/réveil en soutien des manifestants pro-démocratiques à Hong Kong, ou encore « Baromètre : portrait sonore de Montréal » (2021), sont les fruits de ma réflexion au sujet des relations de l'humain avec la technologie.
Depuis 2020, je travaille sur un projet de sensibilisation à la sobriété numérique « Ecoist Club » qui aide à développer des relations saines et éco-responsables avec le numérique via des initiatives ponctuelles, multidisciplinaires et inclusives.
-English-
Born in Moscow in 1985, I immigrated to Quebec in 2007. I also lived and worked in France and Hong Kong. Photojournalist, visual artist and digital artist, recipient of the CALQ grant, with more than 15 years of experience in management and production of media projects as a photo director / photo editor, I hold a Bachelor's degree in photojournalism (2007 – Moscow), a Master's in media communication (2011 – Montreal), a Bachelor's degree in film production (2015 – Montreal). "Barometer: Sound Portrait of Montreal" (2021), are the fruits of my reflection on the relationship between humans and technology.
Since 2020, I have been working on a digital sobriety awareness project "Ecoist Club" which helps develop healthy and eco-responsible relationships with digital through ad hoc, multidisciplinary and inclusive initiatives.