Description
You and your friends are cordially invited to join us in "Experiencing Chinese Arts" on Friday September 23, 2016! We speak ENGLISH and Chinese, no stress if you do not speak Chinese =)
A guided "tour" led by 5 Chinese Artist will show you the beauty and techniques of FIVE different types of Chinese Arts. In addition to "PERFORM", our talented performers will also "TALK" about the secrets and tips up-close and personal. You will enjoy and participate in:
Chinese wind instruments, including Bamboo flute, Suona, Hulusi and Xun;
Brush Painting of Orchids and bamboo;
Sichuan Opera Face-changing;
Chinese Tea Ceremony.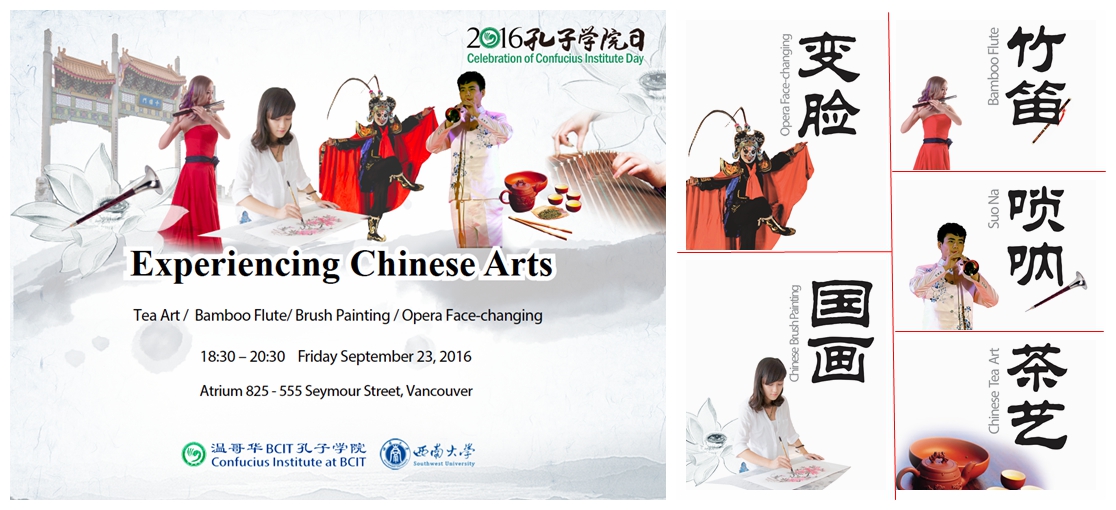 Our entertaining games and activity will also enhance your experience of this wonderful "tour"! Come to join us in this FREE cultural event hosted to celebrate the Global Confucius Institute Day!
Seating is limited; please book your tickets before Monday September 19th.
For inquiries, please contact Luna Liang at 604-412-7690 or email contact@confuciusbcit.com
See you on the 23rd! =)