Experimental Editing

Wednesday, 27 February 2019 at 6:00 PM

-

Wednesday, 13 March 2019 at 9:30 PM (PST)
Event Details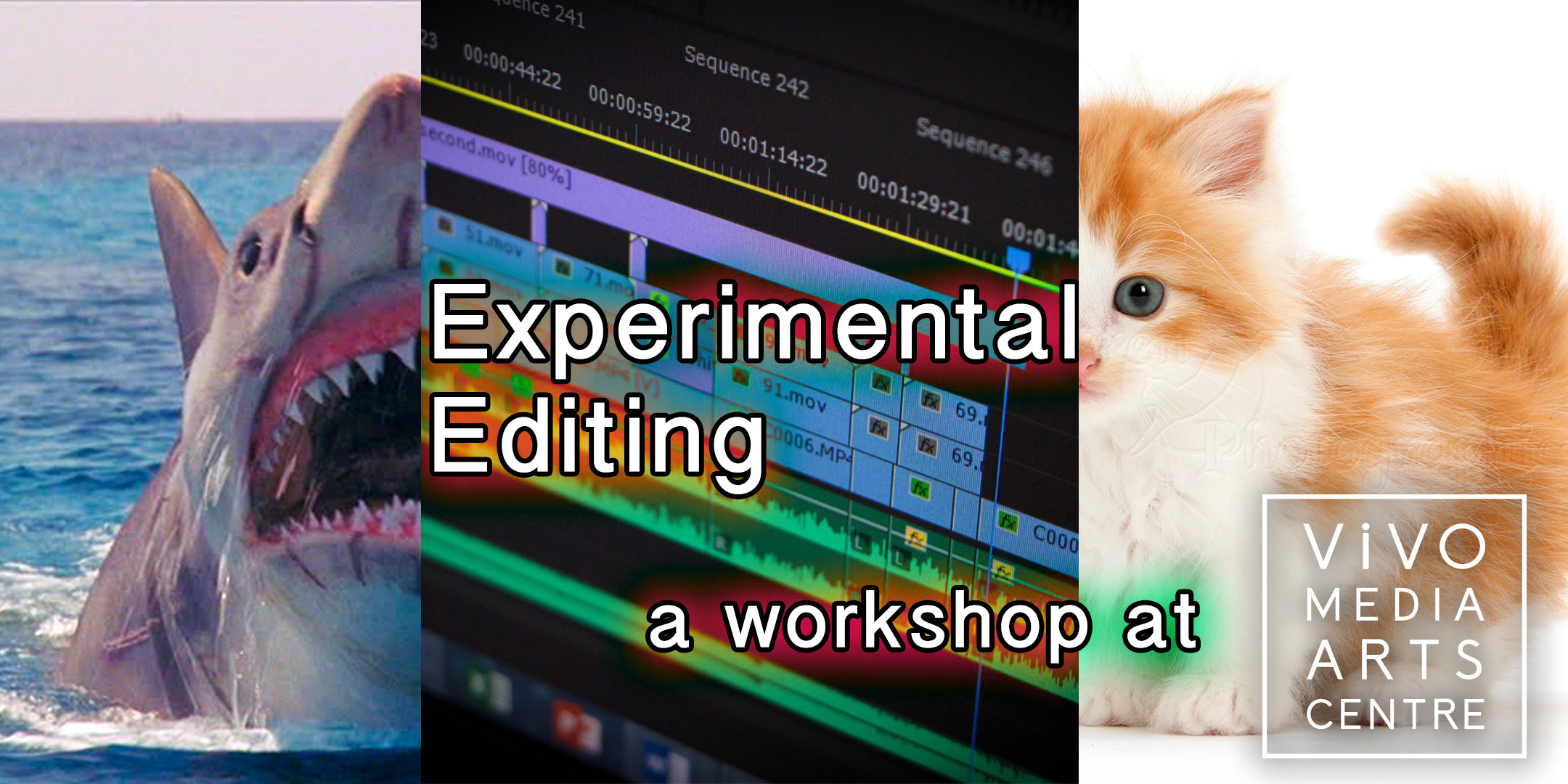 Experimental Editing
Inspiring techniques to stoke your editing process, with editor Will Ross.
3 sessions, 10.5 hours total // $130, or $96 with any VIVO Producer Membership (+GST)

Session 1: Wed Feb 27, 6pm-9:30pm
Session 2: Wed Mar 6, 6pm-9:30pm
Session 3: Wed Mar 13, 6pm-9:30pm

One Extended Subsidy available for this workshop:
https://goo.gl/forms/z1t2E8tlBfiz2r693
 
Prerequisite: Basic experience with Adobe Premiere or other non-linear editing system.

Creative editing allows you to form stunning work with the barest of resources! 
This workshop is designed for those who already have a general understanding of how to use Adobe Premiere, but would like to use it in more diverse creative ways. 
This hands-on workshop will enable you to be more spontaneous in the editing room, generating experiments by implementing colour palette, saturation, image blending, contrast, rhythm, rapid cutting, graphic montage in novel and expressive ways.
You'll be introduced to several examples of experimental editing and engage in group discussion about their effects and meanings.

After quickly conceptualizing and recording your own scene, you'll cut your footage to test out various proposed theories and workflows, as well as your own editing ideas and improvisations.
By the end of this 3-day workshop, you'll have shot and edited a short original work that demonstrates your editing experiments. Everyone's scene will be shown in class for group discussion and reflection.
---
Want access to discounts?

Sign up to for an Extended Producer Membership:
http://www.vivomediaarts.com/join-participate/become-a-member
Or redeem your the Video Bucks you earned by volunteering:
http://www.vivomediaarts.com/join-participate/volunteer
---
Will Ross (sadhillmedia.com) has been working in film and video since co-founding Sad Hill Media in 2009. His films have shown at the Vancouver International Film Festival, as well as TIFF, Moonrise, and Cinema Spectacular. Whether for his own projects or someone else's, his work behind the camera and the keyboard is always focused on finding fresh, gripping new approaches to filmmaking. As well as on-set direction, Will participates in the screenwriting, shotlisting, editing, and sound design stages of the process. His collaborations are marked by responsive communication and craftsmanship that are tailored to the sensibilities of his clients and teams. In addition, he maintains a blog of critical work, and his reviews and video essays have been published by outlets such as Tiny Mix Tapes and MUBI Notebook.
---
Refunds: Class sizes are small, and our instructors need to be paid–if you can't make a class that you've signed up for, we need time to alert wait-listed participants. VIVO presently asks that withdrawals from workshops be requested by emailing education@vivomediaarts.com at least 12 days prior to the workshop date, if you would like to receive a refund minus a $5 administration fee. Thanks!
When & Where

VIVO Media Arts Centre
2625 Kaslo Street
Vancouver, BC V5M 3G9
Canada

Wednesday, 27 February 2019 at 6:00 PM

-

Wednesday, 13 March 2019 at 9:30 PM (PST)
Add to my calendar
Organizer
VIVO MEDIA ARTS CENTRE, incorporated in 1973 as the Satellite Video Exchange Society (SVES), is Vancouver's oldest media arts access centre. VIVO continues to fulfill its founding vision by directly supporting independent artists, community-based producers and activists to develop and exchange their skills in a supportive environment. Our members gather around the tools and material means of production to invent new understandings, new genres and new friendships. Reflecting both the diversity of contemporary technologies and the symbiotic communities that coalesce around new forms of knowledge and creativity, our programming fosters formal, aesthetic and critical approaches to media arts practice. VIVO builds an audience of makers, organizers and critics through artists in residence, lectures, workshops, performances, exhibitions and curatorial and archival research. As an integral artist run centre in Vancouver, our resources and facilities will continue to inform and influence engagement in all levels of media art investment.