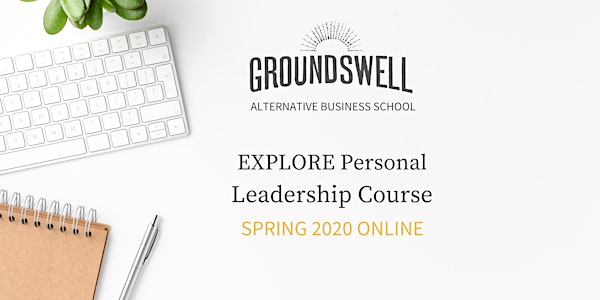 EXPLORE Personal Leadership Course
A 3-week personal leadership course (now online!) to help you navigate transitions and put your values to work.
About this event
SPRING 2020 UPDATE: As part of a shared response to COVID-19 that supports the health of our community at large, Groundswell will be moving all events and programming to an online format throughout March and April. You will receive more details about the online platform closer to the event date.
Tune into your purpose and strengths as the first step in creating the future you want for yourself and your community.
EXPLORE helps you build a solid internal foundation before you begin your next chapter. Whether you're launching a social enterprise or pursuing a values-led career, you'll get to know who you are, where you want to go and how to lead yourself to get there.
During this intensive course, you'll learn the mindset, tools and behaviours that can help you take ownership of your own path. You'll be supported by experienced, patient facilitators and diverse, collaborative peers who join you in uncovering your strengths and motivations.
Course Dates (all sessions will be online):
April 3 (Friday) & April 4 (Saturday) – 9:30am – 5:30pm
April 17 (Friday) & April 18 (Saturday) – 9:30am – 5:30pm
Course Tuition:
The full tuition cost for the EXPLORE Foundational Course is $950. Thanks to the support of our funding partners, we are able to offer the Spring 2020 course at a subsidized tuition cost of $650 to community members.
What previous participants are saying:
"EXPLORE gave me the permission to develop myself. I uncovered a lot of things about myself that I didn't know. I'm now building a foundation for what I need to grow personally and to be an entrepreneur." -May
"It was a really refreshing way to do some self-exploration and find out how your values and motivations tie into a risk-adverse way to start a business. The facilitators are smart, kind and supportive experts in this area!" -Stephen
"Empowering and insightful. EXPLORE really helps to put you back in touch with who you are right now, including what your values are, and which direction you could be headed." -Sophie
"The tools Groundswell provides allow us to visualize where we have come from, where our interests lie, and how this will best support us in our business. EXPLORE gave me a lot of insights into my own behaviours and motivations in ways that I never considered before." -Jeremy
"EXPLORE is for anyone who is in a situation where they want to re-evaluate their life, their patterns, the people they have around and what they want to do with their lives." -Julia
Put your values to work. Join Vancouver's alternative business school and create the future you want - for yourself and your community - through our immersive social entrepreneurship programs.