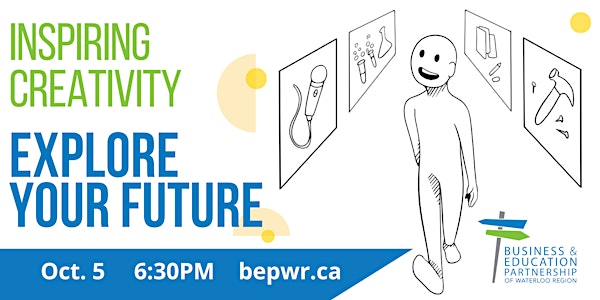 Explore Your Future: Inspiring Creativity
This panel features youth who saw a problem then applied their creativity towards solving it. Get inspired to follow their example.
About this event
Explore Your Future
Explore Your Future is a series of events to help Waterloo Region youth learn about some career options. While usually geared towards the early stage research needs of grade 7 to 11 students, it is open to any youth or families that are interested.
Note: This event takes place over Zoom. A link will be sent out to registered attendees about 5:30 p.m. on the day of the event.
Inspiring Creativity
Do you see a problem? It could be a big one or a small one.
BEP Waterloo Region can help you apply your creativity towards solving it. You can ask for a microgrant of up to $1000 from our brand new Youth Creativity Fund. All Waterloo Region youth in grades 5 to 12 are eligible.
To help you get started, we have assembled a panel of youth who have identified a problem and a creative way of solving it. They will share their stories and answer your questions.
We hope that by sharing their experiences that our panel will inspire you to develop an idea for a project and ask the Youth Creativity Fund for money to help you out.
OUR PANEL
Ellen Brisley and Leya Oommen, founders of Aiuto Solutions which is a hub that connects people in need with people who want to give
Syed Hashmi, currently working on personal project
Neil Mitra, founder of medical device startup Mitra Biotechnologies
Olamide Olajide and Eyshah Umar, organizers of Invitation to Belonging
Learn more about each of our panelists.
After each panelist shares their story, it's your chance to ask them questions, the steps they took towards their goals and the decisions they made along the way.