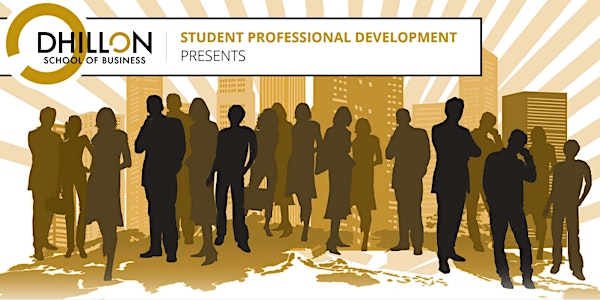 Exploring Business Education and Careers - High School Students
High-school students considering a future in business will gain mentorship support, job market advice and a crash course in management.
By Dhillon School of Business
Date and time
Fri, Feb 10, 2023 9:30 AM - 3:00 PM MST
Location
University of Lethbridge 4401 University Drive West Lethbridge, AB T1K 3M4 Canada
About this event
Are you a high-school student considering a future in business? This conference will introduce you to mentorship support, provide job market advice and give you a crash course in management. You'll also meet current Dhillon School of Business students and get a glimpse of what it would be like to be a student at ULethbridge. Breakfast and lunch included. Conference limited to 40 students.
Schedule of events:
9:30 a.m. - Registration and breakfast
Markin Hall Atrium
10 a.m. - Welcome
10:10 a.m. - Unexpected Mentors presented by Sheila Musgrove:
Sheila Musgrove is the founder of the award-winning recruitment firm, TAG Recruitment, and an international best-selling author of "Unexpected Mentors". Sheila turns the traditional idea of a mentor/mentee relationship upside down and gives audiences weird and creative ideas on where to find unexpected career mentors.
11 a.m. - Break
11:15 a.m. - Future Skills presented by RBC OnCampus
`RBC On Campus will discuss the current job market, what getting a job in today's world looks like, opportunities and challenges, skills that employers are looking for, how you can use your skills to prepare for a job that might not exist yet, and more.
12:30 p.m. - Lunch
1:30 p.m. - Introduction to Management presented by Brady Simpson
Brady Simpson is a lecturer in the marketing department at the University of Lethbridge as well as a Dhillon School of Business alumnus.
In this session, students will learn some foundational principles of business through engaging discussions and collaborative activities. This will provide both a window into what business education is like, but also the kinds of skills that are needed for future careers. Come prepared to have some fun with scenarios like: what would you bring if you were trapped on an island, uncovering secrets in advertisements, problem-solving, leadership and more.
2:45 p.m. - Wrap up
Join us at the end of the conference for an optional campus tour.
For more information or to have questions answered; email Heather at dhillon.spd@uleth.ca