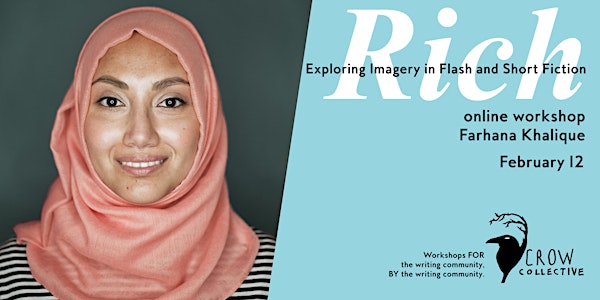 Exploring Imagery in Flash and Short Fiction with Farhana Khalique
We will explore unique imagery and building layers of resonance, with a view to developing our own stories.
About this event
What will be covered in this workshop?
What are the stories that stick with us? That make us want to reread them, just to linger over the lines? In this workshop with Farhana Khalique, we will explore different extracts and writing exercises that focus on unique imagery and building layers of resonance, with a view to developing our own stories. Farhana will also share some of her own writing processes and experiences of going from inspiration, to idea, to draft, to publication.
Who is teaching this workshop?
Farhana Khalique is a writer, voiceover artist and teacher from south-west London. Her stories have appeared in the* National Flash Fiction Day Anthology 2021, Leicester Writes Short Story Prize Anthology 2020, Reflex Press, Lighthouse, Litro, Popshot and more. She is also the editor of Desi Reads and a submissions editor at SmokeLong Quarterly.
When does this workshop happen?
Saturday, February 12, 11 AM EST / 4 PM GMT
How long is this workshop?
Two hours.
How is this workshop presented?
This workshop is online, live, and interactive. Participants are encouraged (but not required) to keep their video cameras on, as online events are much more fun when we can all see each other.
We'll gather on Google Meet, which is very similar to Zoom and has built-in closed captioning. I will send you the link for the workshop by November 7.
Will this workshop be recorded?
No, this workshop will not be recorded.
Are there more workshops?
You bet! Just click here to see the Crow Collective workshops open for registration.
Do you have a mailing list?
Yes - click here to sign up for my free, bi-weekly mailing list.
What is the Crow Collective?
Crow Collective workshops are by the writing community, for the writing community. The prices are low so they are more accessible, and there are two free spots (if needed).
Why can't I access the ticket button using the Apple Eventbrite app?
This is a decision on Eventbrite's part. You should be able to access the ticket button using the website instead. If you're still having troubles, feel free to get in touch.
Date and time
Location
Refund policy