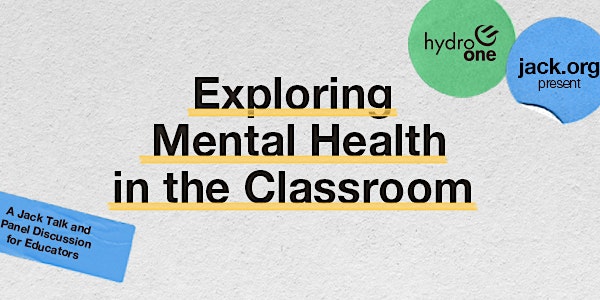 Exploring Mental Health in the Classroom: A Jack Talk and Panel Discussion
Calling all educators, support staff, school board representatives, and adult community leaders across Canada!
Date and time
Tue, Apr 4, 2023 4:00 PM - 5:30 PM PDT
About this event
1 hour 30 minutes

Mobile eTicket
Context
Jack.org is a national youth mental health charity that works to enhance young people's ability to recognize mental health struggle in themselves and their peers, seek out appropriate mental health support and resources, and advocate for systems that better meet their needs. Our goal is to normalize mental health conversations and ensure that every young person in the country gets the help they deserve.
Educators play an integral role in the mental health of young people. However, our year-long research with educators in Canada highlighted that educators continue to find it challenging to incorporate meaningful, youth-friendly, and engaging mental health education into their classrooms.
Event Overview
Exploring Mental Health in the Classroom: A Jack Talk and Panel Discussion for Educators is designed specifically for high school educators, school board representatives, and other adult community leaders working with youth ages 15-24, who are seeking educational resources that are authentic, relevant and reflect the experiences of young people today.
During this free, 90-minute presentation and panel discussion, participants will learn how Jack.org's programs may serve as one of the tools in their toolbox to promote the mental health literacy of their students and their peers. The event will include an overview of Jack.org programs (and how to bring them to your school/community), a condensed Jack Talk (as a preview of our standard youth mental health presentation), followed by a panel discussion.
The first 3 educators that sign up will receive Jack.org swag/materials for their classroom (complete address must be provided when you register).
Who's Involved?
You will hear from Jack.org's talented Jack Talks speakers, Jessica Searcy (Saskatchewan-based educator and Master of Educational Psychology student) and Vanessa Schirripa (registered psychotherapist in Ontario), as well as Jack.org's Learning Resources Lead, Susan Doerfling, who brings 15 years of experience as an educator in Ontario.
We are grateful to our Lead Ontario Jack Talks sponsor, Hydro One, for making this event possible.
We can't wait to see you there!
Jack.org & Hydro One
Want to learn more about Jack.org's programs? Click HERE.