Exploring Migration 's Impact on Family Relationships: Farsi
Sales Have Ended
Registrations are closed
Thank you for your interest in Porch Chats. Registration is now closed. Find out about other Porch Chats on https://preventingcrime.ca/2020/07/02/keepfamilysafe-coalitions-launch-2/ Become a Friend of Crime Prevention to learn about other events: When we work together, we can create change that lasts https://preventingcrime.ca/friends-crime-prevention/ If you have any questions about this event, please contact Julie Thompson @ jthompson@regionofwaterloo.ca
Sales Have Ended
Registrations are closed
Thank you for your interest in Porch Chats. Registration is now closed. Find out about other Porch Chats on https://preventingcrime.ca/2020/07/02/keepfamilysafe-coalitions-launch-2/ Become a Friend of Crime Prevention to learn about other events: When we work together, we can create change that lasts https://preventingcrime.ca/friends-crime-prevention/ If you have any questions about this event, please contact Julie Thompson @ jthompson@regionofwaterloo.ca
عنوان این گفت‌وگو «تأثیر مهاجرت بر روابط خانوادگی» است This event will be facilitated in Farsi
About this event
در این گفت‌وگو، ما به چگونگی تغییر روابط خانوادگی، بهداشت روان و بالارفتن سطح استرس پس از ورود به خانهٔ جدید (کشور میزبان) و نیز ارتباط آن با وضعیت همه‌گیری بیماری کووید ۱۹ (کرونا) خواهیم پرداخت.
همچنین ما درمورد درگیری‌های بین‌نسلی و میان‌فرهنگی گفت‌وگو خواهیم کرد؛ عواملی که هر یک یا با هم می‌تواند به بروز ناآرامی و خشونت در خانواده منجر شود.
ما نشانه‌هایی از روابط خشن یا دارای آزار را ارائه خواهیم داد و سپس درمورد آنچه می‌توانیم به‌عنوان اعضای جامعه انجام دهیم تا کمک کند خانواده‌ها در امنیت و آرامش کنار یکدیگر زندگی کنند به بحث خواهیم پرداخت.
نکات ما، برخی راه‌های برای کمک به هر دو گروه بزرگ‌سالان و کودکان در استفاده از مهارت‌های حل تعارض را در برمی‌گیرد و همچنین در مورد برخی خدماتِ روان‌شناختی و اجتماعیٍ دردسترس که برای کمک به خانواده‌ها در بهبود روابط و حفظ آرامش توضیح خواهیم داد. هدف اصلی ما حفظ خانواده‌ها در کنار یکدیگر در محیطی امن و آرام است.
In this porch chat, we will focus on how family relationships, mental health, and stress levels change after arrival to a new home and how is that connected to Covid 19 situation. We will have a dialogue about cross generational and cross cultural conflict that can lead to family violence. We will present signs of abusive relationships and discuss what we can do as community members in helping families stay safely together. We will explore some tips to help adults and children to use their conflict resolution skills versus violence to solve their problems. We will elaborate on some services that are available to help families improve their relationships and maintain family peace. Our main goal is to keep families together and safe.
This Porch Chat is part of a series facilitated in partnership with the Keep Families Safe Coalition striving to prevent family violence in the Region of Waterloo due to the increased stress and isolation due to the pandemic.

Since the onset of COVID-19, a coalition of community leaders has been working together to flatten the curve. Now, we need your help to fight what's been called the shadow pandemic or second wave of family violence that is emerging due to isolation and stress. Some counties have reported a 39% increase in family violence as a result of Covid isolation. While physical distancing is important to keep the virus under control it can lead to significant stress in families. Violence is a potential outcome of this stress.
In April, Statistics Canada reported that
• 1 in 3 Canadians is very concerned about family stress and
• 1 in 10 women is very concerned about family violence
That's why a coalition of 18 local agencies and municipalities is working together to raise awareness of the issue of family violence and sharing easy ways anyone can help at home, at work and in the community.
On Father's Day – and just in time for the end of the school year – we launched the #KeepFamiliesSafe campaign. The campaign will run over the course of the summer and into the fall and includes social media, virtual events and outreach to groups including large employers and faith communities. Please discover more at www.preventingcrime.ca/KeepFamiliesSafe
While the research linking pandemics to violence in the home is very clear. It also shows that simple, early intervention can defuse tense situations before they escalate.

Porch chats are an opportunity for the community to come together and have conversations about what's happening in our community. They are to promote understanding, build community connections and facilitate action among citizens and communities. Porch chats are part or the Friends of Crime Prevention initiative and chat ideas are brought forth my members of our community.
Usually Porch chats are held on the porch and surrounding gardens of the historic Governor's house, home of the Waterloo Region Crime Prevention Council at 73 Queen St. N. in Kitchener. But, adapting to Covid-19, we will meet on a virtual porch. BYOL (Bring your Own Lemonade) See you there!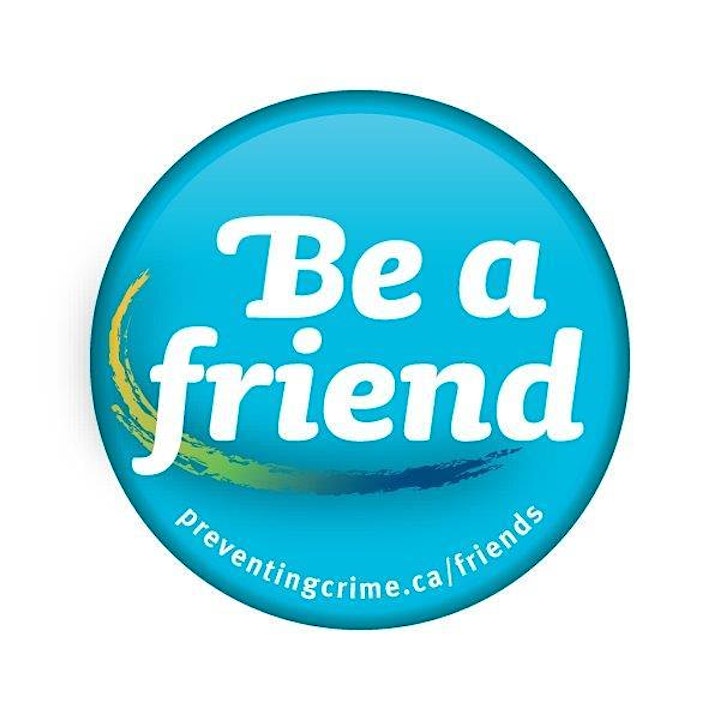 Organizer of Exploring Migration 's Impact on Family Relationships: Farsi