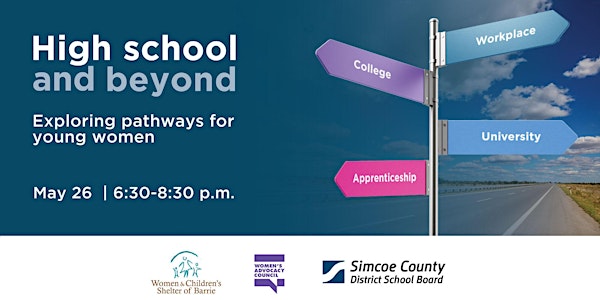 Exploring Pathways for Young Women: High School and Beyond Part 1
Young women and their families invited to learn about pathways in high school and beyond
About this event
Young women and their families invited to learn about pathways in high school and beyond:
On May 26, the Simcoe County District School Board (SCDSB), in partnership with the Women's Advocacy Council, is hosting 'High school and beyond: Exploring pathways for young women'. This virtual event for students in Grades 7 to 12 and their families is being held via Zoom from 6:30 to 8:30 p.m.
Attendees will learn about the four pathways available to students; apprenticeship, college, university and workplace – directly from former students who followed each pathway. In addition, participants will have the opportunity to attend three breakout sessions of their choice. Options for breakout sessions include technology courses in each pathway, options for multilingual and newcomer learners, workplace readiness, financial planning, continuing education and more.
This initiative links directly to the SCDSB's Strategic Priorities under the pillar of Excellence in Teaching and Learning, Equity, Diversity and Inclusion and Community.
Information: Charlene Scime, Superintendent of Education/Leadership Development/Educational Partnerships
cscime@scdsb.on.ca
Participants will have the option to choose 3 Breakout Sessions:
1. Career Planning Beyond High School - What to consider
Passion, possibility, and identity can combine to provide access and opportunity to meld interests with sustainability. Come and discuss all that life after secondary school has to offer. Whether you follow a direct path or blaze a new trail, the possibilities for the future are endless.
2. Adult and Continuing Education
Provides alternate pathways for students to achieve OSSD, prepare for the workplace or post secondary education (upgrading, MPLAR, Summer and Night School, Personal Support Worker).
3. Experiential Learning Programs (CO-OP, Dual Credit, SHSM, OYAP)
How specialized high school programs bring real-world context to learning.
4. Opportunities for Multilingual and Newcomer Learners
How additional languages support your future pathways and opportunities after school.
5. OSAP, Bursaries and Financial Planning
How do you fund your post secondary pathway?
6. Supports for Equity-Seeking Groups
Overview of the Graduation coaches for Black and LGBTQ+ students, advocacy, scholarships and mentorship opportunities.
7. Supports for Indigenous Students
Unique and individualized support opportunities for learners who identify as First Nations, Métis, and/or Inuit.
8. Supports for Students with Special Needs
Supports pertaining to special education and other diagnosis.
9. Technology Courses in Every Pathway
How learning in the 10 areas of SCDSB Tech can develop worthwhile skills in all four pathways (Computer Tech, Construction, Manufacturing, Tech Design, Transportation, Hospitality, Hair & Aesthetics, Healthcare, Green Industries, Communications).
10. Workplace Readiness
What employment skills do employers look for when hiring?