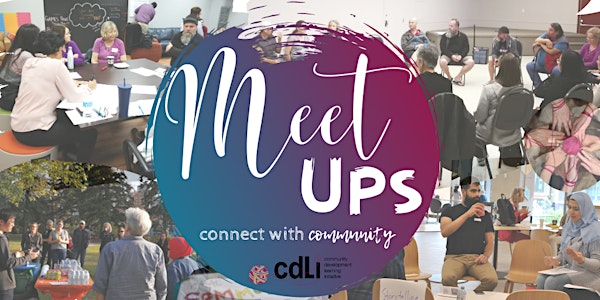 Exploring The Value Of Community-Led Economies
Join us for a Roundtable Conversation exploring how community-led economies can impact our neighbours and create stronger communities.
About this event
CDLI hosts regular community conversations like Meet Ups for anyone interested in helping to build better communities to learn from one another. This month, we'll be hosting a Roundtable exploring the value community-led economies.
How do we lead and impact our economies with community at the forefront?
What happens when we increase our community connections and how it affects community economic development?
We're excited to hear from two great people who are championing community and challenging traditional forms of economic value - Camie Leard and Sierra Love!
In addition to a roundtable of amazing people, we'll have a chance to discuss what we're hearing and what this means in our own communities in breakout rooms.
Roundtable Member Bios:
Camie Leard, Crescent Heights Village BIA
Camie Leard has spent the last 20 years steeped in the conversation of community. As a leader in the nonprofit and small business sectors, she has led community engagement and community-building activities for the National Music Centre, the Better Business Bureau and most recently as the Executive Director of the the Crescent Heights Village BIA . She is the editor of Savour Calgary Magazine and a musician, visual artist and writer.
In developing the brand for Crescent Heights Village, Camie engaged stakeholders to define the community they live in, do business in and invest in. One overarching message came back loud and clear: Crescent Heights is diverse. Age, socio-economic background, country of origin, language, religion, cultural and other demographics span every spectrum in this community, so the BIA built the brand and programming around the central tenet: You Belong in Crescent Heights Village.
Sierra Love, Calgary Dollars - Arusha Centre Society
Sierra (gq) has a background in ecology and a strong passion for people and the environment. An interest in healthy living and community building motivates her to volunteer and work in areas that bring awareness and encourage people to interact and participate in community building. One long term goal is to contribute to accessible, livable communities that incorporate natural spaces and art. She enjoys creating positive space for people of all ages and walks of life, and growing and learning about native plants and animals. Currently, Sierra works as a program manager at Arusha, working on the Calgary Dollars program and is Co-founder and admin lead of a worker cooperative project known as The Allium.
---
Note that the Zoom link will be sent the day of the gathering.
For more information or if you have any questions, contact the CDLI team at 403-919-3072 or by email at cdli@caryacalgary.ca.