Description
The Export Conference will bring together export related government partners, organizations, current exporters and companies thinking of exporting to collaborate on addressing the barriers of exporting products and services to national and international markets.
If you have a company, and have an interest in exporting for the first time or would like to expand your sales in existing or new markets, this conference will be of interest to you!
Attending the Export Conference will give you the advantange to make connections with local, regional, and national service providers, such as:
ACOA - Canada Business Nova Scotia
Agriculture and Agri-Food Canada
Atlantic Canada Opportunities
Agency Canadian Intellectual Property Office
Cape Breton Centre for Craft and Design
Cape Breton University
Coastal Business CBDC
Export Development Canada
Global Affairs Canada
LearnSphere Canada
Nova Scotia Business Inc.
NS Labour and Advanced Education
Sydney Credit Union
AGENDA - MONDAY, SEPTEMBER 23RD, 2019
5:00PM - 7:00PM | Networking - Holiday Inn Sydney, Cabot Room
AGENDA - TUESDAY, SEPTEMBER 24TH, 2019
8:00AM - 8:30AM | Registration & Networking | Light Breakfast
8:30AM - 8:45AM | Welcome
8:45AM - 10:45AM | Where Should Your Next Market Be?
10:45AM - 11:00AM | Nutrition & Networking Break
11:00AM - 12:00PM | Getting Ready For Market
12:00PM - 1:15PM | Luncheon Keynote
1:15PM - 1:30PM | NSBI
1:30PM - 2:15PM | Getting Ready and Best Practices - Panel
2:15PM - 3:30PM | Market Entry
3:30PM - 3:45PM | Nutrition & Networking Break
3:45PM - 4:45PM | Your Elevator Sales Pitch
4:45PM - 5:00PM | Wrap Up
For a more detailed agenda, visit https://capebretonpartnership.com/events/exportconference/.
*Agenda subject to change.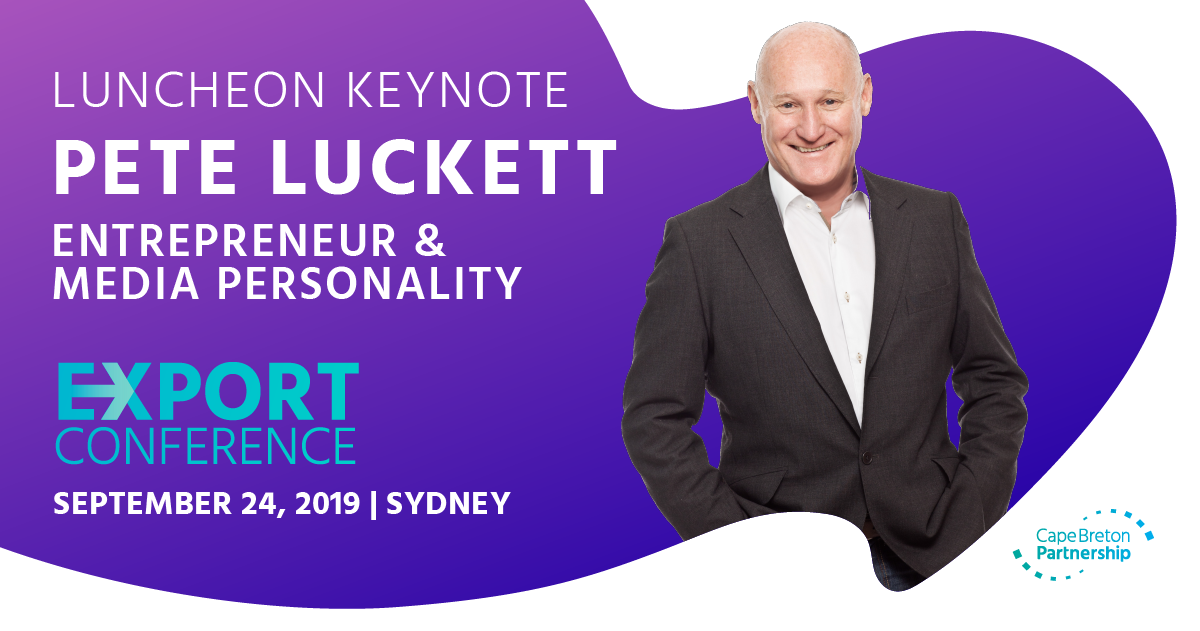 Register online or by phoning the Cape Breton Partnership at 902-562-0122.
Dr. Jonathan Calof

Professor, International Business & Strategy, Telfer School of Management, University of Ottawa and Adjunct Professor at the University of New Brunswick

Helen Graham

Nova Scotia Community College, Marconi Campus Business Administration Instructor and International Program Manager

Pete Luckett

Entrepreneur & Media Personality Luckett Vineyards

Bernice Williams

Lead Facilitator, Dream Business Program - Mashup Lab CEO & Founder - Intentional Connection
Organizer of Export Conference
The Cape Breton Partnership is Cape Breton-Unama'ki's private sector-led economic development organization that supports companies and entrepreneurs by promoting our island as a great place to live and invest; growing a culture that values and celebrates creativity, innovation, and entrepreneurship; and connecting entrepreneurs and companies to the resources they need to succeed. For more information, visit https://capebretonpartnership.com or contact us at: (902) 562-0122.