A deadly heat dome over the Pacific Northwest in June 2021, a devastating wildfire season, and one of the worst flood disasters in history.
About this event
ARPICO and JOHANNA WAGSTAFFE present...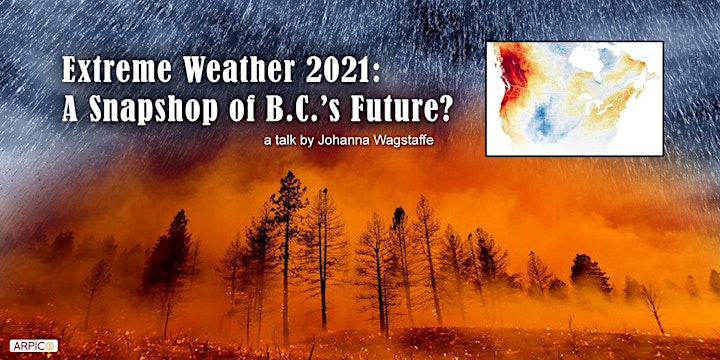 Extreme Weather 2021: A Snapshot of B.C.'s Future?
It started with a deadly heat dome that settled over the Pacific Northwest back in June 2021. That was followed by a devastating wildfire season, and that was followed by one of the worst flood disasters this province has ever seen. I'll take you through the series of unique conditions that came together for these unprecedented events to occur, and why we need to prepare now for the next one.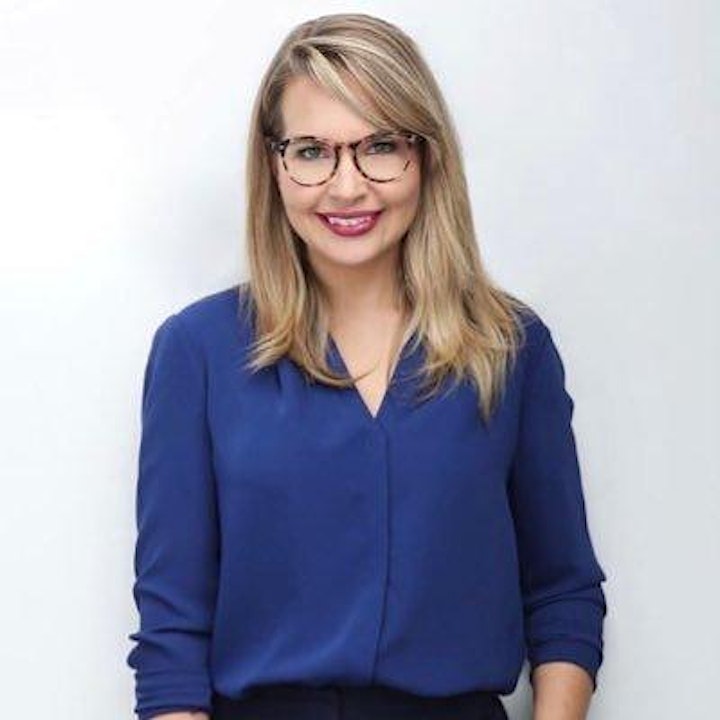 Johanna Wagstaffe is the meteorologist and scientist for CBC Vancouver and CBC News Network. Wagstaffe's academic background in seismology and earth science has led her to cover major earthquakes, wildfires, hurricanes, floods and the Copenhagen, Paris and Glasgow Climate Change conference. She has hosted three award-winning CBC podcasts including: Fault Lines, 2050: Degrees of Change, and is the author of several children's science books.
Speaking Event Starts Online at 7:15 pm.
Please, note slightly different time from usual start.
Q&A follows the speaker segment.
At any time during the event, participants will be able to post comments or questions for the speaker via the "chat" button visible by hovering over the BlueJeans browser window (please, refer to Technical Instructions below for details). The moderator will read them for the speaker by way of a Q&A session at the end of the lecture.
Tickets are required, but FREE
Tickets are FREE, but all wishing to attend are requested to obtain "free-admission" tickets on EventBrite (green "Register" button on this page), so that you may receive the online event link via email.
Please, donate, if you can
All ARPICO events are 100% staffed by volunteer organizers and helpers and all costs are underwritten by members of ARPICO. To help defray costs of operations of this and future events, may we encourage audience participants to donate to teh best of their ability onlien when signing up with EventBrite. Thank you very much.
Technical Instruction
The event will be managed via the videoconferencing platform BlueJeans Meetings, by clicking on the link that will be emailed to each registered individual (to the email address provided).
Please, note that the event will not be active until 6:45 pm on the day of the event, at which time, clicking on the link will automatically let you join the event via your web browser (Chrome, Firefox, Safari, Opera should all work smoothly).
You are NOT required to download or install anything to your computer. The entire video stream will occur inside your web browser window just like any other website you might visit.
There is no security risk or risk to your personal information. You can always join the event late, as this will not interfere with the presentation.
When you open the link you will be prompted to input a guest name. Please use your name, as that will allow us to identify you, and continue. On the following screen you may be prompted by your browser (depending on your settings) to allow access to use your computer's microphone and camera. You do not need to approve these if you do not plan to talk or be seen at any time during the Q&A segment.
Upon joining you should see a screen similar to the sample image seen below where the various icons superimposed on the pictures of participants will show when you hover the mouse pointer over the BlueJeans browser window.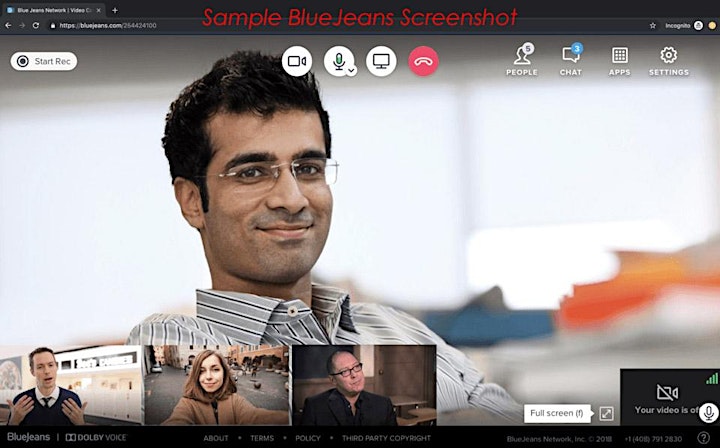 By default, your system's camera will be turned on and your microphone will be turned off. If you do not wish to show your face, you can of course do that by clicking on the camera icon like the one on the bottom right of the sample screenshot provided. We ask that you keep your microphone muted, since any background sounds and noises from your environment will be audible and may interfere with the speaker's voice.
As we have done for the in-person events, we will be recording our virtual ones for future reference.
Feedback
In the days following the event we will be sending all participants a succinct feedback form, which we encourage you to fill in and send back to us.