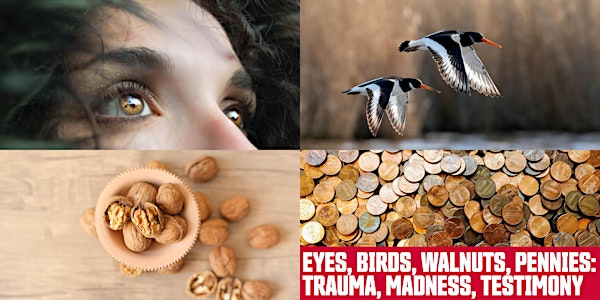 Eyes, Birds, Walnuts, Pennies: Trauma, Madness, Testimony
Join us for an online lyric performance by 2021-2022 Shadbolt Fellow Erin Soros on Thursday, June 23rd (4:30 PM PT). Audience Q&A to follow.
About this event
Erin Soros, a 2021-2022 Jack and Doris Shadbolt Fellow hosted by Simon Fraser University's Department of English, presents an online lyric performance entitled, Eyes, Birds, Walnuts, Pennies: Trauma, Madness, Testimony. Her performance will be followed by a Q & A, led by Alicia Elliot (bio below).
Description
In Eyes, Birds, Walnuts, Pennies: Trauma, Madness, Testimony a lyric performance by Erin Soros, the mad woman is invited to speak. Imagine she is right in front of you, not a mad character between the covers of a book, but a colleague in the room, or perhaps in a hallway, or milling within the auditorium of a conference. This time she is given permission. For a moment at least, no one will intervene, no police will lead her away in handcuffs, no psychiatrist will interrupt in order to overlay his medical knowledge over what is deemed her lack of insight. You are following what she says. Soros begins simply enough, telling you about an e-mail correspondence in which she found an embarrassing typo—who hasn't sent one of those? But her story begins to slide, coherence erring until it sounds like the shimmering, associative ricochets we might hear in a schizophrenic monologue or in experimental poetry. Can you grasp it? Can you interpret it? Where and when is her story taking place? How do you identify what has happened and what has not? She seems to describe becoming the victim of a crime—one event or many, the present or the past—but can she be trusted as a witness? What is this disconcerting outburst trying to express and how does mad expression torque unbearable truth? Why might someone be compelled to speak at and through meaning's cusp? Here, psychotic language both testifies to trauma and provides an escape. The conclusion is not a diagnosis, but a series of questions for the audience about their own minds—lapses and fears and dreams, unspoken intimacies that destabilize the boundary between mad woman and sane observer, between the one left in a locked ward and the one remaining free.
Trigger Warning: This talk addresses the threat of sexual violence and the psychological effect of this threat. The topic is addressed elliptically and not graphically, with attention given to how the mind can or cannot contain trauma.
Erin Soros Bio
A settler born in Vancouver, Erin Soros is an award-winning writer of fiction, nonfiction, poetry, and critical theory who is a Shadbolt Fellow in Public Humanities at Simon Fraser University where she researches trauma-induced psychosis and the psychiatric and police response to it. Her academic articles have appeared in Topia: Canadian Journal of Cultural Studies, Sociologica: International Journal for Sociological Debate, differences: Journal of Cultural Studies, Journal of Intercultural Studies, Journal of Curriculum Theorizing, and The Canadian Journal of Women and the Law. New work on psychosis is forthcoming in Futures of Neurodiversity, MLA, and in English Studies in Canada. Her poem "Weight" received The Malahat Review Long Poem Prize and was included in Best Canadian Poetry 2020. Her lyric essay "Cord" received Gold at the 2021 National Magazine Award for "One of a Kind Storytelling." Her fiction, which builds on the oral history of BC logging communities, has received the CBC Literary Award and the Commonwealth Award for the Short Story.
Alicia Elliot Bio
Alicia Elliott is a Mohawk writer and editor from Six Nations, currently living in Brantford, Ontario. She's had numerous essays nominated for National Magazine Awards, winning Gold in 2017 and an honourable mention in 2020. Her short fiction was selected for Best American Short Stories 2018, Best Canadian Stories 2018, and Journey Prize Stories 30. Her award-winning first book, A Mind Spread Out On The Ground, was a national bestseller. Her first novel, And Then She Fell, will be released by Doubleday Canada in Fall 2023.