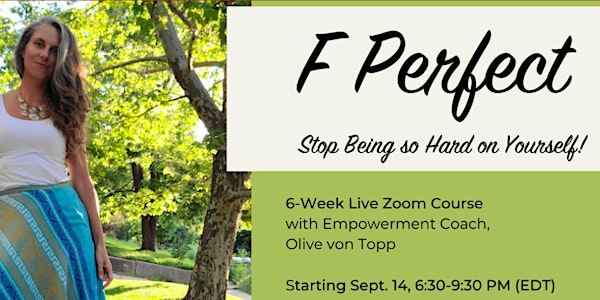 F Perfect: Stop Being so Hard on Yourself Sept 2022(Online)
A 6 Week Journey to Self-Compassion
Refund Policy
Contact the organizer to request a refund.
Eventbrite's fee is nonrefundable.
About this event
This course is 6 weeks of intentional deep diving into your relationship with yourself - your thoughts, your body, and your wants and needs.
This course is designed to help you identify & change the thoughts that are holding you back from having a loving relationship with yourself and living the life you want .
To identify and challenge shame so you can feel more confident. To challenge unrealistic expectations and "never good enough" thinking. To practice self-compassion. To familiarize yourself with your needs and desires so you can feel more fulfilled. To practice setting boundaries. To connect with your body so you can access your needs and wants. To stop being such a goddamn dick to yourself.
Think of this as a 6-week break-up with your "never good enough" thinking (hey, I've had longer break-ups). A break-up with the thoughts that are keeping you stuck. Keeping you anxious. Making you feel and play small. Keeping you from making decisions. While at the same time, an 6 week courtship with yourself. A chance to really get to know (and accept) the you that wants to show up fully in her life. A chance to finally offer yourself the care & compassion you deserve.
This course is for you if you identify as a woman and are tired of:
● Hearing your brain on loop say "you're not enough"
● Trying to achieve a level of 'success' that is completely unachievable and feeling like shit for it
● Prioritizing your career, partner, and/or children first with little time left for yourself
● Putting other people's needs before yours -so much so that you aren't sure what you want and/or need
● Procrastinating and/or feeling stuck
● Feeling like a piece of you is missing. Like you don't know or forget the woman you once were
● Being enemies with your body
● Feeling exhausted from all the negative self-talk
● Comparing yourself to other women
● Doing the "right" thing or being a "good woman" at a cost to yourself
● Feeling disconnected from yourself, your body, your emotions or your desires
In this course you will:
● Learn how your relationship with "not good enough" is ruling your life & how to let go of it
● Gain new skills on how to accept yourself as you are now (good enough)
● Identify and unlearn shame that is holding you back from experiencing more pleasure and living a more fulfilling life
● Gain confidence
● Learn how to interrupt negative thought patterns and utilize thoughts that get you closer toward your goals
● Learn how to access more pleasure in your life
● Begin re-establishing a trusting relationship with your body
● Learn new ways to be present in your body
● Utilize movement & mindfulness exercises to practice connection to your body
● Practice better boundaries
● Release self-doubt
● Change your relationship with failure & go after your goals
● Identify your needs and how to ask for them
● Learn how to prioritize self-care
● Curb people-pleasing behaviours
Choosing yourself is the first step.
What is included in the course:
● 6 weekly live online webinars on various self-love topics (mindset, emotional capacity, self-care, shame, confidence, fear of failure, boundaries, self-compassion, needs & desires). Wednesdays from 6:30pm-9pm (recorded for those who cannot attend). Includes guided activities, Q & A, and opportunities to be coached in a group setting
● Weekly exercises and worksheets to guide you and to dig deeper into the "you" work
● 1 additional online group 'calls' for extra guidance with the work & opportunities to receive coaching
● Access to Olive via email if you have questions or need additional support
● A community of women to connect to and be supported by
● A private facebook group to connect with other participants and ask questions, post ideas, ah-ha moments, and more
This course can help you:
Improve the relationships in your life
Know and ask for your needs (at work, in partnership, with friends)
Have better boundaries
Experience more joy, presence & pleasure
Reduce anxiety
Increase energy
Create & go after goals
Say "no" to things you don't want to do, "yes" to things you do want to do
Take new risks
Quiet the constant voice that says you're "not good enough"