Celebrate the stories that connect us at The Word On The Street Toronto's 2021 virtual festival of storytelling, ideas and imagination.
About this event
The Word On The Street presents Fabulist Fiction: Exploring Identity through Myth & Magic
Sometimes the only way to tell a true story about the self is to tell a myth. Fabulism is the literary cousin to science fiction, fantasy, and other speculative genres: authors who write fabulist fiction incorporate magical and fantastical elements into an otherwise realistic setting. Why straddle this line between the ordinary and the extraordinary? What is so alluring about that in-between space—especially when art is exploring questions of identity? Join our authors as they discuss their own approach to fabulism, and how the myths and legends of their heritage inform the magical elements in their fiction.
This panel will stream live Saturday, September 25 at 2:30pm ET.
Panelists
Samantha Garner's short fiction and poetry have appeared in Broken Pencil, Sundog Lit, Kiss Machine, The Fiddlehead, Storychord, WhiskeyPaper, and The Quarantine Review. The Quiet is Loud is Garner's first novel. She lives and writes in Mississauga.
A mother of two, Rahela Nayebzadah holds a PhD in the Faculty of Education from the University of British Columbia. Currently, she is a schoolteacher. Her autobiographical novel, Jeegareh Ma (2012), was based on her family's migration to Canada from Afghanistan. Her literary agent is Denise Bukowski.
Irene Marques is a bilingual writer (English and Portuguese) and Lecturer at Ryerson University in the English Department, where she teaches literature and creative writing. Her literary publications include the poetry collections Wearing Glasses of Water (2007), The Perfect Unravelling of the Spirit (2012), and The Circular Incantation: An Exercise in Loss and Findings (2013); the Portuguese language short-story collection Habitando na Metáfora do Tempo: Crónicas Desejadas (2009) and the novel My House is a Mansion (2015). Her Portuguese-language novel, Uma Casa no Mundo, won the 2019 Imprensa Nacional/Ferreira de Castro Prize and is now published by Imprensa Nacional Casa da Moeda. Irene's new novel, Daria, was published by Inanna Publications in 2021. She lives in Toronto.
Amanda Leduc is the author of The Centaur's Wife and Disfigured: On Fairytales, Disability, and Making Space, which was shortlisted for the 2020 Governor General's Award in Nonfiction. She has cerebral palsy and lives in Hamilton, Ontario, where she serves as the Communications Coordinator for the Festival of Literary Diversity (FOLD).
Shop local! Purchase books by WOTS2021 featured authors through local independent bookstores on our official bookseller page.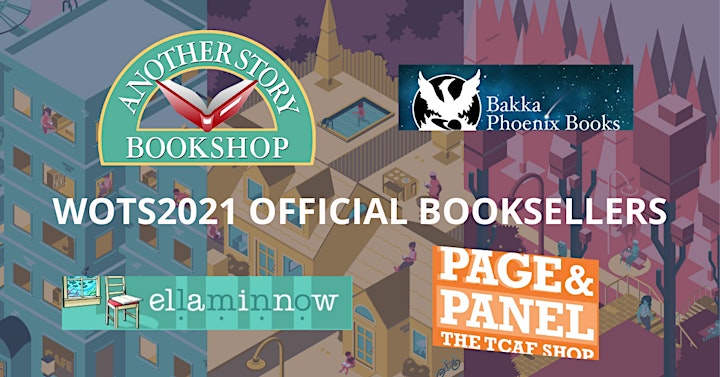 About the Festival
For 32 years, The Word On The Street has been a gathering place for authors, publishers, booksellers, and readers of all ages to celebrate the stories that connect us.
We're staying virtual for WOTS2021, so you can tune in from wherever you are to enjoy incredible programming with 100+ authors presented over 10 days from September 16th to 26th, featuring bestselling Canadian and Indigenous authors like Eden Robinson, Andre Alexis, Zoe Whittall, and Richard Van Camp.
Get insight into the year's top issues through a literary lens, with readings and panels on topics like climate change, decolonization, and how we care for one another. Poetry, memoir, mystery & more, WOTS2021 has the books you've been looking for.
Visit the 2021 Festival Homepage!
You can also subscribe to our YouTube channel for a preview of what to expect during the WOTS2021 festival, and watch (or re-watch) our year-round City Imagines and Book Talk series.
Become a Patron of The Word On The Street
We are very grateful to our vibrant and generous community for your continued support throughout this challenging period for live events. If you'd like to contribute financially, you can add a donation to your registration or visit our CanadaHelps fundraising page to learn more about how you can help to sustain Toronto's favourite book festival.
We also appreciate your support in the form of kind messages for our small-but-mighty team and helping us spread the word on social media!
On COVID-19 & In-Person Events
For the second time ever, WOTS2021 will be held virtually with programming hosted on our website and streamed live on YouTube. But that's not all! We're also collaborating with local authors and bookstore partners to offer a limited number of socially-distanced book signings. Check out the Bookstore Signing Schedule for more details on who might be coming to your neighbourhood.
If you're most familiar with our offline offerings: Hi! We miss you, and hope you are well!
Our team is doing the best we can to ensure the health and safety of our community, especially for vulnerable and younger readers who don't yet have access to a vaccine.
Staying virtual has given our team the opportunity to re-think how we can best honour our mandate as champions of literacy, and we can't wait to share our exciting news about the future of WOTS with you this September!

The Word On The Street is an annual celebration of storytelling, ideas and imagination, hosting Canada's largest FREE book and magazine festival annually since 1990 and promoting great books by Canadian and Indigenous authors year-round.
Organizer of Fabulist Fiction: Identity Exploration through Myth & Magic