Description
Presented by Green Hat Society
Featuring Danielle 'Miz D' Jackson, Katrice Balmer and Thelia Foster
---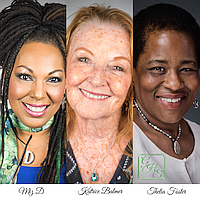 Vancouver's very own 'Doprah' and her fabuluscious friends bring the cannabis conversation out of the closet and onto centre stage! Join them for a unique, edutaining panel designed for mature adults who are still young at heart.
If you're curious about the use of cannabis and how to maximize its benefits particularly when it comes to aging gracefully, you'll appreciate this candid discussion between long time enthusiasts with over a century of collective experiential knowledge. Discover why an increasing number of baby boomers and seniors are utilizing this natural, therapeutic substance to enhance the quality of their lives. No subject is taboo and your cannabis questions are welcome!
Tickets are $20 in advance, $25 at the door, space permitting. Save $$ and purchase a $30 'Buddy Ticket' online so you can invite a friend, family member or colleague to join you! Everyone 18+ is welcome. Seats are available on a first come basis.
Warning: Presentation may contain course language, sensitive subject matter and severe belly laughs.
Learn more about our panelists at greenhatsociety.ca/events