Facing the Future: What's Next for Public Health?
About this Event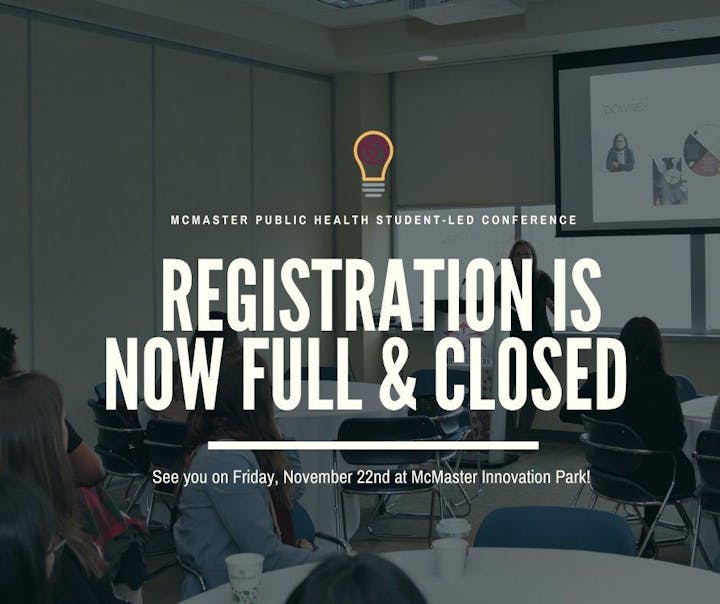 The McMaster Public Health Student-Led Conference (MPHSLC) is an annual conference held by students in the Masters of Public Health graduate program at McMaster University.
Public health practice in the twenty-first century is in a state of significant flux. As such, the theme for this year's MPHSLC is "Facing The Future: What's Next For Public Health?" Its aim is to provide students, professionals, academics, community organizations, and policymakers with a space to come together to critically discuss developments in the field of public health as well as emerging public health issues. We have an obligation to respond to new developments and circumstances and this conference is the first step to becoming informed.
You are cordially invited to join us on Friday, November 22nd at McMaster Innovation Park to engage in fruitful discussions about environmental health, gun violence, youth mental health, artificial intelligence, and health-system changes.
Agenda
9:30 AM to 10:00 AM - Refreshments and Registration
10:00 AM to 10:15 AM - Opening Remarks
10:15 AM to 11:15 AM - Keynote Speaker (Dr. Jessica Hopkins, Medical Officer of Health of Region of Peel Public Health)
11:30 AM to 12:45 PM - Interactive Sessions
12:45 PM to 1:45 PM - Lunch and Poster Session
1:50 PM to 2:50 PM - Breakout Speaker Sessions
3:00 to 3:30 PM - Closing Ceremony
Interactive Session Details
The sessions below will be occurring simultaneously during the 11:30AM to 12:45PM morning session:
Breakout Speaker Session Details
The sessions below will be occurring simultaneously during the 1:50PM to 2:50PM afternoon session:
"Surveillance, Prediction and Precision Public Health and The Use of Artificial Intelligence For Improving Population Health", Presented by Dr. Laura Rosella and Dr. Walter Wodchis
"Building Capacity for Evidence-Informed Policy and Practice in Child and Youth Mental Health" Presented by Dr. Kathy Georgiades and Laura Duncan
"Reducing Antimicrobial Resistance: A Public Health Challenge", Presented by Dr. Mark Loeb
Contact Us
If you have any questions, don't hesitate to email us at mphconference@gmail.com.
For more details regarding the conference, visit www.mphslc.com.