Fairytales & Fantasies will bring you into an entirely different world! One full of magic and wonder!
About this event
Champions Dance and Cheerleading proudly presents our annual year-end showcase for all of our dancers and athletes, both recreational and competitive! Every year this themed recital gives our students the opportunity to showcase all that they have learned through out the year in their classes and practices. The end of the year showcase will be performed on June, 24th 2019. Champions Dance and Cheerleading's shows are run professionally for the best experience for our clients and students. We invite you to come and spend the evening watching and supporting our amazing students as we celebrate everything they have accomplished throughout the year! We can't wait to have you join us for our end-of -year showcase!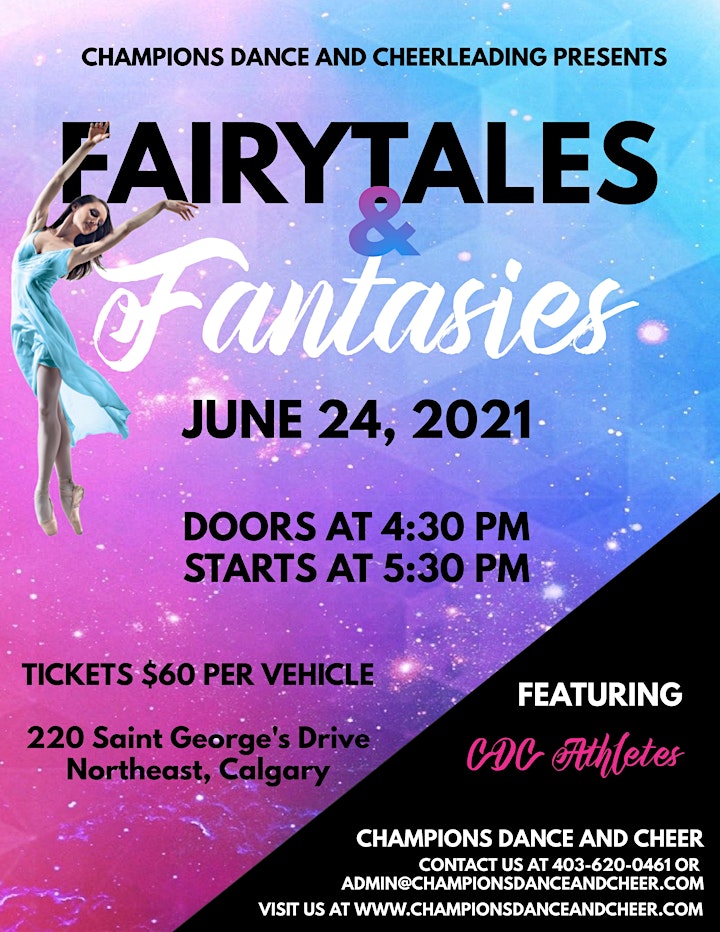 Organizer of Fairytales & Fantasies - CDC Year End Showcase
Champions Dance and Cheerleading is a place where kids of all ages and abilities learn to dance, cheer, and perform. We pride ourselves in demonstrating our key values throughout our family and is the driving force behind every interaction at CDC.
Our goal is to create a positive and supportive environment for all of our students. We strive to nurture and develop talent, skills, and abilities of all of our students/athletes while celebrating their achievements and milestones and inspiring a love and appreciation of all styles of dance and cheerleading. We are committed to providing a safe and positive environment in which all students can feel empowered, challenged, and are driven to become confident Champions.