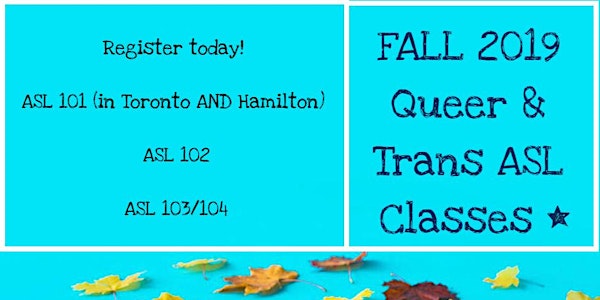 Fall 2019 Queer & Trans ASL Courses (Toronto and Hamilton)
When and where
Location
The 519 & Kyle's Place (Toronto) Toronto, ON Canada
Refund Policy
Contact the organizer to request a refund.
Description
Fall 2019 Queer & Trans ASL Courses
ASL Courses for the queer & trans communities
Classes begin week of September 14, 2019
When you register, check your confirmation for specific dates and times!
---
Due to limited resources, the levels below are the only courses being offered at this time.
Space is limited. Please sign up early to avoid disappointment!
There are 2 ways to register:
1) Register online via Eventbrite (PayPal, e-transfer, cash or cheque options available)
2) Email reachhandsonasl@gmail.com to arrange registration and payment if you do not want to pay online.
ASL 101 is offered in Toronto and Hamilton (please observe the dates).
All other levels are offered in Toronto and Hamilton:
*NEW DATES* TORONTO - ASL 101 (10 weeks): Saturdays, September 28, 2019 - December 7, 2019, 1pm - 4pm *** NO MORE SPOTS LEFT ***
HAMILTON - ASL 101 (10 weeks): Saturdays, September 21, 2019 - November 30, 2019, 1 pm - 4 pm (SPACE IS LIMITED!) 10-12 SPOTS. *CANCELLED*

TORONTO - ASL 102 (10 Weeks): Tuesdays, September 24, 2019 - December 10, 2019, Correction on time: ** 6 pm - 9 pm **
TORONTO - ASL 103/104 (10 weeks): Thursdays, September 26, 2019 - November 28, 2019, 6 pm - 9 pm
---
If these dates and times do not suit you, please be sure to receive updates of upcoming ASL courses:
I want to sign up for updates about upcoming classes
Sliding Scale: $80-$120
(HST is included in prices!)
Free for Deaf & Hard of Hearing folks with low income only.
Payment instalment plan available. Minimum $20 per instalment up to 6 instalments (by post-dated cheques only).
Pay by: cash, cheque, PayPal or e-transfer
NOTE: When paying by cheque or e-transfer on Eventbrite, choose "Pay Offline" option.
Questions? Email reachhandsonasl@gmail.com
Registration will remain open until classes begin
---
- FAQs -
Who is Hands On ASL!?
Hands On ASL! runs ASL classes and retreats for the queer and trans communities in the GTA. Hands On ASL! is a proud supporter of the Ontario Rainbow Alliance of the Deaf (ORAD).
Can you tell me what the accessibility is like in these classes?
All ASL classes are offered in wheelchair accessible spaces. However, not all spaces have automatic push door buttons. Currently, classes are either at OISE on Bloor Street or at The 519 on Church Street in Toronto. Both have working elevators. There are gender neutral washrooms at both locations. On the registration form, we also ask folks to share their access needs with us so that our instructors are aware of how to best accommodate them in the classroom. The classes are in scent free spaces. If you have any questions about the accessibility of the classes or the space, or if we have not mentioned something that you would like to know, please contact us anytime.
Hey, why do the dates shown on my confirmation email differ from the dates I select in my registration?
Eventbrite seems to be a bit funny that way. We can't show you specific dates for each course on the outset but as you register, you will see a breakdown of all levels and course dates. Be sure to select the level and dates you want when you register. You will also get a confirmation email with the details, including the start and end dates with times. Just look for your level, and the dates and times will be listed next to it. We will also be sending you a reminder email prior to the course start date with all the information you'll need.
How do I know which level to select?
ASL 101 is for beginners who have never taken ASL studies before. 102 follows 101 and so on. There are 3 main levels. Level 1 has 101-104. Level 3 has 301-305. Level 2 has been removed from our curriculum as the new Signing Naturally Curriculum Level 1 includes a lot of the Level 2. So if you have taken 201 or 202, proceed to 301. This is a work in progress while we sort out course levels for the future.
Where can I contact the organizer with any questions?
Contact us at Hands On ASL! anytime via reachhandsonasl@gmail.com
Can I update my registration information?
Absolutely! You can use the link in your confirmation email to update your information anytime!
Do I have to bring my printed ticket to the event?
No need. We will have everything electronically accessible and we will be there personally to check you in at the first class.
What is the refund policy?
There are no refunds after the registration period has ended. A deferral may be granted, at the coordinator's discretion, should you need to withdraw for emergency reasons. However, you must inform the coordinator before the third class.
The name on the registration/ticket doesn't match the attendee. Is that okay?
Totally. Also, let us know your preferred name for us to use in class. We will need this for our attendance sheets for the instructors.
Is there a workbook offered with this course?
We use the Vista Signing Naturally Curriculum as a guide to teach our courses and add specific material to the course content to cater to our queer & trans classes. Due to lack of resources (people not returning workbooks out on loan), we will no longer have copies of student workbooks to loan. We do have some copies left for purchase. We are working on making more resources accessible to you as you pursue your ASL studies. You may also choose to purchase your own copy of the Signing Naturally Student Workbook for your level, but check in with your instructor to see if you will be using it often!