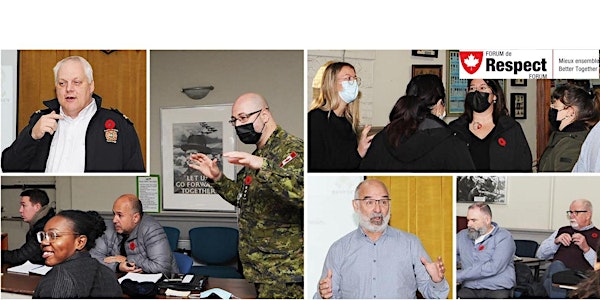 Fall 2022 Respect Forum - St. John's NL
Join us for our next Respect Forum in St. John's NL on November 16, 2022.
When and where
Location
45 Pippy Pl 45 Pippy Place St. John's, NL A1B 3X2 Canada
About this event
Hello again all. This is me: Gregory Burt, your St-John's Respect Forum Facilitator and it is that time of year again!
I am really looking forward to reconnecting with you all yet again and also meeting new participants at the Fall St-John's Respect Forum.
Note: We are using the Eventbrite platform for invitations which unfortunately may seem less personal but I assure you that the Forum will be as interactive and personnel as always. The Eventbrite system saves me an enormous amount of time and effort in sending out emails, reminders and tabulating results.
When?
The next St-John's Respect Forum will take place on 16 November 2022 from 8:30 to 11:30 am in the Canadian Corps of Commissionaires building on Pippy Place. Doors will open at 7:45 am for those who want to network and exchange as soon as possible. There will be coffee.
This is a unique opportunity to meet and network with others just like you who work to improve the mental health, well-being, and quality of life of those in uniformed service who run to danger to help and protect our nation and communities, our veterans, emergency responders, and their loved ones.
Where?
The meeting will be held at the Commissionaires Newfoundland & Labrador Division, 45 Pippy Place, St.John's, NL A1B3X2
RSVP
We ask that you confirm your attendance by Monday, 14 November. Please let us know if you would like to invite anyone or share this invitation.
Agenda
Theme: Collaboration is Contagious - Catch it!
07h45 - 08h10 – Arrival and meet and greet (Coffee available)
08h10 – Introduction to Respect Forum and Opening Brief
08h40 – Break out groups for introductions and collaborative ideas
09h20 – BackBriefs from Groups
09h50 – Health Break
10h00 – Presentations:
A. 211
B. End Homelessness St-John's and the Built for Zero Program.
10h40 – Breakout discussions – Exploring Collaborative Ideas
11h10 – BackBriefs
11h25 – Closing Remarks
11h30 - End of Meeting
Please contact me if you would like to make a short presentation about your organisation: Gregory.burt@outlook.com, (613)‬ ‭‭‭878-4734.
Public Health Guidelines
We are committed to respecting the applicable social distancing and public health guidelines that will be in effect at the time of the meeting.
Any Question?
Please contact Greg Burt: Gregory.burt@outlook.com, (613)‬ ‭‭‭878-4734
Documentation: