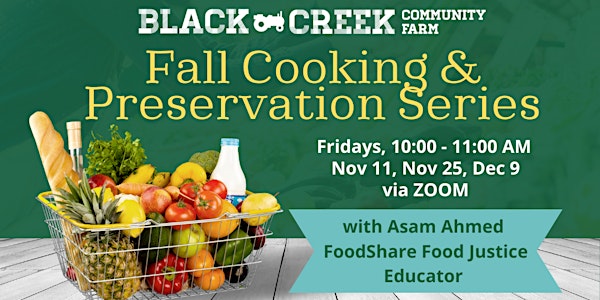 Fall Cooking and Preservation Series
3-part series of talks, cooking and preservation workshops to extend shelf life of food and save money in a time of rising food inflation
About this event
Join us for this timely series of talks and workshops on cooking and preserving garden and store-bought produce to make the best use of ingredients in a time of rising food inflation and corporate profiteering, and to make food last longer.
The series will be live via Zoom on Fridays from 10:00 -11:00 AM, on these dates: Nov. 11, Nov. 25, and Dec. 9
This is a 3-part series facilitated by Asam Ahmad, Food Justice Educator from FoodShare and hosted by Black Creek Community Farm Urban Harvest Program in partnership with the City of Toronto's Community Reduce and Reuse Programs.
We encourage everyone to join all 3 sessions to get the most benefit as each session builds on the previous one.
In this 3-part series, we will make quick refrigerator pickles, sauerkraut using fresh cabbage from the farm, and squash & green bean soup in an aromatic coconut broth. We will discuss the basics of canning, preserving, storing, and fermenting produce. We will look at the journey of vegetables from the field to our kitchen table, and explore the Right to Food in a city where too many people continue to be food insecure.
The Urban Harvest Program aims to help increase food access, reduce food waste, and train residents in cooking and preserving food in the Black Creek Community. More information about the City's Community Reduce & Reuse Programs is available at toronto.ca/reduce-reuse.