About this Event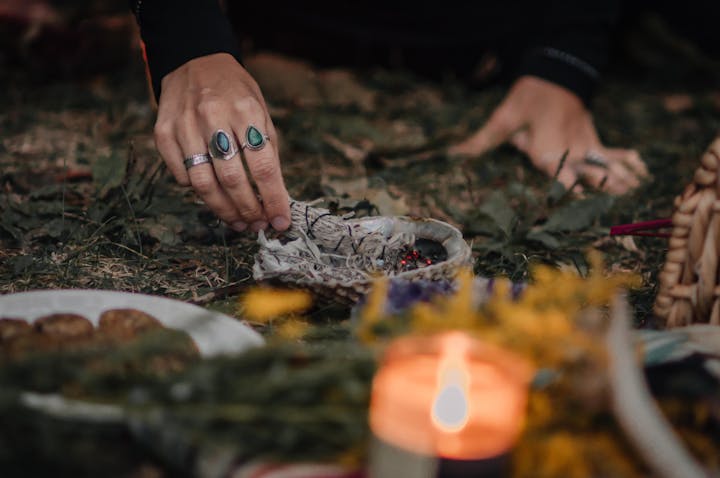 The days are getitng shorter & their is a crispness to the air. We are surrounded by the Abundance of Mother Earth, yet we feel the turn of the Wheel in our Bones. The Autumn Equinox, or Mabon, is a time of year where we are in between spaces - equal light & equal dark. It is a time of deep reflection over what seeds we planted in the Spring, and what we are sowing now. A time to honour how far we have come over this past Summer.
The Equinox is a time of releasing, and clearing all that no longer serves us. A time to honour the Dark Goddess, the Dark Mother, our Shadow Selves. It is a time for us to connect to our Power, our Medicine, and slowly turn our attention inward as we near the darker months of the year.
In the Medicine Wheel we are entering the West direction. Bear Medicine. A time of reflection, of Rooting into our bodies to prepare for shifts in Season. Protection. Rest. Feminine. Resilience. Healing.
The Autumn Equinox is also a time where the veils are thinning between worlds. This makes it a numinous time to connect with our Ancestors, the Earth, our own Selves, and the Plant Medcines.
Join me in Circle to honour all that the Autumn Equinox calls into our Path. To mark this powerful time, and attune with the energy held by the Medicine Garden and the Cosmic cycles.
You will be guided on a healing Drumming Plant Medicine journey with Mullein, as well as through journal prompts to conenct you deeply with your intution, your Medicine, your Truth to offer deep healing. As we gather in Ritual, we honour Traditions and connect with our Ancestors as we remember.
The Fall Equinox offers us a gateway to connecting to our deepest centres of Creation - calling forth our Guides to support us on our journey, releasing all that no longer serves us, and calling in our highest path through the dark months of Creation. Honouring how far we've come, and getting clear on our intentions to carry us forward.
Join me for my favourite time of year - I can't wait to share Medicine stories, teachings, healing & ritual with you all in the Medicine Garden before s/he sleeps once again.
xo
Jacqui
{ We will be gathering in the Pachamama Medicine garden, surrounded by Mullein, Yarrow, Elecampane, Elder, Sage, Sunflower, Corn, Cedar & Cosmos ... the Earth is our container for this Magickal Circle. Please dress accordingly. In the event of hard rain, the event will be canclled & refunds issues. Otherwise, due to the energetic Nature of the Circle, no refunds will be give. However, you may transfer your ticket one time}