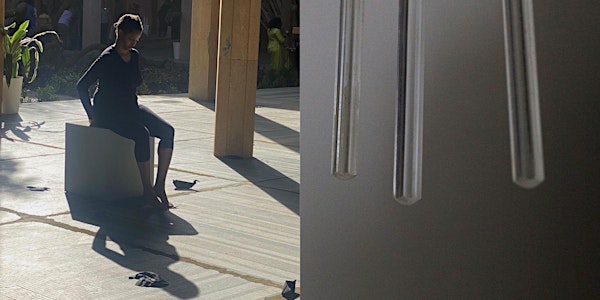 Fall Exhibition Tours
Want to learn more about contemporary artists? Join us on Sept 24 and Oct 14 at 5 PM for guided tours of TRUCK's current exhibitions!
When and where
Location
TRUCK Contemporary Art 2009 10 Avenue Southwest Calgary, AB T3C 0K4 Canada
Refund Policy
Contact the organizer to request a refund.
Eventbrite's fee is nonrefundable.
About this event
Please join us on September 24, 2022 and October 14, 2022 at 5 PM for guided tours of TRUCK's current exhibitions, Resilience by Susana Pilar and Blinding by Violet. These events are free to attend, though sign-up via Eventbrite is encouraged.
Event Agenda:
5:00 PM - Event Start
5:15 PM - Tour Begins (Intros, Opening Remarks)
5:25 PM: Resilience by Susana Pilar
5:50 PM: Blinding by Violet
6:15 PM: Tour Concludes
6:30 PM: Event Ends
Resilience | Susana Pilar
MAIN SPACE
In Resilience, a solo exhibition featuring a number of recent video and photographic works, Pilar highlights the interaction of race and gender to reveal its effects on the everyday experiences of Black women. Using her black body as the site of confrontation and resistance, she examines how Black women disproportionally face sexual violence and exploitation, both physically and ideologically.
On October 14, 2022 at 8 PM, Pilar will present the performance Historias Negras, a gestural investigation which delves into the artist's African ancestry from the Congo and Sierra Leone, and the enduring, embodied memory of slavery. First presented in Dakar, Senegal—the largest center for the slave trade to America between the 16th to 19th centuries—at the Biennale of Contemporary African Art in May 2022, Pilar sits with hands tied behind her back while folding black origami birds with her feet. Through this act of dispersion, Pilar highlights the fragmented imprints between the Cape Verde Peninsula and African descendants in the Americas.
Susana Pilar was born in Cuba in 1984.  From 2011 to 2013 she did a Postgraduate course in New Media, Karlsruhe University of Arts and Design (HfG) with DAAD Scholarship, Germany. From 1998 until 2008 she studied in the Fine Arts Academy "San Alejandro" and the High Institute of Arts (ISA) in Havana, Cuba. She has been artist in residency of Caribbean Linked VI 2021 (virtual edition), CAD+SR 2019-20 Research Fellowship in Italy and Kenya (2019-2022); as well as Guest Professor with the Peter and Irene Ludwig Grant at the Hungarian University of Fine Arts, Budapest, Hungary, 2020.  
Among group shows and international venues we can mention the Berlin Biennale, Germany (2022), 14th Dakar Biennale, Senegal (2022), 6th Lubumbashi Biennale, République Démocratique du Congo (2019); 13 Havana Biennale, Cuba (2019); Resilience and Resistance in African Diaspora, New Museum of African Civilizations, Dakar, Senegal (2018); 56th International Art Exhibition, Cuban Pavilion, Venice, Italy (2015); 1st Biennale of International Contemporary Art, Martinique (2013); Prome encuentro Bienal Arte Contemporaneo di Caribe, Aruba (2012); III Biennale Arts Actuels Réunion, Reunion island (2011) and the 7th Gwangju Biennale in South Korea (2008).
Blinding | Violet
PARKADE Project Space
Blinding is a room-size installation, sound, and light piece consisting of venetian blinds, chandeliers parts, and other scavenged items. The strobing flashing lights shine through the slats, casting shadows in the confined space and heightening the sense of anxiety within the room. The spotlights occasionally blind the viewer and create looming shadow figures behind them, integrating the audience into the work. As the viewer circles the piece, multiple motion-activated audio players trigger a random sequence of tones. Slowly, the viewer's body acclimates to the clicking of the relay and clashing lights. The quick rhythm was created to provoke a physiological change and elicit a state of panic.
Violet has been living in the digital realm since 2018 as part of a publicly funded participation and performance piece on twitch.tv that explored the benefits of cyberspace and anonymity as aids for vulnerability and facilitating interpersonal relationships. The project relied heavily on the constructs of gender and sexuality, and its perceived social advantages and disadvantages. All profits generated throughout the year-long project were donated to a sexual victims charity. Violet maintains a small fan base of followers that assist her with her practice. She also mentors Tetris (tetrismegistus on GitHub), in the creation of his code-generated artwork.Special thanks to Maggie (Engineering Consultant), Roderick Griffionen/Pitj3 (Programming Consultant), Gleb Kholognykh/Sumarok, Eljay, Silxs and AnakimLuke.
///
TRUCK gratefully acknowledges the support of our members, the Canada Council for the Arts, the Alberta Foundation for the Arts, and Calgary Arts Development. This exhibition is made possible thanks to partnerships with Shelf Life Books, Village Brewery, and Cloverdale Paint.