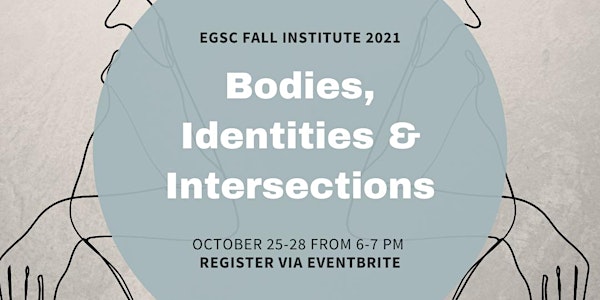 Fall Institute 2021
Our theme this year focuses on Bodies, Identities, and Intersections.
About this event
Overview
This year, the Fall Institute will be taking place from October 25-28, 2021. There are a series of four speakers, each speaking on a different evening from 6-7pm EST, to provide graduate students, teacher candidates, and teachers an opportunity to (un)learn. Descriptions for each session can be found below with facilitator/speaker bios on our website: https://www.egscuottawa.com/fall-2021.html
Please also note that a Zoom meeting link will be sent on the day of the session.
Day 1 - October 25th from 6-7pm EST
Keynote Speaker: Dr. Keri Cheechoo (she/her)
By provoking Pimatisiwin through protocol, Dr. Cheechoo will offer opportunities to both learn and unlearn as she examines the juxtaposition of existing embodied violence and absent ethical relationality. This conversation will make clear that though Indigenous women are inherently positioned to be a threat to settler colonialism (Anderson, 2011), we are not inherently vulnerable. Dr. Cheechoo will speak to linguistic considerations, paying special attention to the concept of "protocol/s" by honouring and modelling ethical relationality as an Iskwew, scholar and educator.
Day 2 - October 26th from 6-7pm EST
Facilitator: Kim Hoang (she/her)
Comics have been popular with children since their inception, and now more than ever, graphic novels, manga, and cartoons are proving to be a wonderful vehicle for education. For the unconvinced, this seminar will explain to you why this medium is so compelling to both students and teachers, and in what ways it might be applicable to subjects you never expected them to cover. For those who are curious but don't know where to start, we will introduce you to a curated selection of titles that can help begin your search. For those already initiated, Kim will run you through an example of a comics workshop that you can take into the classroom yourself. This seminar aims to show you how comics, with its low bar for entry and wide accessibility both for reading and creating, is a great equalizer for communicating ideas, and a powerful tool for marginalized students.
Day 3 - October 27th from 6-7pm EST
Facilitator: Madelaine McCracken (she/her)
Within this session, it will be completely conversational. Before the session leads into a guided conversation, I will share my experience of being a Michif educator and the Métissage of experiences I have endured being who I am. Throughout the conversation, we will acknowledge how our voices can be impacted by our communities and how this can connect to our pedagogies and potentially, to research. For example, I may discuss my own journey to connect with my Indegigogy. Further, we will also talk about the importance of safe spaces. How do we envision these spaces? Are they fully possible?
Day 4 - October 28th from 6-7pm EST
Facilitators: Fatemeh Anvari (she/her)and Yeti Mallavi (she/they)
How do you navigate your identity, health and challenges from your experiences in teaching or academia? In this discussion session, Yeti and Fatemeh respond to this question by examining some of the challenges they have faced and how they navigated those experiences as teachers of colour. As they trace their narratives and share their stories, they hope to provide all educators with a sense of futurity that imagines all of us, especially marginalized peoples, through a sense of empowerment and healing.