About this Event
Artist Co-Creation Residency
In June 2019, The Clemmons Family Farm held the first Vermont African Diaspora Artists Summit, which gathered thirty artists of African descent from around the state for two days. The participants were musicians, dancers, poets, literary artists, storytellers and culinary artists. The main objectives of the Summit were to increase social support, networking and creative collaborations among the artists, foster new collaborations between the artists and the Farm, and share information about resources and support available for Vermont artists. Most of the artists attending the Summit did not know one another.
Since the Summit, numerous new collaborations among Vermont's artists of African descent have germinated, including a co-creation work by artists Kaylynn Sullivan TwoTrees of Hinesburg, and Mikahely Rakoto Razafy of Burlington. Falling into Language, a Travelogue is a collaborative video/installation/performance work-in-progress. The multi-media project is based on a series of paintings by TwoTrees, who will also serve as videographer and director of the co-creation project. Razafy, who is a composer, musician and sound engineer will create a musical score to accompany the paintings. Community members and visitors to the Farm will be able to join the artists and learn about their work-in-progress during their open studio hours for community engagement on the Clemmons Family Farm.
Community Engagement Hours
The artists-in-residence will offer two opportunities for visitors to the Farm to observe the co-creation work in progress, ask questions and engage in brief discussions with the Artists:
September 8 from 1-3 PM
September 15 from 2 – 4 PM, with a presentation by the artists at 2:30 PM
Both community engagements will be at the historic Barn House at the Clemmons Family Farm.
Kaylynn Sullivan TwoTrees
TwoTrees is an artist/social catalyst whose multi media work focuses on a re-orientation to indigenous mind and regeneration of an essential relationship with Earth wisdom and sense of Place. She is past recipient of the Lila Wallace International Artist Award and her work has been exhibited and is in collections in the US, Europe and New Zealand. She is currently Artist in Residence of the Leadership for Sustainability Masters Program at University of Vermont.
Mikahely Rakoto Razafy
In his home country of Madagascar, Mikahely is a renowned musician and guitarist. He has performed throughout the island, has toured Europe, and is featured in the documentary Guitar Madagascar. Mikahely's band, Mika & Davis--two vocalists backed by drums, electric guitar, and bass--played to thousands of adoring fans. They drew upon traditional basesa rhythms of Madagascar's east coast, fusing them with jazz and other genres to create a unique style.
Since moving to Vermont in 2018, Mikahely has been performing as a solo act. He's received rave reviews for his haunting melodies and his technical skills on the guitar and the valiha, a traditional Malagasy instrument crafted from bamboo. His vision is much larger, though. He hopes to form a new band and start touring in Vermont and throughout the Northeast.
Artists' Statements
"Falling into Language, a Travelogue, currently a work in progress, is the manifestation of over 7 years exploration of the idea of a secret language tied to the evolution of human languages. In various ways this work is based on a desire to understand the similarity between vocables in many indigenous traditions to the idea of a language that goes beyond the barriers of culture that divide us and is linked to both land/place and a larger consciousness. In 2016 I discovered a story about a village in southern India that celebrated a ritual including chants handed down orally over thousands of years and that bore no relationship to any known human language. That small story led me to create a series of 40 paintings and drawings that eventually became the libretto/score and the imagery for the Falling into Language video that is now in the making. This "travelogue" is a visual narrative meant to communicate to the viewer in much the same way that vocables communicate- by blurring the boundaries of thought and language. The final exhibition of this work which will include an installation/performance and video. This immersive and performative environment is meant to evoke a deep remembering in the viewer that considers the hard boundaries between us and how language might be a part of those boundaries." -Kaylynn Sullivan TwoTrees
"I am very excited to be working on this project, which is so special and unique! The paintings and music are talking together, showing that we are united in language and human color. Kaylynn Sullivan TwoTrees is an amazing artist who has inspired me. Together, we bring our talents and perspectives into a fused image, music and work. The music, which I am calling "vohajanahary" means to respect the natural in the Malagasy language. Clemmons Family farm is where this all began, when TwoTrees and I first met at the Vermont African Diaspora Artists' Summit in June 2019. It is an honor and privilege for me to return to this special place to co-create our expression." - Mikahely Rakoto Razafy
About the Clemmons Family Farm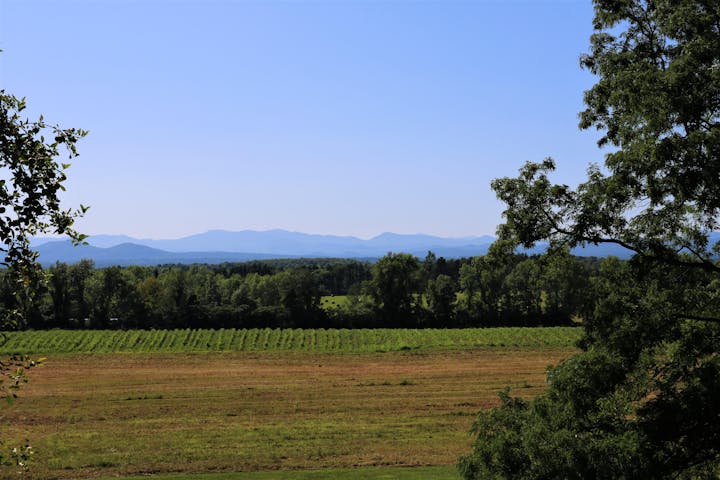 Located in Charlotte near beautiful Lake Champlain, the Clemmons Family Farm is ​one of the largest African-American-owned historic farms in Vermont today. The farm includes 6 historic buildings (circa late 1700s-1800s), a spacious 1990's residence, and 148 acres of prime farmland and forests, ponds and streams abundant with wildlife. The Clemmons Family Farm is among the less than half of one percent (0.4%) of all farms in the United States are African-American-owned. Over the past century, African-American land ownership in the U.S. has decreased by 93%: from a combined total of 41 million acres in the 1920's to just 3.5 million acres today. There are nearly one billion acres of farmland in the United States.According to the 2012 United States agriculture census, of the nearly 7000 farms in Vermont, only 19 are African-American-owned or operated. Of the 1.2 million acres of farmland in Vermont, only 740 acres are owned or principally operated by African Americans.By attending our events or giving donations to the Clemmons Family Farm you help us to preserve one of the rare African-American owned farms in the state of Vermont and in New England as a cultural heritage asset for the community.
FAQ
Where do I park?The Barn House address is located on the west side of the road at 2122 Greenbush Road, Charlotte Vermont 05445. Please park in the barnyard at the "Big Barn" located across the street (east side) from the Barn House. You will see an "Event Parking" sign indicating the area where you can park. Additional parking is located south of the Big Barn-- look for more "Event Parking" signs at 2213 Greenbush Road.
What do I do if I cannot walk down and up the hill to the Barn House?Please contact us before the event at clemmonsfamilyfarm2art@gmail.com or call (765) 560-5445 and leave a message so that we can arrange for a car to drive you down (and up) the hill. Also, the Barn House has an access ramp for those who may have difficulty using the stairs at the main entrance.
How can I contact the organizer with any questions?Please contact us if you have any questions about the event. You can reach us at clemmonsfamilyfarm2art@gmail.com or call (765) 560-5445.
Where can I learn more about the Clemmons Family Farm?
Check out our website, subscribe for updates on our new arts and culture events, and like us on Facebook!