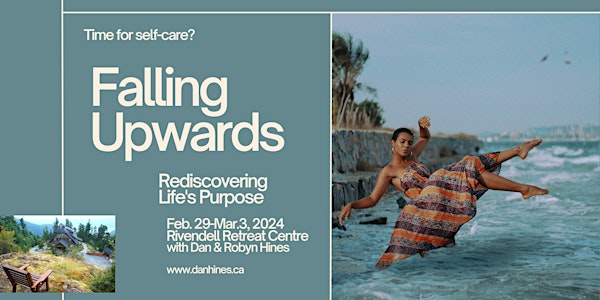 Falling Upwards: Rediscovering Life's Purpose at Rivendell
Do you need a recharge and renewal? Join Dan & Robyn in a soulful encounter and gentle yoga. Find your clarity, zest, purpose and passion.
Date and time
Thu, Feb 29, 2024 6:00 PM - Sun, Mar 3, 2024 10:00 AM PST
Location
Rivendell Retreat Centre 600 Rivendell Drive Bowen Island, BC V0N 1G0 Canada
Refund Policy
Refunds up to 30 days before event
Agenda
6:00 PM - 9:30 PM
Thursday dinner, welcome, introductions, yoga nidra
9:00 AM - 12:30 PM
Friday morning session and gentle flow yoga
2:00 PM - 5:00 PM
Friday afternoon session
7:00 PM - 9:30 PM
Friday evening session and yoga nidra
9:00 AM - 12:30 PM
Saturday morning session and gentle flow yoga
2:00 PM - 5:00 PM
Saturday afternoon session
7:00 PM - 9:30 PM
Saturday evening session and yoga nidra
9:00 AM - 10:00 AM
Sunday morning integration and closing
Goodbyes and new friends!
About this event
2 days 16 hours

Mobile eTicket
You can feel the warmth on your skin of the crackling fire in the lodge, as you look out the window at snowy peaks rising above the Salish Sea. You have loved every morsel of the tasty and hearty dinner, lovingly prepared for you. For a few days, you notice that you are at home in the Islands.
You are reflecting as you gaze into the flames on the soulful conversation you just heard and on what you just spoke as others listened deeply to your insights. You begin to write a few thoughts in your journal. Your life comes into crisp focus. You feel new energy and direction.
This is just what you needed.
Are you feeling stuck, confused or dissatisfied with life?
Are you longing to hit pause and take better care of yourself?
Do you need to make a tough decision?
Are there questions arising from a deep place within you?
Do you need to access your wisdom in a time of life transition?
Is it time for you get away and breathe in a quiet sacred place?
At Rivendell, you are invited to beautiful Bowen Island, to relax as you face out to majestic peaks, enjoy great nutritious healthy food, mindfully walk the labyrinth, stretch your limbs and settle into gentle yoga, and be among a safe loving community of friends for soulful conversations. It is just the place you need to be.
​Welcome! This retreat experience is for you!
There is a life-giving and rewarding way to find a deeper meaning and a renewed purpose for living. We all need a chance to find a greater clarity and to be guided from within.
That way invites us into unavoidable soulful work. This is a bittersweet process! There is often a great surge of joy and peace in the midst of the ongoing struggle to be true to who we are.
We must tenderly face our losses, heartbreak, pain, past and present struggles, failures, wider horizons, and the necessary difficulties of living. The paradox of going down into these shadow areas is that it is actually the way forward and up into our growth, compassion and awareness.
We fall down to rise up. We let our lives speak.
Drawing on the wisdom of Richard Rohr's classic spiritual book "Falling Upwards" (the inspiration for the retreat title) and Parker Palmer's inspiring book "Let Your Life Speak", we will also access teachings from time-honored poetry, evocative stories and wisdom traditions.
We will consider the mystery of who we are.
We will embody and integrate our insights with yoga, breathwork and mindfulness practices.
This three night, four day experience, nestled in the warmth of Rivendell Retreat Centre on beautiful Bowen Island, is an opportunity to explore, rest and reorient.
You will not be over-scheduled! Everything we offer is by invitation. We believe that the most important breakthroughs happen from rest, silence and solitude. We bring these transformations back into community.
It is for anyone who:
-desires a guided process in a safe space for self-discovery;
-is in the process of making a life decision and seeking inner wisdom;
-enjoys integrating soulful self learning with yoga, meditation and body awareness;
-values the teaching of Parker Palmer and the Circle of Trust lineage;
-yearns for living with a whole heart and in greater alignment with their true self.
Guided by the couple team of Dan and Robyn, who bring their hearts and wisdom to these experiences and have facilitated retreats for thousands of participants, we will share in a proven and generous way of being together.
In these wise spaces, some principles and practices create a trustworthy, brave space of attention, imagination, and confidential conversations. Dan Hines was mentored by Parker J. Palmer and facilitates soulful encounters throughout the world. Robyn Hines is a 500 RYT Yoga Instructor and owns a yoga studio in BC. For the summer months, they live and share learning experiences on their sailing yacht 'Anam Cara'.
During the retreat, we will also learn the gift of a Clearness Committees, a disciplined two hour discernment process: arising from the early Quakers.
We will share Thursday dinner at 6:00 pm. All meals are provided including Sunday breakfast. There will be coordination for vehicles and rides from the Bowen Island ferry, when the event draws closer.
$200.00 deposit is required at registration. The deposit is non-refundable. You may transfer the deposit to another person (subject to our approval).
Once you register, we will send you more information, some forms to complete, and organize our group.
After Jan. 1, 2024, you will receive an invoice for the balance owed.
The balance is payable by Jan. 31, 2024.
Here are the total costs for the two room and meal options:
Private Room $975.00 CAD + fees
Shared Room $875.00 CAD + fees
The cost of a retreat experience is worth it; we know this is true!
And please contact us if cost is an issues; if you would like to apply for a scholarship.
Cancellation Policy: After January 31, 2024, the amount paid is non-refundable.
Please contact us if you require more information.
Email: djhines2012@gmail.com www.danhines.ca
Frequently asked questions
How do I reach the ferry to Bowen Island (Snug Cove)?
What is Rivendell Centre like?
Will there be time and space to unwind and rest?
Can I book a room before or after the retreat?