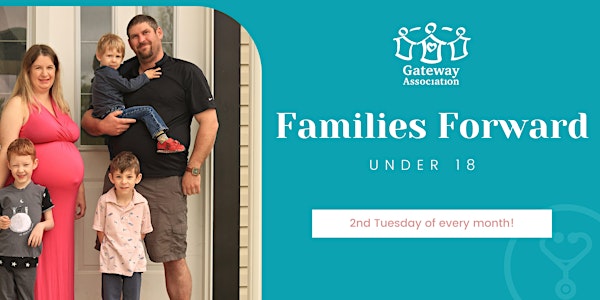 Multiple dates
Families Forward, Under 18
Monthly meeting for families with children under 18 with disabilities.
Date and time
Tue, Feb 8, 2022 6:00 PM - Tue, Jun 13, 2023 8:00 PM PST
About this event
Where families can connect with other families, learn from one another, and explore issues that are important (such as schooling, leadership, and community and government support).
Upcoming topics:
January
Learn more about how the Caregiver Roadmap on the Gateway Association App can provide you with learning modules, important support services checklists, and self-care resources to help provide you with tools for your loved one living with a disability at any age.
February
Spread the love! Lets chat about ways that you and your family share kindness within their community.
March
Shyla Masse from Getting Ready for Inclusion Today(GRIT) will be joining us to discuss visioning and planning for your young child's future.
Questions? Contact
Stacy (meeting facilitator) at stacy@gatewayassociation.ca
Yonique (meeting facilitator) at yonique@gatewayassociation.ca
Friendly reminder: Please plan to join at the start time. Participants may not be admitted 15 minutes after the event has started or events maybe cancelled after 15 minutes if there are no participants.
Are you unable to attend? Please let us know by sending a cancellation email to info@gatewayassociation.ca, so we can release your spot to attendees on the waitlist
About the organizer
Gateway Association is a grassroots non-profit organization whose main goal is transformation of community through the lens of disability. Gateway is a leader and influencer in community development and community economic development in the Edmonton area. We work each day – with people, families, schools, government, and business – to build communities where all people are valued and respected.

Visit www.gatewayassociation.ca to see what we've been up to and for more details on our organization.