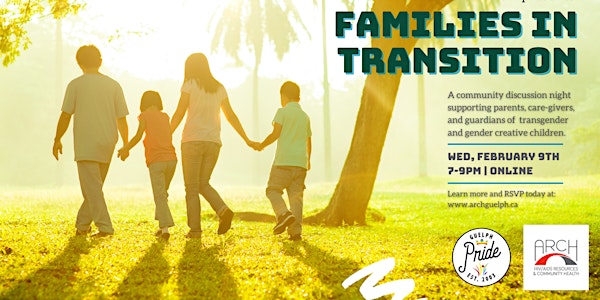 Families in Transition Community Discussion and Support Night
A community discussion night supporting parents, care-givers, and guardians of transgender and gender creative children and youth.
About this event
If you are reading this, then it's likely that you are currently raising or supporting a young person who is trans and/or exploring their gender identity. Welcome to this journey! Supporting a youth through their process of gender exploration can be an incredibly rewarding and exciting experience. However, it can also be very stressful (as you may already know!), because most adults in our society have not been given very much good information or support when it comes to gender diversity and parenting.
Some of you may have never learned anything about trans or gender diverse people while you were growing up – and some of you may have only heard stereotypes or negative ideas about trans and gender diverse people. Even today, in a time when gender diversity is being represented more than ever in the media, there is a great deal of misinformation and fearmongering about what it means to be trans. It can feel overwhelming and isolating for parents and caregivers to sort through all of these social messages in order to understand how to best support their youth.
Families in Transition was created by Central Toronto Youth Services, an accredited children's mental health center in Toronto, to help parents and caregivers get the information and support they need. Originally a single resource, it has been expanded to a full 10-week program. ARCH will be offering this program to interested parents and caregivers in our communities, however we wanted to open up a discussion with parents about what your needs are in this time. With many competing factors and stressors, we want to meet parents where they are with what they have, and support them to provide the best guidance, care, and love to their trans and gender diverse children.
Our goal is to help you maintain a close, healthy relationship with your child, regardless of what path their gender development takes – because both science and common sense tell us that the most important factor in a young person's mental health is their relationship with their family.
This session, and accompanying program, provides a group to explore these issues with, as well as additional reading, resources, and exercises to do independently and together. ARCH is happy to provide support and resources to interested parents who are unable to participate in the group as many of these activities can also be done alone, however we have found that the support of a facilitator who is a mental health professional can be helpful. It's important to remember that if you have serious concerns about the mental health of your young person or anyone else in your family, it is best to seek professional support.
We believe that all trans and gender diverse young people are capable of living rich and meaningful lives – and also that they are capable of incredible achievements. This is especially true when their families take the steps necessary to provide them with supportive, loving environments. We hope that this session, and the full program, will be of assistance to you as you continue to find the best ways of supporting and loving your own youth through all of the twists and turns that this journey may take.
This community discussion night will be hosted by the facilitators who will be running the Families in Transition 10-week program. You'll have an opportunity to connect with other parents, discuss common questions and struggles, and access guidance, resources, and support for the journey that you and your family is embarking on, no matter the destination.
------------------------------------
ACCESSIBILITY
- this event will be hosted online over the Zoom platform. Attendees will need to have access to the Zoom platform (accounts are free to create) as well as reliable internet access for the duration of the session. If this poses a barrier to you, reach out and we will work with you to ensure you can join us!
- this is a 'brave space' meant to foster collective learning; that being said, some questions, opinions, or beliefs may be upsetting to some participants. The facilitators will work diligently to ensure an affirming, constructive space free of discrimination, however due to the nature of this event, some discretion is advised.