Join us for a low-key, family-friendly Juneteenth celebration on the Clemmons farm on Saturday, June 19 from 10:30 AM - 2 PM. BYO Picnic!
About this event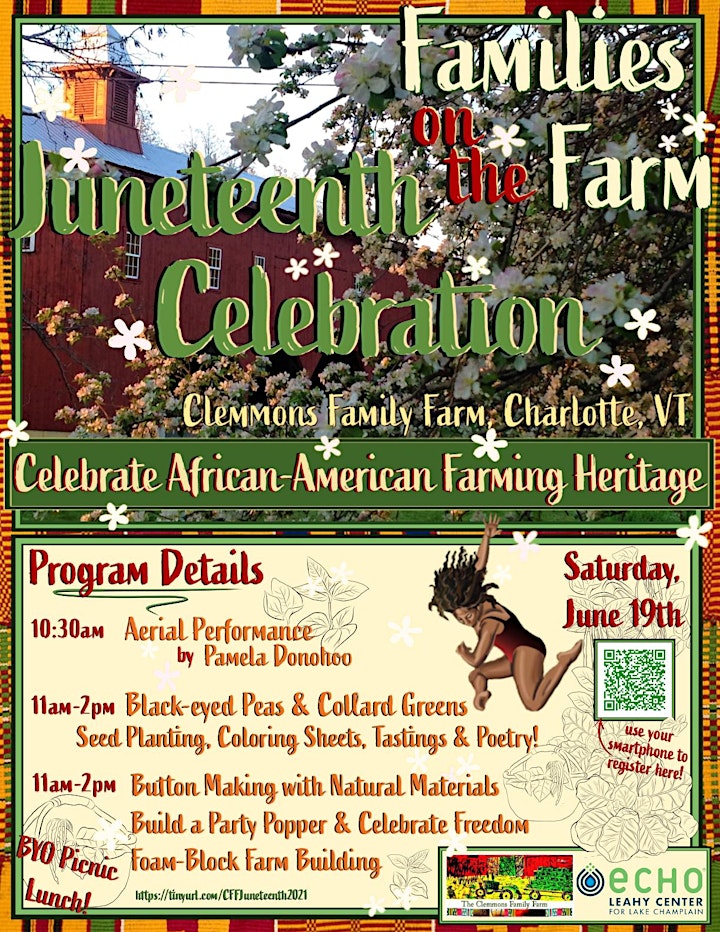 Black-eyed Peas and Collard Greens!
This year's Juneteenth celebration on the Farm showcases two traditional foods in African-American farming and culinary heritage: black-eyed peas and collard greens!
Program
10:30 AM: Clemmons Family Farm's collaborating artist, Pamela Donohoo, will start off our community-building program with an aerial performance, When Black-Eyed Peas Met Collard Greens, and engage audience members in fun movement, Q&A and discussion. NOTE: Audience members are asked to respect the artist's request for no photographs or videography of her performance. CFF will distribute photos of the performance to audience members after the event.
11:00 AM - 2 PM: Have fun with Kia'Rae Hanron, Clemmons FamIly Farm's K-12 Learning Adviser and Nina Ridhibhinyo of ECHO Leahy Center of Lake Champlain at our kid-friendly activity tables:
Peat cups, soil and black-eyed peas and collard green seeds to plant and bring home to your garden
Plant ID coloring sheets featuring Jackson Clemmons and Lydia Clemmons Senior in their younger years as farmers on the Clemmons farm
Take home some Clemmons Family Farm coloring pages and storytelling book marks
Enjoy button making
Younger kiddos will enjoy the foam-block farm making
Delicious tastings of cooked black-eyed peas and collard greens by Clemmons Family Farm's collaborating culinary artist Robin Caudell
Storytelling: "How Great Grandma Margie Ran Away. Twice."
***REGISTRATION IS REQUIRED FOR ADMISSION. 50 PEOPLE MAXIMUM. BRING YOUR OWN BLANKETS AND PICNIC LUNCH!***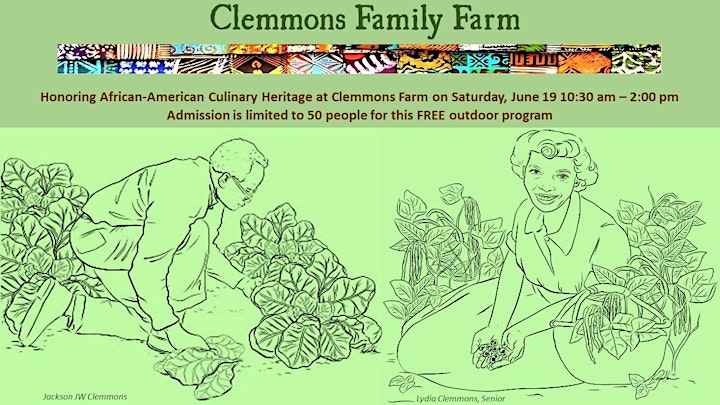 FAQs
COVID-19 precautions:
1. This is an outdoor activity. Those who have completed their COVID-19 vaccinations are welcome to enjoy this experience without a mask.
2. If you are ill, not feeling well, have a fever or a cough, please stay home and take care of yourself!
3. Outdoor portalets will be available for registered participants.
4. Maximum participants: 50
What Should I Bring
1. Folding chairs or blankets for the lawn.
2. Bring Your Own Picnic Lunch and beverages if you like.
3. Bring crayons for the kids to color the coloring pages and sheets.
4. Sunglasses, hats, sunscreen.
5. Insect repellant (for mosquitos, ticks or other insects you might encounter)
6. A relaxed attitude- this program is very low-key.
Outdoors means insects!
This is an outdoor program. There might be a few mosquitos, ants, bees, and other insects. Please bring some insect spray with you just in case!
Where do I park?
Parking is located on the lawns right at the entrance of 2213 Greenbush Road- you will see parking signs. The Authentica Art Gallery is located directly across the street from the parking, on the west side of the road at 2190 Greenbush Road (Adirondack Mountain side). You will see "Event Parking" signs indicating the areas where you can park. You will then cross the road and walk over to the Authentica Art Gallery- meet up is on the lawns behind Authentica.
Accessibility
Please let us know if you have difficulty walking- we are reserving parking for you right in front of the Authentica Art gallery at 2190 Greenbush Road. Email clemmonsfamilyfarm@gmail.com or call (765) 560-5445 and leave a message.
Is it ok to bring children?
Yes, absolutely! Parents and younger children (10 years and below) should really enjoy this program. If your wee ones get restless, there's plenty of room outside on the lawns for them to run around, and a really great hill for rolling, but they will need to be accompanied by an adult.
Is this event really free admission?
Yes! We suggest a minimum donation of $5.00 per person. If you can donate more, please do. If your finances are tight and you can't afford a donation, please come and spend some time away from the stress of that situation.
How can I contact the organizer with any questions?
Please contact us if you have any questions about the event. Email clemmonsfamilyfarm@gmail.com or call (765) 560-5445 and leave a message.
Where can I make a donation?
Please check our webpage here for information on how to donate to the 501c3 nonprofit organization Clemmons Family Farm, Inc. that stewards the Clemmons farm.
Learn about Juneteenth! Enjoy our recording of last year's Juneteenth in the Air 2020 program below!
Welcome and Introduction by Lydia Clemmons (0 - 11.18)
History of Juneteenth by Bill Hart (11.19 - 19.50 minutes)
How Great Grandma Margie Ran Away. Twice. Storytelling by Lydia Clemmons, Senior (19.51-28.07)
Commentary, community dialogue and Q&A (28:08- 41.16)
Introduction and conversation with Pamela Donohoo (41.17 - 45.00)
Audience movement engagement (45.00 - 50.58)
"A Moment of Breath": aerial performance (51.00-54.36)
Commentary, discussion, audience Q&A (54.36 - 1 hour.22)
Happy Birthday song for Mrs. Clemmons and goodbyes! (1 hour.22-1 hour.25)
Clemmons Family Farm's Families on the Farm Juneteenth 2021 program is made possible through kind donations from our community. It is held in collaboration with ECHO Leahy Center of Lake Champlain.

Organizer of Families on the Farm: Juneteenth Celebration at the Clemmons Farm