Be part of our studio audience and experience the laughs and drama of a Family Feud Canada taping in downtown Toronto, Ontario!
About this event
The hit game show returns for a fourth year to welcome even more Canadian families to the stage with host Gerry Dee. Family Feud Canada invites a diverse range of families to go head-to-head to answer the most popular answer to fun survey questions with a uniquely Canadian twist, for a chance to take home up to $30,000 per family. We're looking for studio audience members to help cheer them on!
Please read below for more information on attending a studio taping.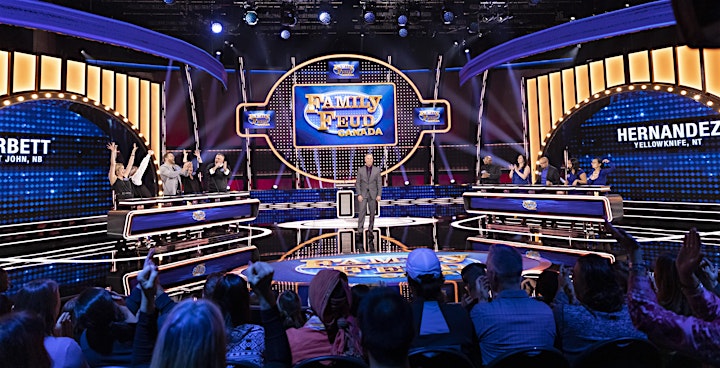 Please only submit a ticket request for dates you are able to attend. Please cancel your tickets if you're no longer able to attend so we can offer your seat(s) to another party.
• We film most Saturdays, Sundays, and Mondays
• August through October 2022
• Morning taping session – Arrive by 10:30 AM, stay to 3:00 PM (may change by date)
• Afternoon taping session – Arrive by 2:15 PM, stay to 6:30 PM (may change by date)
• Must be 16+ years of age to attend a taping
Group Bookings: For parties of 5 or more looking to book seats at a taping, please email familyfeudcanada@gmail.com directly.
Studio Accessibility: For accessibility related concerns, please email your questions to familyfeudcanada@gmail.com directly and we'll be happy to accommodate.