Description
Celebrate Aboriginal History Month through an exploration of film, stories, and language!
See a collection of short videos by indigenous filmmakers, curated by the NFB & experience a family storytelling session and interactive language workshop led by Indigenous Cultural Coordinator at Biindigen Healing and Art, Suzanne Smoke.
Event Schedule:
6:00PM – Event opens
6:15PM – Gallery Tour of the Varley Art Gallery's current exhibit Mother Tongue which explores the complex relationships that exist between language and identity
6:30PM – Indigenous Language Workshop led by, Suzanne Smoke
7:15PM – Stories through Film shown through a selection of short videos by Indigenous filmmakers, curated by the NFB
8:15PM – Storytelling Session led by Suzanne Smoke
8:45PM – Event concludes

Film Program:
Vistas: Little Thunder | 3 min
Vistas: Dancers of the Grass | 2 min
Wapos Bay: Journey Through Fear | 24 min
Vistas: Walk-in-the-Forest | 3 min
Wapos Bay: Time Management | 22 min
Vistas: Wave a Red Flag | 4 min
More about Suzanne Smoke:
Suzanne is a member of the Alderville First Nation, Mississaugas of Rice Lake.
Gifted in many areas, Suzanne has been a fashion designer, curator, chef, cultural and arts activist, and a land defender and water protector. Her most important role has been as a Life Giver and mother to Cedar, her 18 –year old daughter.
Suzanne played a major role at the Georgina Arts Centre & Gallery in Sutton as the Aboriginal Arts Coordinator. Under Suzanne's leadership, the Biindigen Gallery grew from carrying the works of 5 to 6 Indigenous artists to housing the work of over 40 First Nations, Inuit and Metis artists. In 2015, she was the Indigenous Cultural Coordinator for the Host Nation, Mississaugas of New Credit for the 2015 PAN AM GAMES.
Currently, Suzanne is a consultant for several organizations including York Region Tourism, York Region Arts Council, Town of Georgina Cultural Planning committee and Town of Georgina Environmental committee. In the next couple of months, Suzanne has recently launched Biindigen Healing and Arts, a grassroots non-profit organization to serve the over 14,000 self identified Indigenous people in York region.
[Bio: source]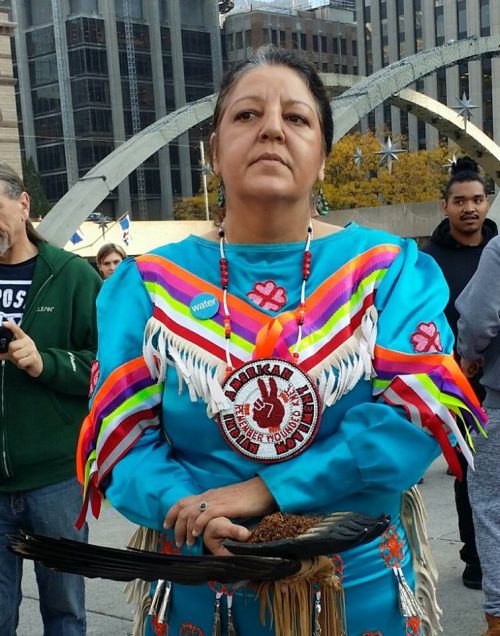 This event is in celebration of Aboriginal History Month and is made possible by a collaboration between the The Varley Art Gallery, the National Film Board of Canada and Markham Public Library.