Family Fun on the Farm

Saturday, 10 June 2017 from 1:00 PM to 4:00 PM (EDT)
Event Details
FAMILY FUN ON THE FARM
STRAWBERRY FEAST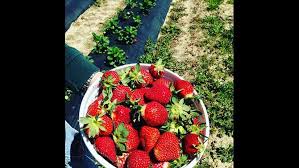 SATURDAY JUNE 10, 2017
1:00 pm - 4:00 pm
Spectrum Acres
 3106 Line 29 Tavistock ON
Spectrum Acres is hosting a Strawberry Feast!

It's Spring! Come grow with us! Spectrum Acres invites all with Autism and other Special Abilities, their families, caregivers, and friends to experience what Nature has to offer on the farm. With Autism Ontario, we are offering a series of Open Houses and June is Strawberry Feast—showcasing nature's local bounty. Enjoy a snack and a drink featuring the fruit and come and play!
Grow a Row ──── Let's grow together. Plant some seeds and participate as much as you want ──── Meet Webby, and other animals ──── Walk the Labyrinth ──── Experience the Connection

Find us on Facebook at https://www.facebook.com/spectrumacres/
NOTE: Due to allergies and sensitivities, please refrain from wearing perfume, cologne, aftershave or scented products such as lacquer or lotions.
************************
Marti Lussier, Coordonnatrice des événements communautaire
226-787-0333 ou marti@autismontario.com
Vous désirez parler à quelqu'un en français? 416-246-9592, poste 239 ou rpcprovincial@autismontario.com
When & Where

Spectrum Acres
3106 Line 29
Tavistock, ON
Canada

Saturday, 10 June 2017 from 1:00 PM to 4:00 PM (EDT)
Add to my calendar
Organizer
Autism Ontario - SW Potential Programme
The Southwest region includes: Autism Ontario Windsor - Essex ( and vicinity), Chatham and Sarnia - Lambton -Middlesex -London (and vicinity ), Perth and Huron ( Goderich , Clinton, Stratford and surrounding areas ), and Bruce -Grey (Owen Sound - Kincardine and vicinity).
 
Marti Lussier, Community Events Coordinator
226-787-0333 or marti@autismontario.com
To speak to someone in French?
416-246-9592 ext 239 or rpcprovincial@autismontario.com
 Frequently Asked Questions 
1) Do I need to print tickets or confirmations received by email to attend this event? No, you have nothing to print. Upon your arrival, you must present yourself at the registration desk . You will be asked your name and the number of people accompanying you. That's it!
2) Do I need proof of diagnosis? No, it is not necessary. Introduce yourself to the registry office and enjoy the activity .
3) Is there an entry in the cost of the activity? Almost all activities are free , because the fees are paid by the potential program , Autism Ontario , in partnership with the Department of Services for Children and Youth . If there are costs to pay, this will be indicated on the registration page when you select the number of tickets you need.

4) Do I need to be a member of Autism Ontario to register and participate? No. Being a member gives you access to other interesting possibilities, but the activities proposed under the Potential Programme are open to all families with children under 18 living with ASD in Ontario