Event Information
Location
Communitech
151 Charles Street West
Suite 100, The Tannery
Kitchener, ON N2G 1H6
Canada
Description
Join us for Family Hack Jam 3 on Monday, February 17th 2014 @ Communitech!
Family Hack Jam is a day for parents and kids, ages 8+, to learn about digital media and technology where you can explore, create and share! This is a parent and child event - children are not allowed to participate unattended.
This event is being held at Communitech at 151 Charles in the Tannery Building
This is a free event. If you like, you can buy a "donation" ticket, which lets you choose any amount. We appreciate your support and invite you to make the contribution that's right for you and your family.
We are providing a lovely bagged lunch from Little Mushroon Catering!
As we look forward to sharing food with each other, we invite you to bring a donation for the Food Bank to Family Hack Jam for us to share some food with our community.
Please Bring Your Own Computer - we will have some computers available, but this is a BYOC (Bring Your Own Computer) event.
Follow us on Twitter @HiveWaterloo and our hashtag #familyhackjam
Check out these awesome activies you can do at Family Hack Jam:
Family Hack Jam Events
T-Shirt Recycling Factory
Bring your own T-Shirts and transform them into something new! Imagine your t-shirt as a pillow, a purse or a stuffed toy! Get your hands dirty, have fun recycling and turn an old shirt into something new. Don't forget to bring your own t-shirts! Presented by kwartzlab
Learning Electronics Workshop
Learn about electronics with the Arduino & CodeShield made by Diyode! You don't need to bring anything to this workshop - everything is provided...even a laptop to use! Just bring your curiosity and excitement. Make things beep, light-up and whir while you learn about electronics. Presented by Diyode. There is $5 fee for this workshop.
Find out more about Codeshield: http://makezine.com/2013/05/22/diyode-codeshield-gets-a-lesson-plan/

We have lots of other activies, including:
Learn to Program
Build a Website
Play with Lego Robots
See a Rubik's Cube Solving Robot
Rebuild & Remix Toys
Make your own Ringtone
Get Your Tickets Now!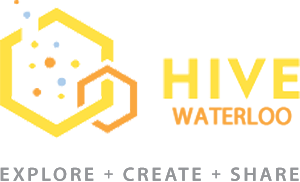 Date and time
Location
Communitech
151 Charles Street West
Suite 100, The Tannery
Kitchener, ON N2G 1H6
Canada