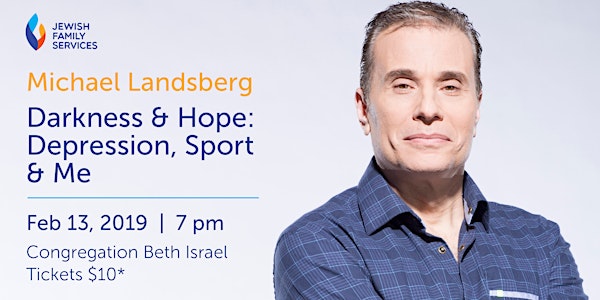 Family Life Education Event, with Michael Landsberg
Michael Landsberg explains why mental illness isn't a weakness —and how we can beat the stigma, fight back, and save lives
When and where
Location
Congregation Beth Israel 989 West 28th Avenue Vancouver, BC V6H 2N4 Canada
About this event
With 1 in 5 Canadians affected, addressing mental health is more important than ever.
Join us for an evening with Michael Landsberg, one of the best-known personalities in Canadian broadcasting, who considers talking about mental health his most important professional calling. A powerful voice for mental health awareness, Landsberg is intelligent, candid, and funny. He'll speak about his personal battle with depression - explaining why mental illness isn't a weakness and how, together, we can beat the stigma, fight back, and save lives.
"Imagine if you had the power to change lives just by talking. Imagine if you knew you could save lives by simply telling your story … Together, we can change the stigma that surrounds this disease." - Michael Landsberg, CTV News
JFS counselling and wellness services are available to everyone, and include clinical counselling on a sliding fee scale. More information at www.jfsvancouver.ca/counselling
All ticket proceeds go to support JFS mental health programs in the community.
Questions? Contact info@jfsvancouver.ca or call 604.257.5151
Visit our website at www.jfsvancouver.ca
Follow us on social media:
Facebook: https://www.facebook.com/JFSVancouver/
Twitter: https://twitter.com/jfsvancouver
Instagram: https://www.instagram.com/jfsvancouver