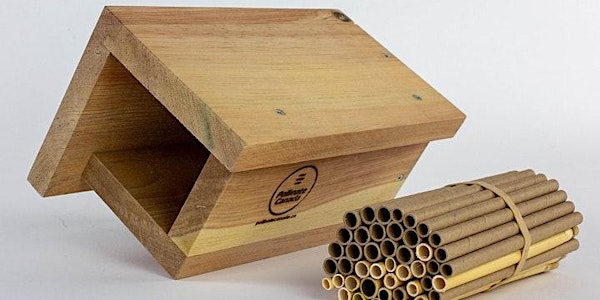 FAMILY PROGRAM: Let's Build a Bee House
Join Prafulla Prabhu for this hands-on, one-hour workshop where you will leave with a bee house to attract gentle native bees.
By Toronto Botanical Garden
Date and time
Sun, Jun 26, 2022 10:00 AM - 3:00 PM EDT
Location
Toronto Botanical Garden 777 Lawrence Ave E Toronto, ON M3C 1P2 Canada
About this event
Bees are an important part of our ecosystems and our lives. From coffee, fruits, and vegetables, to candles, wax artworks, cotton and so much more - bees play an important role in modern life. More importantly, they are responsible for a third of the food we consumes on a regular basis. With changes to our climate, our relationship with native bees is coming into sharper focus. In this hands-on workshop, participants will learn how to make a bee house that can be placed in their backyard to attract gentle native bees. Program price includes the cost of the bee house which you will take home after the program.
Schedule:
10 - 11 a.m., OR
12 - 1 p.m.
Bee House Full Starter Kit Materials
Bee house: Produced by local artisans with pine wood finished with organic wood stain.
40 tubular lakebed reeds and cardboard tubes
About Prafulla Prabhu
Praf (Prafulla) Prabhu is the founder and CBeeO (Chief Bee Officer) of Pollinate Canada. Pollinate Canada is on a mission to preserve and protect Canada's native pollinator bees. Pollinator bees (unlike honey bees) are on the decline. With one in every three bites of food requiring pollination, it has become mission-critical to promote pollination and rejuvenate our immediate ecosystems.
Although Praf has worked with different bee species over the last few years, her enduring passion is in nurturing native pollinator bees in urban and rural areas. She regularly conducts workshops and classes on pollinator bees and hopes to inspire people to join the movement to pollinate Canada.
Previously Praf worked in higher education management and she is delighted to bring her decades of experience in education and communications to this worthy social cause.
Safe Program Access
You will be asked to complete a mandatory paperless COVID-19 Self-Assessment on site prior to your participation. Please review our Health and Safety Policies and Refund Policy and Terms of Agreement.
This is a Family Program at TBG. Adults will only be allowed to attend the program when accompanied by a child 16 years of age or younger.
Registration Deadline: Monday, June 20 at 12:00pm.
About the organizer
Toronto Botanical Garden connects people to plants and inspires us to live in harmony with nature. Our gardens conveniently located in mid-Toronto are open daily from dawn until dusk, and admission is free. The gardens seemlessly connect with Edwards Gardens, Wilket Creek and the Don Valley Ravine. We also offer year-round learning opportunities for all ages both inperson and online.