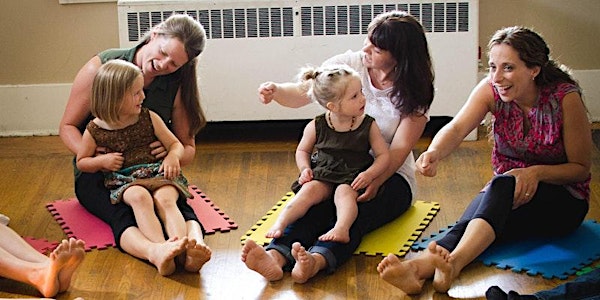 Family Rhythm, Rhyme + Movement
An early years language, music & movement program for 6 consecutive Sat. mornings. Parents & children singing together = joy! fun! delight!!
About this event
About This Event
You will enjoy a lively combination of movement, songs and rhymes, learning many fun ways to engage with your child while promoting early learning and literacy. Family Rhythm, Rhyme & Movement is an interactive program with experienced facilitators. It's a wonderful Saturday morning activity and a great way to connect with other families in the community.
Please take note of the following important details: Due to space restrictions, this will be on Zoom to allow more participants to join.
The program runs for 6 consecutive Saturday mornings, 10-11 AM on Zoom. (Due to how Eventbrite is set up, it looks like a 6 week-long event. It's only once a week for an hour! )
Class size limited to 12 families. Both parents are welcome to join, as are grandparents and other family members!
THIS EVENTBRITE POST IS FOR PRE-REGISTRATION PURPOSES. ONCE YOU 'GET YOUR TICKET' PLEASE SEND AN EMAIL TO US AT PROGRAMS.FAMILYPLACE@GMAIL.COM. We will need your full name, phone number and your child's name and age. (This will not be shared with anyone, it is just for registration purposes).
No experience necessary! Nuri & Dawn Zoe will teach songs, rhymes and stories for pure enjoyment; songs and rhymes can also help with parenting during often stressful transitions such as getting ready for daycare, leaving the playground, bathing, mealtime and so on. You will expand your repertoire and hopefully experience a calming connection through sharing what you learn with your children. No child is too young to attend the program; if they sleep through it all, that's okay! Whatever you learn you can enjoy with them when they are awake again.
Your two facilitators, Dawn Zoe Simpson and Nuri Marconato, are certified Parent Child Mother Goose Program leaders with 30+ years of combined experience facilitating family music programs. Dawn Zoe is an Infant/Toddler Early Childhood Educator and musician. Nuri is a Nobody's Perfect Parent Educator. Both facilitators have an extensive background supporting families with young children. Together they bring a wealth of knowledge and enthusiasm for early childhood development and parent support.
What participants say about FRR&M: "Dawn Zoe and Nuri were fantastic at leading, making us feel welcome, and introducing our child to music…so amazing to have a free music class in East Van." "We learned a lot of songs that our child loved, and we sing them at home often." "Wonderful."
Check out the video below for one of the many songs and rhymes Nuri & Dawn Zoe may share with you and your children.
Below are some brief clips of a performance last summer of Dawn Zoe at our outdoor program.