Sales Have Ended
Ticket sales have ended
This event is ended. Please select another date.
Event Information
Refund policy
Contact the organizer to request a refund.
Eventbrite's fee is nonrefundable.
Sales Have Ended
Ticket sales have ended
This event is ended. Please select another date.
The Famous 5 Foundation invites you and your friends to join us monthly for Virtual Pink Tea Conversations with inspiring Canadian women!
About this event
Please join us on Friday, July 9th in a conversation with The51's Judy Fairburn and Shelley Kuipers and our impressive host, Colleen Pound
Bring a friend and be inspired. It's time for your leadership too.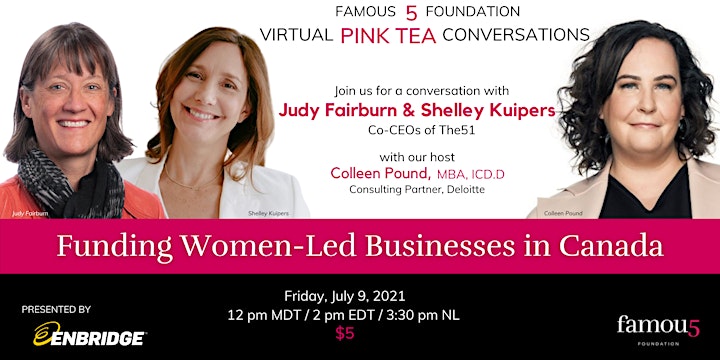 Judy Fairburn
Founder and Co-CEO
Judy is a corporate board director and Creative Destruction Lab Fellow. She has C-suite business experience, recently as Chief Digital Officer and EVP Business Innovation. A pioneer in corporate/entrepreneurial open innovation, she co-founded a $100 million digital/cleantech venture fund. Judy also led substantial change as the first Chair of the consolidated Alberta Innovates, enabling innovation across the health, energy, agriculture and digital sectors.
Shelley Kuipers
Founder and Co-CEO
Shelley Kuipers is building the world she wants to live in. As an activist in business, entrepreneurship and investment, Shelley is hellbent on taking status quo, turning it upside down, then transforming it with more equitable, feminist, corporately sound and ecologically sustainable options.
Previous to co-founding The51, Shelley founded crowdsourcing company Charodix and software development and marketing firm, Stormworks. She is also currently Co-founder of consumer participation company IOVIA, family office Adventure Capital, and Harris Kuipers — a direct to consumer, 100% sustainable clothing line, because she also secretly wants to be a fashion designer.
By uniting Canada's untapped women's wealth, The51 is creating a new critical mass of women investors, making Canada the centre for women-powered capital. With 30% of Alberta's tech start-ups founded or co-founded by women, The51's home province is well on its way to achieving this goal; however, with women-founded startups only receiving 2.3% of venture capital available world-wide, The51's vision spans globally.
Colleen Pound
MBA, ICD.D
Consulting Partner at Deloitte
Colleen is a Consulting Partner at Deloitte, and the market leader for the private and mid-market consulting practice in the Prairies.
With over 25 years in industry, and her own firm for 18 years, Colleen's career has been focused on corporate turnarounds, transitions and transformations with an emphasis on strategy and delivery.
She has advised the CEOs and Boards of some of Canada's best-known businesses. Over the years, Colleen's engagements and board work have become progressively larger and more complex. She is called upon during the most strategic scenarios a business can face and advises her clients with bold thinking, strong governance and risk management in mind. An expert in transformation, strategy and driving deal value from acquisitions, Colleen thrives on helping organizations unlock their potential.
Colleen has extensive experience in the sectors of energy, technology, professional services, utilities, retail, construction, and not-for-profit, with a combination of private, family-owned, and publicly traded companies.
Colleen's undergraduate degree in Political Science is from the University of Calgary; her Masters in Business Administration studies included Aarhus School of Business in Denmark, and ESSEC in Paris. She studied International Human Rights Law at the University of Oxford, England, and holds Corporate Directors designation (ICD.D).
Colleen began her volunteering in 1990 and continues to be grateful for the amazing opportunities to learn and meet new people. Coming from multiple generations of educators, she is honoured to be a part of the Senate, and the Management Advisory Council at Haskayne. She also currently serves on the Mental Health Review. Previous work includes the Alberta Order of Excellence Council, Calgary Public Library, the Calgary Women's Emergency Shelter, the Organization of Women in International Trade, and Commissionaires of Southern Alberta and a private, Denver-based start up.





****************************************************
Joignez-vous à nous le vendredi 9 juillet dans une conversation avec Judy Fairburn et Shelley Kuipers de The51 et notre impressionnante animatrice, Colleen Pound
Amenez un ami et inspirez-vous. Il est temps pour votre leadership aussi.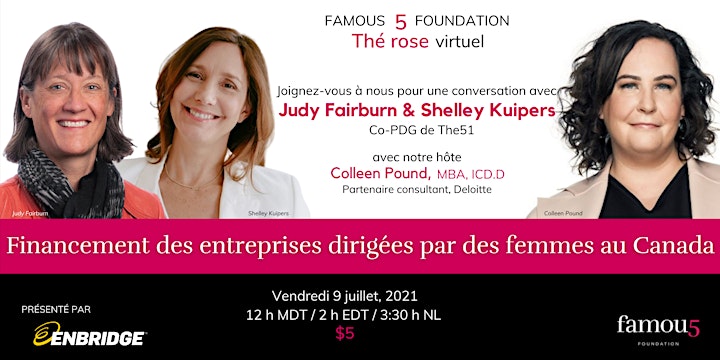 Judy Fairburn
Fondatrice et co-PDG
Judy Fairburn est membre du conseil d'administration et membre du Creative Destruction Lab. Elle a une expérience de la direction supérieure, récemment en tant que directrice générale du numérique et vice-présidente exécutive de l'innovation et du fonctionnement. Pionnière de l'innovation ouverte dans les affaires, elle a cofondé un fonds de capital-risque de 100 millions de dollars dans le domaine du numérique et des technologies propres. Elle a également mené des changements substantiels en tant que première présidente de la société consolidée Alberta Innovates, permettant l'innovation dans les secteurs de la santé, de l'énergie, de l'agriculture et du numérique.
Shelley Kuipers
Fondatrice et co-PDG
Shelley Kuipers construit le monde dans lequel elle veut vivre. Militante dans le monde des affaires, de l'entrepreneuriat et de l'investissement, elle travaille sans relâche à transformer le statu quo grâce à des choix plus équitables, féministes, socialement sains et écologiquement durables.
Avant de cofonder The51, elle avait fondé la société de crowdsourcing Charodix et la société de développement de logiciels et de marketing Stormworks. Elle est également cofondatrice de l'entreprise de participation des consommateurs IOVIA, du bureau familial Adventure Capital et de Harris Kuipers, une ligne de vêtements 100 % durable destinée directement aux consommateurs, car elle souhaite secrètement devenir créatrice de mode.
En misant sur la richesse inexploitée des femmes du Canada, The51 crée une nouvelle masse critique d'investisseurs féminins, faisant du Canada le centre du capital alimenté par les femmes. Avec 30 % des jeunes entreprises technologiques de l'Alberta fondées ou cofondées par des femmes, la province d'origine de The51 est en bonne voie pour atteindre cet objectif. Cependant, comme les jeunes entreprises fondées par des femmes ne reçoivent que 2,3 % du capital-risque disponible dans le monde, la vision de The51 s'étend à l'échelle mondiale.
AVEC NOTRE HÔTE IMPRESSIONNANT
Colleen Pound
MBA, ICD.D
Partenaire consultant, Deloitte
Colleen Pound est associée-conseil chez Deloitte et chef de file de la pratique de consultation pour le marché privé et le marché intermédiaire dans les Prairies.
Avec plus de 25 ans d'expérience dans l'industrie, et sa propre entreprise depuis 18 ans, elle a axé sa carrière sur les redressements, les transitions et les transformations d'entreprises, en mettant l'accent sur la stratégie et l'exécution. Elle a conseillé les PDG et les conseils d'administration de certaines des entreprises les plus connues du Canada. Au fil des ans, ses engagements et son travail au sein de conseils d'administration sont devenus de plus en plus importants et complexes. On fait appel à elle dans des scénarios hautement stratégiques auxquels une entreprise peut être confrontée et elle conseille à ses clients une réflexion audacieuse, une gouvernance solide et une saine gestion des risques. Experte en transformation, en stratégie et en valorisation des acquisitions, elle aime aider les entreprises à développer leur potentiel.
Elle possède une vaste expérience dans les secteurs de l'énergie, de la technologie, des services professionnels, des services publics, de la vente au détail, de la construction et des organismes à but non lucratif, et a conseillé des entreprises privées, familiales et cotées en bourse.
Elle est titulaire d'un baccalauréat en sciences politiques de l'Université de Calgary et a fait des études de maîtrise en administration des affaires à la Aarhus School of Business au Danemark et à l'ESSEC à Paris. Elle a étudié le droit international de la personne à l'université d'Oxford, en Angleterre, et détient le titre d'administratrice de sociétés (ICD.D).
Elle a commencé à faire du bénévolat en 1990 et continue d'être reconnaissante pour les incroyables opportunités d'apprendre et de rencontrer de nouvelles personnes. Issue de plusieurs générations d'éducateurs, elle est honorée de faire partie du Sénat et du conseil consultatif de gestion de Haskayne. Elle siège également au comité d'examen de la santé mentale. Elle a déjà siégé au conseil d'administration de l'Alberta Order of Excellence Council, de la bibliothèque publique de Calgary, du Calgary Women's Emergency Shelter, de l'Organization of Women in International Trade, des Commissionnaires du sud de l'Alberta et d'une entreprise privée de Denver.
****************************************************
Un message en français suit.
While Pink Teas were used to gathering women together to strategize how best to gain the vote and right to run for elected office, our Pink Teas will feature a variety of female leaders so we learn about various issues and opportunities. Hopefully, we will be inspired and work together to realize our dreams – or perhaps your dream.
Tickets on sale now for the 2021 Virtual Pink Tea Conversations! Register for one, or all and join us as we hear inspirational stories, timely topics, and network among your peers. Engage in the chat and Q&A in our online Famous 5 Fridays Pink Tea Conversation setting.
Click here to purchase a season's pass and save.
July 9 - Judy Fairburn & Shelley Kuipers
August 6 - Hon. Vivienne Poy
September 10 - Senator & Paralympian Chantal Petitclerc
October 1
October 18 - 25th Anniversary of The Famous 5 Foundation
November 5
December 3
Our thanks to Enbridge for their ongoing support!
Visit Famous 5 Events for more information or contact f5f@mosaicevents.ca. 
>>>
La Fondation Famous5 vous invite, vous et vos amies, à vous joindre à nous chaque mois pour un Thé rose virtuel et des conversations avec des Canadiennes inspirantes !
Pink Teas servaient à rassembler les femmes pour mettre au point des stratégies pour obtenir le droit de vote et se présenter aux élections. Les nôtres présenteront des femmes influentes et inspirantes qui nous parleront de questions d'actualité et des possibilités qui s'offrent à nous. Qui sait, nous pourrons peut-être réaliser leur rêve, peut-être même le vôtre.
Les billets pour les Thés roses virtuels de 2021 sont maintenant en vente ! Réservez votre accès à un, plusieurs ou tous les Thés virtuels pour écouter avec nous des conférencières inspirantes parler de sujets d'actualité et pour réseauter avec vos paires. Participez au clavardage et à la séance de question-réponse sur la plateforme en ligne des Thés roses virtuels de Famous5.
Cliquez ici pour acheter un billet annuel à prix réduit.
Achetez un billet pour vous et vos amies!
le 9 juillet - Judy Fairburn & Shelley Kuipers
le 6 août - Hon. Vivienne Poy
le10 septembre - Senator & Paralympian Chantal Petitclerc
le1 octobre
le 18 octobre - 25th Anniversaire de Famous 5 Foundation
le 5 novembre
le 3 décembre
Nos remerciements à Enbridge pour leur soutien continu!
Visitez le Famous 5 Events et par email contactf5f@mosaicevents.ca pour plus d'informations.




PARTENAIRES COMMUNAUTAIRES

Date and time
Location
Refund policy
Contact the organizer to request a refund.
Eventbrite's fee is nonrefundable.
Organizer of Famous 5 Foundation 2021 Virtual Pink Teas with Inspiring Canadian Women
Prior to 1929, Canada's constitution said that only "qualified persons"—meaning men only—could be appointed to the Senate. It was in that year that five courageous and idealistic Canadian women stepped onto the world stage to challenge these antiquated laws and conventions. By insisting that women be officially recognized as persons in the fullest legal sense of the word the "Famous Five", as they became known, set a stirring example of leadership that altered all Commonwealth nations' laws and, with it, the course of history.
Today, the Famous 5 Foundation works to ensure the legacy of the Famous Five is known, and celebrated. In their spirit, we also honour today's female trailblazers and work to inspire and empower future generations of leaders.