Sales Have Ended
Ticket sales have ended
This event is ended. Please select another date.
Event Information
Refund policy
Contact the organizer to request a refund.
Eventbrite's fee is nonrefundable.
Sales Have Ended
Ticket sales have ended
This event is ended. Please select another date.
The Famous 5 Foundation invites you and your friends to join us monthly for Virtual Pink Tea Conversations with inspiring Canadian women!
About this event
Please join us on Friday, November 5th in a conversation with BGen. Krista Brodie and our VIP Host Dr. Jean Slick.
Bring a friend and be inspired. It's time for your leadership too.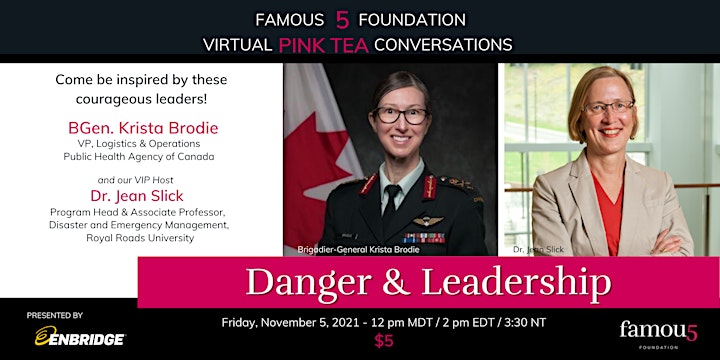 BGen. Krista Brodie
VP, Logistics & Operations, Public Health Agency of Canada
Brigadier-General Krista Brodie has over 30 years of leadership experience in diverse and challenging appointments in Canada and Internationally. She has deployed to floods, ice storms, and forest fires. She is currently serving as the Public Health Agency of Canada's Vice President of Logistics and Operations leading the federal government's COVID-19 vaccination distribution program.
BGen Brodie joined the Canadian Armed Forces in 1989. She is a graduate of Royal Roads Military College and was commissioned under the Regular Officer Training Program. During her time in the Canadian Army, she has commanded platoons, a company and a battalion. Brigadier-General Brodie has also commanded a Formation in the Canadian Joint Operations Command.
She has been deployed to Croatia, Bosnia, and Afghanistan as well as serving with both NATO and the United Nations. With qualifications as an aerial delivery specialist, she also earned American jump wings on exercise with the 2nd Battalion of the 75th Ranger Regiment (U.S).
In 2013, BGen Brodie was named to the WXN Canada's Most Powerful Women: Top 100 list. She is married to Dr. Dennis Filips, a trauma surgeon, innovator and entrepreneur, and they have three children.
BGen Krista Brodie is back by popular demand. Her presentation to an Enbridge F5F Leadership Lunch several years ago was dynamic, impactful and memorable! Now she has even more life lessons and information to share with you and me.
OUR VIP HOST
Dr. Jean Slick
ID PHD, MSED
Program Head & Associate Professor, Disaster and Emergency Management, Royal Roads University
Dr. Jean Slick is the Program Head and Associate Professor in the Disaster and Emergency Management graduate programs at Royal Roads University.
Dr. Slick has worked in the field of disaster management for more than 20 years and has significant experience leading disaster recovery activities in both domestic and international contexts. Much of her disaster management experience has focused on issues related to sheltering. Her current research is focused on exploring how social media and digital technologies are shaping the cultural characteristics of emergent response to disasters and the way these types of events are witnessed, and uses art-based research methods in her practice. She is the co-editor of a forthcoming five-volume casebook series that focuses on adaptation and innovation in the disaster management field.
Before joining Royal Roads in 2009, Dr. Slick held a range of leadership positions with the Canadian Red Cross. In 2004, she was posted to Indonesia for two years as the country representative for the Canadian Red Cross Tsunami recovery program. She has also consulted and trained on refugee protection issues and was instrumental in developing a program for the independent monitoring of conditions of immigration detainees. Her field experience includes work in Australia, the Caribbean, Central America and the former Soviet Union. More recently, she served as an expert advisor for the B.C. Office of the Auditor General's audit of B.C.'s catastrophic earthquake preparedness and supported the Canadian Red Cross in review of their 2016 Alberta fire response.






****************************************************
Joignez-vous à nous le vendredi 5 novembre pour une conversation avec BGen. Krista Brodie et notre hôte VIP, le Dre Jean Slick.
Amenez un ami et inspirez-vous. Il est temps pour votre leadership aussi.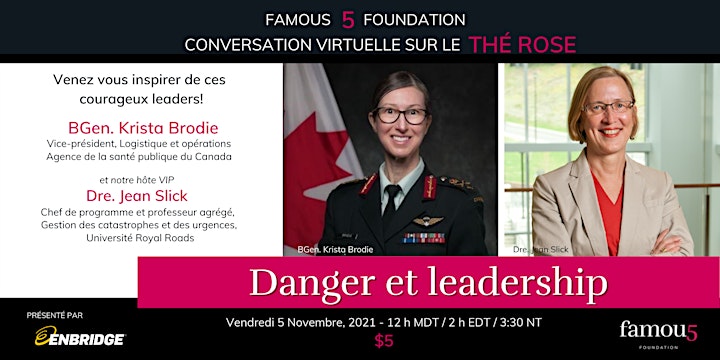 Brigadier-Général Krista Brodie
Vice-président, Logistique et opérations, Agence de la santé publique du Canada
La brigadière-générale Krista Brodie a plus de 30 ans d'expérience en leadership dans des postes divers et stimulants au Canada et à l'étranger. Elle a été déployée lors d'inondations, de tempêtes de verglas et de feux de forêt. Elle occupe actuellement le poste de vice-présidente de la logistique et des opérations de l'Agence de la santé publique du Canada, où elle dirige le programme de distribution de vaccins anti-COVID-19 du gouvernement fédéral.
Elle s'est jointe aux Forces armées canadiennes en 1989. Elle est diplômée du Royal Roads Military College et a été commissionnée dans le cadre du Programme de formation des officiers de la Force régulière. Au cours de sa carrière dans l'Armée canadienne, elle a commandé des pelotons, une compagnie et un bataillon. Elle a également commandé une formation au sein du Commandement des opérations interarmées du Canada.
La brigadière-générale Brodie a été déployée en Croatie, en Bosnie et en Afghanistan, et a servi au sein de l'OTAN et des Nations Unies. Qualifiée comme spécialiste de la livraison aérienne, elle a également obtenu des ailes de saut américaines lors d'un exercice avec le 2e Bataillon du 75e Régiment de Rangers (É.-U.).
En 2013, elle a été nommée parmi les femmes les plus puissantes du Canada par WXN : Top 100. Elle est mariée au Dr Dennis Filips, chirurgien traumatologue, innovateur et entrepreneur. Ils ont trois enfants.
NOTRE HÔTE VIP
Dre Jean Slick
ID PHD, MSED
Chef de programme et professeur agrégé, Gestion des catastrophes et des urgences, Université Royal Roads
Dre. Jean Slick est cheffe de programme et professeure associée dans les programmes d'études supérieures en gestion des catastrophes et des urgences à l'université Royal Roads.
Elle travaille dans le domaine de la gestion des catastrophes depuis plus de 20 ans et possède une expérience considérable de la direction d'activités de rétablissement après une catastrophe dans des contextes nationaux et internationaux. Une grande partie de son expérience en gestion des catastrophes a porté sur les questions liées à l'hébergement. Ses recherches actuelles se concentrent sur la manière dont les réseaux sociaux et les technologies numériques façonnent l'aspect culturel de la réponse aux catastrophes et la manière dont ces types d'événements sont observés. Elle utilise des méthodes de recherche basées sur l'art dans sa pratique. Elle est co-rédactrice d'une série d'études de cas en cinq volumes qui se concentre sur l'adaptation et l'innovation dans le domaine de la gestion des catastrophes.
Avant de rejoindre Royal Roads en 2009, Jean Click a occupé plusieurs postes de direction au sein de la Croix-Rouge canadienne. En 2004, elle a été affectée en Indonésie pendant deux ans en tant que représentante nationale pour le programme de rétablissement après le tsunami de la Croix-Rouge canadienne. Elle a également été consultante et formatrice sur les questions de protection des réfugiés et a contribué à l'élaboration d'un programme de surveillance indépendante des conditions de détention des immigrants. Elle a travaillé en Australie, dans les Caraïbes, en Amérique centrale et dans l'ancienne Union soviétique. Plus récemment, elle a agi en tant que conseillère experte pour l'audit du Bureau du vérificateur général de la Colombie-Britannique sur la préparation de la province aux tremblements de terre catastrophiques et a soutenu la Croix-Rouge canadienne dans l'examen de son intervention anti-incendie en Alberta en 2016.
****************************************************
Un message en français suit.
While Pink Teas were used to gathering women together to strategize how best to gain the vote and right to run for elected office, our Pink Teas will feature a variety of female leaders so we learn about various issues and opportunities. Hopefully, we will be inspired and work together to realize our dreams – or perhaps your dream.
Tickets on sale now for the 2021 Virtual Pink Tea Conversations! Register for one, or all and join us as we hear inspirational stories, timely topics, and network among your peers. Engage in the chat and Q&A in our online Famous 5 Fridays Pink Tea Conversation setting.
Click here to purchase a season's pass and save.
November 5 - Brigadier-General Krista Brodie
December 3 - TBA
Our thanks to Enbridge for their ongoing support!
Visit Famous 5 Events for more information or contact f5f@mosaicevents.ca. 
>>>
La Fondation Famous5 vous invite, vous et vos amies, à vous joindre à nous chaque mois pour un Thé rose virtuel et des conversations avec des Canadiennes inspirantes !
Pink Teas servaient à rassembler les femmes pour mettre au point des stratégies pour obtenir le droit de vote et se présenter aux élections. Les nôtres présenteront des femmes influentes et inspirantes qui nous parleront de questions d'actualité et des possibilités qui s'offrent à nous. Qui sait, nous pourrons peut-être réaliser leur rêve, peut-être même le vôtre.
Les billets pour les Thés roses virtuels de 2021 sont maintenant en vente ! Réservez votre accès à un, plusieurs ou tous les Thés virtuels pour écouter avec nous des conférencières inspirantes parler de sujets d'actualité et pour réseauter avec vos paires. Participez au clavardage et à la séance de question-réponse sur la plateforme en ligne des Thés roses virtuels de Famous5.
Cliquez ici pour acheter un billet annuel à prix réduit.
Achetez un billet pour vous et vos amies!
le 5 novembre - Brigadier-Général Krista Brodie
le 3 décembre - TBA
Nos remerciements à Enbridge pour leur soutien continu!
Visitez le Famous 5 Events et par email contactf5f@mosaicevents.ca pour plus d'informations.





PARTENAIRES COMMUNAUTAIRES

Date and time
Location
Refund policy
Contact the organizer to request a refund.
Eventbrite's fee is nonrefundable.
Organizer of Famous 5 Foundation 2021 Virtual Pink Teas with Inspiring Canadian Women
Prior to 1929, Canada's constitution said that only "qualified persons"—meaning men only—could be appointed to the Senate. It was in that year that five courageous and idealistic Canadian women stepped onto the world stage to challenge these antiquated laws and conventions. By insisting that women be officially recognized as persons in the fullest legal sense of the word the "Famous Five", as they became known, set a stirring example of leadership that altered all Commonwealth nations' laws and, with it, the course of history.
Today, the Famous 5 Foundation works to ensure the legacy of the Famous Five is known, and celebrated. In their spirit, we also honour today's female trailblazers and work to inspire and empower future generations of leaders.