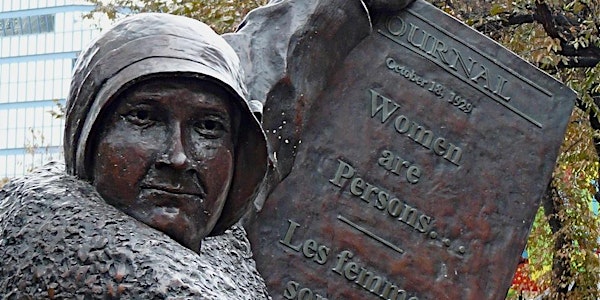 Famous 5 Foundation: 'Persons' Case 90th Anniversary, October 18th, 2019
When and where
Location
Olympic Plaza 228 8 Avenue Southeast Calgary, AB T2P 2M5 Canada
Description
Nellie McClung, Henrietta Muir Edwards, Irene Parlby, Louise McKinney & Emily Murphy invite you to meet them in Olympic Plaza on Friday, October 18, 2019 to celebrate the 90th Anniversary of the 'Persons' Case.
Prior to 1929, women in Canada were not considered 'Persons'—at least not in the fullest legal sense of the word.
On October 18, 1929, when the Privy Council of Great Britain defined the word 'persons' as meaning both women and men, Canadian women became able to serve as Senators and fully participate with the introduction, discussion and approval of national legislation.The victory was a pivotal moment in our history, championed by five courageous Alberta women who petitioned for the inclusion of women in the definition of the word 'persons'.
On October 18, 2019, the Famous 5 Foundation will host an event to commemorate 'Persons' Day and celebrate the 90th anniversary of the victory of the 'Persons' Case. Open to the public and free of charge, the Famous 5 Foundation will be set up by the Famous Five Monuments in Olympic Plaza.
Stay tuned for more information on how to join or host your own Pink Tea.
Mark this in your calendars! More details to follow!
Please continue to 'feel equal to high and splendid braveries!'
famous5.ca